No trip to Ireland is complete without venturing to one of its many medieval castles, but Blarney Castle in Cork and Dublin Castle in Dublin often seem to draw majority of visitors, leaving countless other worthy castles behind. These castles are just as old, grand, inviting and filled with history. In fact, some are better restored and refurbished than Blarney Castle. When you plan a vacation to Ireland, often these lesser-known castles hold an indescribable allure. Here are seven that hold such charms:
Cahir Castle, County Tipperary
Did you know this is one of the largest castles in Ireland? Or that it was the filming location for Excalibur, The Green Knight, The Tudors and The Last Duel? Built in the mid-12th century, the well-preserved Cahir Castle sits on the river Suir in Cahir town. A national monument managed by the Office of Public Works, the castle is open to visitors and offers guided tours and audiovisual shows. Within, you'll enter preserved chambers and a grand hall, walk the courtyard and creep down steps to the dungeons. Less than 2 miles from the castle, you'll also find the Swiss Cottage, a 19th-century, fairytale-like home reminiscent of the alpine homes in Switzerland. It served as a peaceful retreat for those who lived on a nearby estate.
Perhaps no other castle has such a view as Ross Castle. On the banks of Lough Leane, this 15th-century castle lies within Killarney National Park, surrounded by acres of trails, woodlands, lakes and fields. Open to the public, the castle also offers seasonally guided tours to see furnished rooms, towers and outlooks. After a visit within the castle, take a boat ride just steps from the castle exit to see three adjacent lakes in all their beauty.
You won't find a better preserved and refurbished medieval castle in Ireland than Bunratty. A can't-miss (it's literally located on the side of the main road connecting Limerick, Galway and Shannon), Bunratty castle and neighboring folk park immerse visitors in different eras and classes of Irish history. The castle (one of my favorites, too) was built in the 1400s and features chambers, a feast hall and dungeons with original furnishings and paintings. The adjoining folk park includes traditional, 19th-century thatched cottages; a 19th-century mansion; and shops, a post office, schoolhouse and other buildings of the same era, all lining streets representing a different century.
Kilkenny Castle, County Kilkenny
In the heart of Kilkenny stands a 13th-century castle, located on the site of a former castle from one of the first Normans in Ireland. The castle underwent extensive restorations in the 20th century and today welcomes visitors to explore its Victorian remodeling of the castle. Admission to the castle includes access to a formal, terraced rose garden; woodlands; a tea room; halls lined with paintings; guided tours; and more.
King John's Castle, County Limerick
Overlooking the mythic River Shannon in Limerick's city center lies King John's Castle (yes, the same notorious King John of England in the 13th century). Ironically, this castle was named after an English king who never actually stepped foot in it, but thousands of tourists over the years can't say the same, this thanks to the castle's preserved and restored exteriors and interiors. The castle features a brand-new visitor center, interactive exhibitions, café with views of the courtyard and river, and cutting-edge technology showing the castle over the centuries. The castle also showcases an even older side, with excavations of a Viking settlement in the courtyard.
Aughnanure Castle, County Galway
Walk the rooms, climb the spiral staircases and look out upon the land from this 16th-century tower house in Oughterard, Galway. Access to this dominating tower includes a banqueting hall, watch tower, double bawn and bastions, and a dry harbor. Just mind your head as you enter rooms, the doorways were much shorter back then … .
Rock of Cashel, County Tipperary
Perhaps one of the most ancient castle sites in all of Ireland, the Rock of Cashel was once the seat of the kings of Munster as far back as pre-Christian Ireland. Legend says St. Patrick himself converted one of the kings here, too. This imposing site today features various structures, including a well-preserved round tower dating to the 1100s; Cormac's Chapel, a 12th-century chapel with some of the best examples of early Norman and Germanic influences; a 13th-century cathedral; and a residential castle. The views from any point on this sight are unparalleled, overlooking the vast fields teeming with cows and sheep below, as well as Cashel town and the land beyond.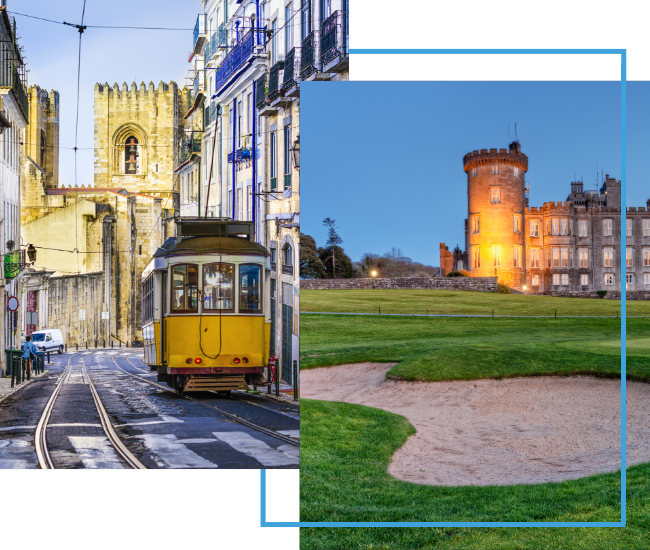 FX Excursions
FX Excursions offers the chance for once-in-a-lifetime experiences in destinations around the world.
Explore Excursions
While the 372-passenger Viking Polaris expedition ship, launched in September 2022, falls midway in size between Viking Cruises' intimate river cruise ships and large-scale ocean ships, it is operated with the same attention to detail and personalized service.
Sponsored Content
United Airlines is in the midst of a major initiative to modernize its fleet over the next several years. After first announcing the plan in 2021, planes fitted with United's signature interior are finally beginning to appear across the airline's narrowbody fleet of Boeing and Airbus planes. United flyers are sure to notice these enhancements from the moment they step on board: Each new or updated plane sports remodeled seats, seatback entertainment screens for everyone, Bluetooth connectivity and more, all adding up to a better experience on every journey.