A few months ago, I flew Polaris business class on a United flight from Dulles (IAD) to Paris (CDG). It was only when I got to my hotel in Paris I realized that I didn't have my iPad or its bag or accessories. Since I had been working on it in the restaurant in the Polaris lounge and then went directly to the gate, I knew I either left it propped up on my table when I packed up or in my business-class seat. But what was the best method to alert the airline about my careless mishap and (hopefully) retrieve it? With spotty data and WiFi, searching for information on my phone was frustrating and slow. Here's what I learned from the anxiety-inducing experience (and unexpected ending) about what to do if you leave something behind on your flight:
If You Realize Soon After You Disembark You've Forgotten Something on the Plane, Stay at the Gate
As passengers deplane, the cleaning and maintenance crew boards to dispose of cups, napkins, newspapers and other trash left behind. They also often find items (including iPads and phones) tucked into seatback pockets, dropped in between seats, or left on the floor. If there is still an agent at your gate, they might be able to make a call onto the plane or just walk back on to see if they can locate it for you. Note: Passengers aren't allowed to reboard.
If You Realize You've Left Something When You're in Baggage Claim or out of the Airport, Try Calling the Airline
As I rifled through my laptop bag at my hotel and realized my iPad and carrying bag were not in it, I admittedly freaked out. Since I have 1K status, my first inclination was to call the dedicated United 1K customer service number. At that point, though, I was convinced I had left it in the Polaris lounge. I spoke to a representative who sympathized with my plight and actually gave me the phone number for the Polaris lounge at Dulles. But since it was still the middle of the night on the East Coast, I had to wait a few hours to reach out. Once I did get through to somebody, he was pretty gruff. I told him it had been given to me by United customer service. He put me on hold while someone checked the restaurant where I had been sitting and the reception desk, got back on the phone to tell me there was nothing there and offered the dreaded suggestion of filling out a form online.
If Your Airline has an Online Form for Lost Items, Fill it out Early and Completely
It turns out most airlines outsource loss mitigation to third parties, and an online form proves the quickest and easiest way to catalog your item and hopefully get it back in your hands. United's Report Lost Items page has a link to the form as well as information on what to expect after you complete it. I filled it out on my phone, including the flight number and date, type of item, airport, location last seen, contact info and whether my item had an AirTag or other location tracker (it didn't). Once I selected iPad, an additional window popped up allowing me to specify details including the color, case color, serial number (if known), model and description of the screen saver. It also gave me the option to include a photo.
Be Patient During What May be an Excruciating Wait
As soon as I submitted the form, I received an email with a tracking number. United said it would search for my item for 30 days; and if they didn't find it within that time, they would let me know. I knew this could be a long game. I enjoyed my trip in Paris and Champagne, but my mind occasionally wandered to the status of my iPad. Did someone steal it? Was it in a warehouse somewhere? Where exactly did I leave it? And how could I be so careless? Over the next five days in Europe, I received several communications letting me know they hadn't yet located it but were still looking. I started to feel that the more time passed, the less likely the chance of being reunited with it.
Realize You May Be Pleasantly Surprised — or Severely Disappointed
Various statistics exist about the percentage of items left on board that get returned to their owners. I was feeling pretty pessimistic about it, especially as I boarded my seat in coach for the return trip home (no PlusPoints upgrade this time.) As I stowed my carry-on luggage and was taking my seat, a gate agent with a clipboard approached me and asked for my passport. Curious, I handed it to her, wondering why she needed it, as I had just shown it at the gate. It was only after she said, "We have something for you," that I noticed my blue iPad case underneath her clipboard. She said they tried to catch me at the gate but I boarded too quickly.
It turns out my iPad got back to me not because of the form, but thanks to some dedicated and considerate crew members. One of them found my iPad on the floor of my seat on my inbound flight, as the bag blended in with the carpet and I didn't see it in the early morning hours. They cross-referenced it with the passenger manifest, saw I was returning five days later, and kept it safe until they could hand-deliver it on my flight home. Unbelievable. (After I had gotten it back, I received another email saying they were still looking for it through the official process, so I canceled my request.)
Take Steps to Prevent Leaving Something Behind in the Future
I learned a few things during this process. First, I added a message to my home screen with my contact info (email and cell phone) in case anyone finds the iPad. I also tucked a business card into one of the bag's pockets and taped one to the back of the iPad itself. I haven't yet gotten an AirTag, but I may order one. I also triple-check I have everything before I leave the lounge or disembark. I know this sounds obvious, and flight attendants make that announcement every time to "Check your seatback pockets and surrounding area for personal items," but in my rush to deplane after a night flight where I was still feeling a little groggy, I overlooked that step.
The bottom line: If you leave something behind, take the proper steps immediately, provide as much detail as possible, try to wait patiently, and hope that the travel gods are with you to get the item back into your hands.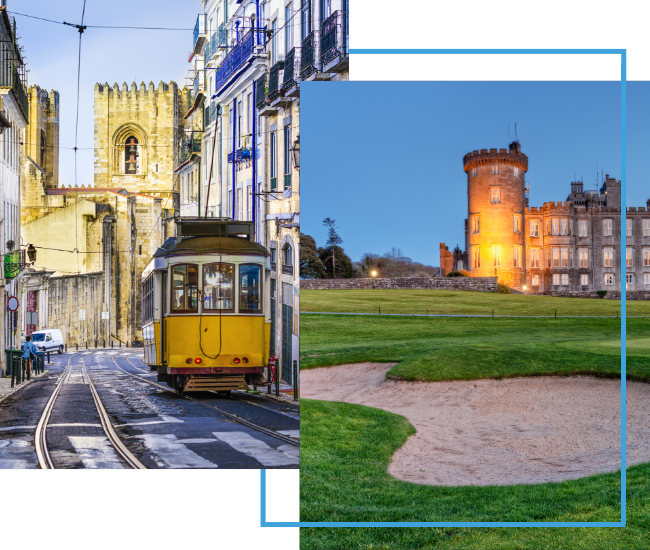 FX Excursions
FX Excursions offers the chance for once-in-a-lifetime experiences in destinations around the world.
Explore Excursions
More than 22 million visitors pour into Bangkok each year, adding to the roughly 11 million residents of the Thai capital famous for its bustling streets. Packed with food carts, markets and cultural spectacles, life in Bangkok is unusually defined by its vibrant street scene, both day and night. That means you don't necessarily need a solid plan when heading out on any given evening.
Sponsored Content
The Saronic or Argo Saronic Islands of Greece call travelers to explore its seven small islands and islets brimming with history, natural sites and more. With most easily accessible by boat, the islands' proximity to ports of Athens make the Saronic Islands an ideal destination for those preferring shorter boat rides. In fact, trips from Athens ports to the islands take only between 10 minutes and two hours, depending on the island you choose, making them perfect for day or weekend trips. From Piraeus port, you can access Hydra, Spetses, Aegina and Poros directly. Come explore these stunning islands with us and find the inspiration to plan your next trip to these islands. Hydra Hydra town curves around a slope overlooking the Argosaronic Gulf like an amphitheater and is considered one of the most romantic destinations in Greece. Most unique to the island is its lack of vehicles. People on the island get around on mules and donkeys as well as water taxis, making for a peaceful and laid-back day. Hydra lies a two-hour ferry ride from Piraeus port in Athens.
As another phenomenal year of travel comes to an end, it's time, as always, for Global Traveler to celebrate and award those who do it best as we announce the 2023 winners of the GT Tested Reader Survey awards. But that's not the only cause for celebration here: We've hit another major milestone, as this marks our 20th year honoring the best of the best inn world of travel!