Brewing long and deep at its center before radiating out to the rest of Europe, Vienna boasts an illustrious history and lasting intellectual impact. The Austrian capital dates back to Celtic and Romen rule, the latter inhabitants using the center city as a military hub among many other employments.
Situated on either side of the Danube River, the city's well-positioned location allowed for trade to prosper, quickly followed by Baroque masterpieces of architecture and culture replacing the city's humble medieval beginnings. The city's dense center began to expand and elevate its own societal position. Dividing walls and small houses came down while palaces, parliament buildings and centers for the arts went up — along with Vienna's population. A bustling, grand city emerged with a whole new genre of music in tow.
While certainly shaped by imperial history, industry and location, Vienna has its people to thank for its unwavering reputation as an artistic hub. The city's immense cultural contribution to all of Europe can easily be pinned to its musical past and players. Composers and musicians from all over Austria and Germany found themselves in Vienna playing, teaching and inspiring the masses. Even the least musically inclined individuals may know Viennese residents and masters such as Joseph Haydn, Wolfgang Amadeus Mozart, Ludwig van Beethoven, Franz Schubert, Johannes Brahms, Johann Strauss I and II, as well as Gustav Mahler and many others — while not all originally having hailed from Vienna or even Austria, all found their way to the city for music.
Decades turned into near centuries of brilliant composers, musicians and masters making their way to Vienna, adding to the Viennese musical tradition spanning the late 1700s to well into the 1900s. With music drawing so many to Vienna's cultural center, the city's landscape adapted quickly to keep up and provides a stunning peek into the past to this day.
When in Vienna, one can't help but think of music and culture — the city overflows with them. Reveling in the city's grand allure, it's easy to find yourself in a different corner café each day — as one should — channeling the minds and moods of historic masters who once roamed the streets and took social shelter in the same locales many business travelers visit today. A must for any traveler in the area: a power breakfast or strategic lunch meeting at a café, with an obligatory tourist stop or two around the city to entertain.
In Austria a 38- to 40-hour work week is standard, but family dinner remains essential — meaning business ventures usually wrap up around 5 p.m. Restaurant operating hours tell another story, many opening 11 a.m.–2 p.m. for late breakfast and early lunch to then reopen for dinner 6–10 p.m., or occasionally as late as 11 p.m..
Coffee houses and cafés in Vienna are a way of life. Once a social hub for intellectuals, many of the city's cafés date back to the 19th century, and the tradition remains the same — cafés are the place to be. The oldest café, dating back to the late 1600s — once a medieval bathhouse and later a venue for performances by both Mozart and Beethoven — Café Frauenhuber should be an absolute must on your list.
Another great meeting space, Café Landtmann dates back to the 1800s and adapted to the times quite well, offering takeaways and converted indoor-outdoor dining space for guests to grab-and-go and see the sights or linger and enjoy the city view. Make your way through the city's iconic coffee houses, paying homage to the greats and stunning city landscape around you, from Café Prückel and Fenster Café to Café Diglas near St. Stephen's Cathedral.
Should you need a bit more space, time and ambience, make your way to the water and enjoy an all-day menu at Café & Restaurant Motto am Fluss, closing at 11 p.m.
If you're lucky enough to get a reservation for dinner, check out Wratschko Gastwirtschaft — if for no other reason than the establishment was made famous by Anthony Bourdain's visit. This stop offers eclectic Austrian cuisine and a laid-back atmosphere, but for something a bit more impressive, anything in Vienna's Hotel Sacher should do the trick. Enjoy coffee and pastries in an elevated diner scene at Sacher Eck Vienna, or book an impressive reservation at the hotel's equally opulent Restaurant Rote Bar or Restaurant Grüne Bar, offering Viennese specialties and creative innovations, respectively. If you've gotten your client this far, there's always a chance for a nightcap at Blaue Bar. Shrouded in rich blue hues and dripping in opulence, this space offers a swanky step back in time. For something slightly tongue-and-cheek and casual, venture back out into the city and find a street-side table at Pfiff & Co, an American-style bar offering beer and light bites.
Venturing on foot through Vienna exposes any visitor or local to an impromptu walking tour, passing historic buildings and iconic music halls. The city winds and opens up into different cultural corners, and it can often feel like groupings of bygone neighborhoods have been layered upon each other. While opulence and grandeur is an architectural theme, the charming proximity offers a more friendly feel than many cities allow.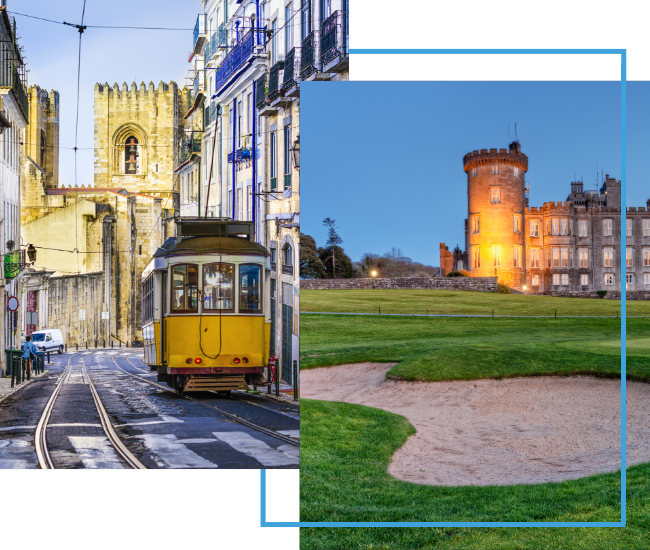 FX Excursions
FX Excursions offers the chance for once-in-a-lifetime experiences in destinations around the world.
Explore Excursions
In addition to intimate settings, smaller staff-to-passenger ratios, and personalized food and beverage options, river cruises have the advantage of providing a deeper dive into a region's culture, food and history. The Rhine, Rhône and Danube in Europe and the Mississippi River and St. Lawrence in North America have much to offer travelers with their itineraries, tying together beloved cities and lesser-known destinations along their routes.
Sponsored Content
Embracing a life well lived often means embracing a life well-traveled. Every journey becomes a canvas for experiences that shape our lives and at the heart of every adventure lies the indispensable companion: quality luggage.
With the holidays right around the corner, travelers are preparing for holiday travels. For those looking for a last-minute getaway filled with holiday cheer, consider Croatia. With a variety of winter activities perfect for travelers and locals alike, the Christmas countdown in Croatia is in full swing. Leading up to Christmas, Advent in Croatia makes it even more worth your while to visit the country with free winter incentives. If you plan on visiting Croatia, here are five cities going all out for the holiday season: