ACCORDING TO INTERNET MARKETING INC.'S "Millennial Travel Trends: A Look at the Largest Generations' Habits," a number of travel traits characterize this generation, which we define as those aged 18–35. Not surprisingly, social media plays a significant role, with 87 percent looking to Facebook for travel inspiration, 97 percent posting about their experiences on social media and 46 percent actually booking through smartphones and tablets. A large majority check multiple sites before booking and stay loyal to programs offering the most rewards. The bulk of those surveyed also upgrade their experiences by purchasing add-ons, and nearly half (49 percent) take last-minute vacations.
What does this all mean for travel providers? They need to reach this subset across a number of touch points and target them with enticing offers and rewards up until the very last minute. Which providers are doing an award-winning job of this? According to the readers of trazeetravel.com, there are several, and we award them on the following pages as we announce the winners of the third annual The Trazees awards.
Trazee Travel, the sister web publication to Global Traveler and globaltravelerusa.com, is a one-stop resource for millennial travelers with news, tips, reviews and more updated daily. For the third year, trazeetravel.com awards the best in the travel industry, as named by this ever-growing and extremely important travel segment. Reader nominations and nominations from the website's intrepid group of contributors were collected December 2016–March 2017; FX Express Publications, Inc.'s management selected the final winners.
Here's a closer look at those savvy travel industry providers deemed tops by millennials around the globe; congratulations!
IT'S UP, UP AND AWAY with these award-winning airlines. Delta Air Lines keeps the millennial set smiling, nabbing recognition in two categories: Favorite International Airline for the second consecutive year and Favorite Frequent-Flyer Program for Delta SkyMiles.
Oneworld, with member airlines including American Airlines, British Airways, Iberia and LATAM, earns the top spot for favorite airline alliance, while the newer Airbus A350, of which Qatar Airways, a oneworld member, was the launch airline, wins Favorite Aircraft Type. Qatar Airways is the Favorite Airline in the Middle East winner for the second consecutive year.
We know millennials prefer to book travel via mobile devices, making the next category all the more important. Jetblue.com is Favorite Airline Website for the third consecutive year, with Kimpton.com its hotel counterpart, earning Favorite Hotel Website accolades.
Two North American carriers claim the next two titles, with two-time winner Alaska Airlines named Favorite Airline in North America, and Southwest Airlines dubbed Favorite Budget Airline. Around the rest of the globe, Aerolineas Argentinas, Aer Lingus, South African Airways and Korean Air score high in their regions, winning Favorite Airline to South America, Favorite Airline in Europe (for the third time), Favorite Airline in Africa (for the third time) and Favorite Airline in Asia (second consecutive year), respectively.
Eco-friendly initiatives go a long way in impressing this age group, and Lufthansa makes the grade as Favorite Green Airline for the second consecutive year. In the hotel world, Element Hotels nabs the top spot for Favorite Green Hotel for the third time.
Of course, it's not just in the air that matters — matters on the ground are equally important, and these worldwide airports are among millennials' favorites. Munich Airport, for the third time, continues to generate buzz as Favorite Overall Airport in the World. Another international favorite is Singapore Changi Airport, Favorite Duty-Free Shops. In the United States, three-time honoree Hartsfield-Jackson Atlanta International Airport claims the top spot for Favorite Airport in North America and wins Favorite Airport Dining for the first time. To shop 'til you board, book a flight through Denver International Airport, Favorite Airport Shopping.
New Orleans, a popular city to visit among millennials, earned two honors this year. The Moxy New Orleans was named Favorite Individual Hotel, while the city itself was dubbed Favorite Foodie City.
For the second consecutive year, Aloft Hotels & Resorts earned Favorite Hotel Chain honors. Kimpton Hotels claimed the title Favorite Boutique Hotel Chain, and its nation's capital property, Kimpton Carlyle Hotel Dupont Circle, is crowned Favorite Individual Lifestyle Hotel.
For other smart options for accommodations for your next trip, consider these other big winners: ME Miami, Favorite Individual Boutique Hotel; Barceló Hotel Group, Favorite Hotel Chain in Latin America; Fiesta Americana, Favorite Hotel Chain in Mexico for the third year; and Vida Hotels and Resorts, the two-time winner of Favorite Hotel Chain in the Middle East. Rounding out the hotel category is IHG Rewards Club, the Favorite Hotel Rewards Program winner for the third consecutive year.
Another perennial favorite, Spain nabs the honor of Favorite Country for a third consecutive year. With so much to offer any type of millennial traveler and a myriad of Instagram-worthy attractions, it's no wonder Spain repeatedly appears on our winners' list. Ditto for Athens, a first-time winner for Favorite Worldwide City. Millennial travelers are flocking to the historic city and capturing the perfect snaps to share on Snapchat from any number of Athens hot spots. It's the GoPros that come out in Thailand, Favorite Adventure Destination, as adventurous travelers hope to perfectly capture those viral moments.
What other worldwide destinations provide the perfect picturesque backgrounds to inspire envy among social media followers? Our experts say Turks & Caicos, Favorite Honeymoon Destination; Dubai, Favorite Shopping Destination; Bangkok, Favorite Nightlife Destination; and Atlanta, Friendliest City. The #FavoriteEventAroundtheGlobe honor goes to Rio Carnival.
Despite notions otherwise, millennials do still take advantage of car rentals. When not opting to walk, cycle or ride share, they choose National Car Rental, voted this year's Favorite Car Rental Company. Perhaps they book the service with their Chase Sapphire Rewards card, named Favorite Credit Card.
We've covered by air and by land, but we're missing by sea. New to the survey this year, Royal Caribbean International is the first cruise line honored as Favorite Cruise Line. And traveling with millennials no matter where they may be, the chosen one for Favorite Luggage Brand is BlueSmart, the trackable, technology-driven suitcase.
Cheers to this year's winners, those who continue to capture the attention of millennial travelers and inspire them to see the world, documenting the treasured moments from anywhere on Earth.
WINNERS' CIRCLE
FAVORITE INTERNATIONAL AIRLINE
1. Delta Air Lines
2. American Airlines
3. United Airlines
4. Alitalia
5. Aer Lingus
FAVORITE AIRLINE ALLIANCE
1. oneworld
2. SkyTeam
3. Star Alliance
FAVORITE AIRCRAFT TYPE
1. Airbus A350
2. Airbus A380
3. Boeing 787 Dreamliner
4. Boeing 777
FAVORITE AIRLINE WEBSITE
1. Jetblue.com
2. Delta.com
3. United.com
4. AA.com
5. Southwest.com
FAVORITE FREQUENT-FLYER PROGRAM
1. Delta SkyMiles
2. United MileagePlus
3. Southwest Rapid Rewards
4. American Airlines AAdvantage
5. Alaska Airlines Mileage Plan
FAVORITE AIRLINE IN NORTH AMERICA
1. Alaska Airlines
2. JetBlue
3. United Airlines
4. Delta Air Lines
5. American Airlines
FAVORITE BUDGET AIRLINE
1. Southwest Airlines
2. JetBlue
3. Spirit Airlines
4. Frontier
5. West Jet
FAVORITE AIRLINE IN SOUTH AMERICA
1. Aerolineas Argentinas
2. LATAM Airlines
3. Aeromexico
4. Avianca
FAVORITE AIRLINE IN EUROPE
1. Aer Lingus
2. Lufthansa
3. Turkish Airlines
4. Alitalia
5. Virgin Atlantic Airways
FAVORITE AIRLINE IN AFRICA
1. South African Airways
2. Royal Air Maroc
3. Ethiopian Airlines
4. Mango
FAVORITE AIRLINE IN THE MIDDLE EAST
1. Qatar Airways
2. EL AL Israel Airlines
3. Etihad Airways
4. Emirates
5. Saudi Arabian Airlines
FAVORITE AIRLINE IN ASIA
1. Korean Air
2. EVA Air
3. Singapore Airlines
4. China Airlines
5. Cathay Pacific Airways
FAVORITE GREEN AIRLINE
1. Lufthansa
2. Alaska Airlines
3. Delta Air Lines
4. Virgin Atlantic Airways
5. Aer Lingus
FAVORITE OVERALL AIRPORT IN THE WORLD
1. Munich Airport
2. Reykjavík Keflavík International Airport
3. Incheon Airport
4. Singapore Changi Airport
5. Hartsfield-Jackson Atlanta International Airport
FAVORITE AIRPORT IN NORTH AMERICA
1. Hartsfield-Jackson Atlanta International Airport
2. Chicago O'Hare International Airport
3. San Francisco International Airport
4. Boston Logan International Airport
5. Las Vegas McCarran International Airport
FAVORITE AIRPORT DINING
1. Hartsfield-Jackson Atlanta International Airport
2. Singapore Changi Airport
3. Munich Airport
4. Chicago O'Hare International Airport
5. London Heathrow
FAVORITE AIRPORT SHOPPING
1. Denver International Airport
2. Hartsfield-Jackson Atlanta International Airport
3. Chicago O'Hare International Airport
4. New York John F. Kennedy International Airport
5. Los Angeles International Airport
FAVORITE DUTY-FREE SHOPS
1. Singapore Changi Airport
2. Dubai Duty Free
3. Incheon Airport
4. London Heathrow
5. Paris Charles de Gaulle Airport
FAVORITE INDIVIDUAL HOTEL
1. Moxy New Orleans
2. Hotel Zaza, Dallas
3. Element New York Times Square West
4. Kimpton Hotel Palomar Phoenix
5. Aloft New York Brooklyn
FAVORITE HOTEL CHAIN
1. Aloft Hotels & Resorts
2. Marriott Hotels & Resorts
3. Element Hotels
4. Moxy Hotels
5. W Hotels
FAVORITE INDIVIDUAL BOUTIQUE HOTEL
1. ME Miami
2. INNSIDE New York NoMad
3. Kimpton Muse Hotel
4. Moxy London Excel
5. Kimpton Alexis Hotel
FAVORITE BOUTIQUE HOTEL CHAIN
1. Kimpton Hotels
2. Canopy by Hilton
3. Curio by Hilton
4. Tribute Portfolio
5. EVEN Hotels
FAVORITE INDIVIDUAL LIFESTYLE HOTEL
1. Kimpton Carlyle Hotel Dupont Circle
2. The Logan Philadelphia, Curio Collection by Hilton
3. EVEN Hotels, Brooklyn
4. The London EDITION
5. Hotel G Beijing
FAVORITE HOTEL WEBSITE
1. Kimpton.com
2. Marriott.com
3. Hilton.com
4. Westin.com
5. Hyatt.com
FAVORITE HOTEL REWARDS PROGRAM
1. IHG Rewards Club
2. Starwood Preferred Guest
3. Hilton Honors
4. Marriott Rewards
5. World of Hyatt
FAVORITE HOTEL CHAIN IN LATIN AMERICA
1. Barceló Hotel Group
2. Sheraton Latin America
3. Four Seasons
4. Hilton Hotels
5. Meliá Hotels & Resorts
FAVORITE HOTEL CHAIN IN MEXICO
1. Fiesta Americana
2. Live Aqua
3. Rosewood Hotels
4. Westin Hotels & Resorts
5. Camino Real
FAVORITE HOTEL CHAIN IN THE MIDDLE EAST
1. Vida Hotels and Resorts
2. Jumeirah Hotels & Resorts
3. Address Hotels + Resorts
4. Starwood Hotels & Resorts
5. Mövenpick Hotels & Resorts
FAVORITE GREEN HOTEL
1. Element Hotels
2. Sofitel
3. Earth Lodge, Antigua, Guatemala
4. Jean-Michel Cousteau, Fiji
5. Hilton Hotels
FAVORITE COUNTRY
1. Spain
2. Ireland
3. Greece
4. Italy
5. Thailand
FAVORITE WORLDWIDE CITY
1. Athens
2. Bangkok
3. Dublin
4. London
5. Sydney
FAVORITE HONEYMOON DESTINATION
1. Turks & Caicos
2. Greece
3. Aruba
4. Cook Islands
5. Hawai'i
FAVORITE ADVENTURE DESTINATION
1. Thailand
2. India
3. Costa Rica
4. New Zealand
5. Australia
FAVORITE EVENT AROUND THE GLOBE
1. Rio Carnival
2. Running of the Bulls
3. Oktoberfest
4. Full Moon Parties
5. South by Southwest
FAVORITE SHOPPING DESTINATION
1. Dubai
2. Paris
3. London
4. New York City
5. Milan
FAVORITE NIGHTLIFE DESTINATION
1. Bangkok
2. Barcelona
3. Miami
4. London
5. Las Vegas
FAVORITE FOODIE CITY
1. New Orleans
2. Chicago
3. Rome
4. Paris
5. New York City
FRIENDLIEST CITY
1. Atlanta
2. Copenhagen
3. Chicago
4. Toronto
5. Boston
FAVORITE CAR RENTAL COMPANY
1. National Car Rental
2. Hertz
3. Avis
4. Enterprise
5. Budget
FAVORITE LUGGAGE BRAND
1. BlueSmart
2. Samsonite
3. Rimowa
4. Tumi
5. TravelPro
FAVORITE CREDIT CARD
1. Chase Sapphire Rewards
2. Venture Card from Capital One
3. American Express BlueSky
4. United MileagePlus Explorer Card by Chase
5. Bank of America Rewards
FAVORITE CRUISE LINE
1. Royal Caribbean International
2. Carnival Cruises
3. Disney Cruise Line
4. Norwegian Cruise Line
5. Princess Cruises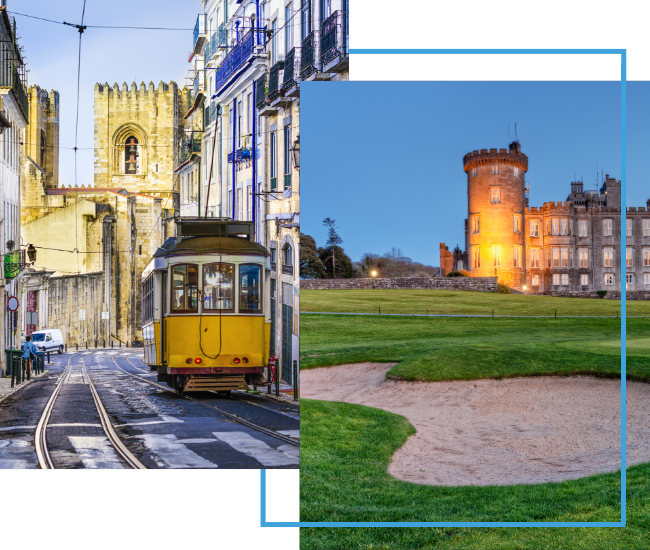 FX Excursions
FX Excursions offers the chance for once-in-a-lifetime experiences in destinations around the world.
Explore Excursions
There is something magical about sipping a glass of local wine while watching the sun slip into the Aegean Sea as the afterglow tinges traditional, white-washed Cycladic houses with glorious shades of rose, purple and gold. Ancient Greeks believed Helios, the Sun God, caused sunsets by driving his fiery chariot into the sea. Standing at water's edge in Mykonos, watching the sky slowly turn from purple to inky black, you almost believe it.
Sponsored Content
Many small- and medium-sized businesses face time and budget constraints when organizing corporate hotel travel for employees. To address this problem, IHG® Business Edge emerged as a cost-free business travel solution for small- to medium-sized enterprises, offering travel managers exclusive access to enticing perks, handpicked educational resources and comprehensive company travel metrics. IHG Business Edge connects our loyal customers to our portfolio of 5,800 hotels and resorts across 18 brands in more than 100 countries.
The prospect of a post-visit treasure hunting session inside the shops of landmark museums such as the Louvre in Paris, the Uffizi Gallery in Florence and The British Museum in London can be irresistible. However, some of Europe's smaller and more unusual museums boast retail spaces with a surprising "wow" factor, often as well-curated as the galleries.