THE GRAND DEL MAR HOTEL (now a Fairmont property) opened in 2007 — not the best time to launch a luxury property — on the cusp of the recession, but it powered through and created a great resort with one of the top golf courses in Southern California. Grand Del Mar Golf Course, designed by Tom Fazio, originally opened in 1999 as part of the Meadows Del Mar. Lying in Los Peñasquitos Canyon Preserve just north of San Diego City, the course eventually became part of the Grand Del Mar Hotel. The private course is open only to members and hotel guests but recently opened to groups.
One of the course's great benefits is its forecaddie program. Every group, unless solely made up of members, must have a forecaddie to guide them and offer advice and encouragement. David Brew, our forecaddie, aimed to please by eyeing putts, offering advice from the tee box and fairway and raking bunkers. He added a great deal to our enjoyment of the course; even when we missed a putt he'd say, "That would have been great, nice try!"
I teed up with Vladimir Velasco and Bill Noonan, former executives with Malaysia Airlines, and Steve White, GT Globility Board member. The three drove down from Los Angeles for the day's competitive game.
HOLE 1 | 383 yards, par 4
I was sure to secure a picture of the statue of Bobby Jones by the back tees, one of the legends of golf and the only golfer to win the true golf grand slam. We decided to choose the white tees and work on our scoring at Grand Del Mar. I was playing with Vlad's older set of Nike irons and an offset driver that gave me a little trouble. I skied the first tee shot, landing just past the lady's tee, while the others hit tremendous drives. I felt the pressure and for the second shot hit a 3-wood down to 80 yards from the hole. "Great recovery," shouted Bill.
Bill's second shot was too far right, hitting the cart path and lost, eliminating him from the hole. I chipped up and two-putted for bogey, joining Vlad. Steve carded a nice par, which became habit for him: 14 pars and one birdie for an impressive 75.
HOLE 5 | 378 yards, par 4
This narrow hole is intimidating from the tee. The narrow fairway slopes significantly right to left. Still getting used to the offset driver, I aimed right but took the ball over the left trap, safe for a clean second shot. Bill shanked his drive left, bouncing off a tree and into bushes on the right for a comical second shot back into play. Bogey was the best score, carded by Steve and me.
HOLE 8 | 454 yards, par 4
This tricky dogleg left causes havoc if you do not properly position your drive. Vlad drove too far left and too short to clear the high grass lining the left side of the hole. Steve and Bill both killed their drives, landing near the right fairway bunker. I overcooked my drive, landing just short of the same bunker but rolling up, allowing a clean second shot.
With slightly more than 200 yards to go, I took out Vlad's 3-wood Big Bertha and launched the ball toward the hole. It caught the front of the green and rolled successfully short of the pin. Bill suffered a calamity of errors, taking him out of play, while Steve stayed steady. With Brew lining up our putts, Steve and I carded pars.
HOLE 11 | 212 yards, par 3
This beautiful hole had lots of flowers blooming the day we played, but from the tee we laid a quadruplet of eggs. Brew suggested a redo. Our second attempts were far better. I teed off following Vlad, and we both carried to the left; Brew declared, "There is room over there." Steve hit a much better shot to the center of the green, and Bill's ball caught the right trap. Approaching the green, Steve found his first ball playable and carded a bogey. I chipped and landed within 15 feet of the pin and two-putted for a redo bogey. Bill and Vlad were not so fortunate and carded a double and a triple bogey!
HOLE 15 | 416 yards, par 4
As we started to close out the final holes of the back nine, Brew took us to the Grand Tee for a spectacular view. We decided to take a "fun ball" from the tips to see what we could achieve. To clear the brush and make it to the rough before the fairway is 220 yards, a significant distance to clear in the air. Steve and Bill made their best effort but came up short. Vlad hit one of his best drives of the day, clearing the brush to land in the rough. Deciding there was nothing to lose, I took Vlad's better driver and slammed a beautiful drive right center, landing on the fairway below. "Fantastic drive!" said Brew.
We returned to the white tees and Vlad and I decided to play our fun balls, allowing the lightweights to re-tee. My second shot was a low 3-wood which I nearly missed; I clipped the ball, sending it 180 yards to the left side of the green and taking out the guarding trap. A simple wedge got me in par-putting distance, but I missed, carding a bogey. Bill also scored a bogey, and I reminded him mine was from the tips!
HOLE 17 | 242 yards, par 3
After we teed off from the whites, Brew took us to the tips for the vantage. The 242 yards from the back tees is unreachable by the average or better-than-average golfer. Our more forward tee box was not a problem except for Vlad, who dumped his tee shot and the next into the pond. Bill and I landed below the hole for a long and tricky uphill putt. Brew gave us the read, and my putt nearly cupped out for a birdie. Bill joined me while Steve carded one of his few bogeys.
HOLE 18 | 421 yards, par 4
A beautiful closing hole requires players to drive a ball far downhill for an approachable shot to an elevated green lying beyond a creek and guarded by bunkers. We accomplished a trio of great drives, and I took out Vlad's Callaway driver for one last bound — landing just right of the left trap, kicking right and continuing down the hill. Steve and I were about equidistant for the longest drive on the hole. My next shot, with the wind, sailed about 160 yards but hooked slightly to hit the top of the left bunker and bounced in. Steve took a great iron shot to the green, landing left of the pin nine feet away. Vlad and Bill struggled with traps and water and were out. My bunker shot landed just past the pin as Brew yelled, "Great out!" Unfortunately, I two-putted for bogey. The star of the closing hole was Steve, whom Brew guided to a birdie.
The Grand Golf Club
Fairmont Grand Del Mar
5200 Grand Del Mar Way
San Diego, CA 92130
tel 858 314 1930
thegrandgolfclub.com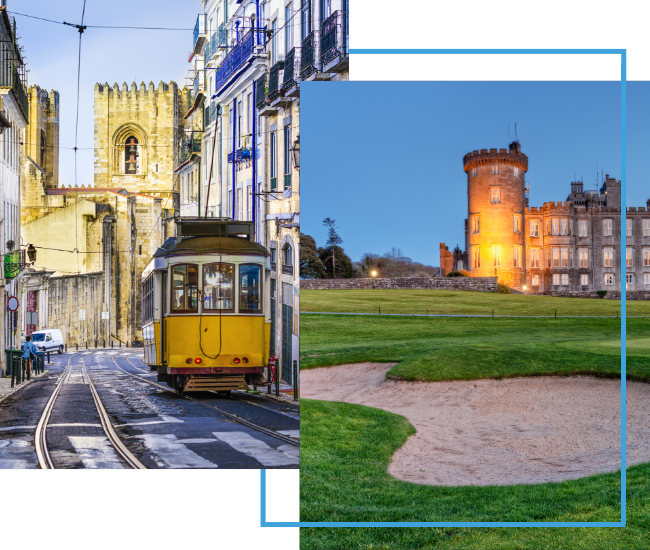 FX Excursions
FX Excursions offers the chance for once-in-a-lifetime experiences in destinations around the world.
Explore Excursions
If fabulous food and beverages are a must-have for any weekend getaway, then look no further than the City of Brotherly Love. Whether your palate has a penchant for vibrant Latin American fare or cozy French cuisine, whether you're an oenophile looking to swirl, sniff and sip your way around the globe or you'd rather sample farm-to-glass cocktails, Philly's got it all this fall. (With the exception of Bolo, which is a short taxi or Uber ride away and definitely worth the trip, the rest of these spots are all within walking distance of each other.)
From Santoríni to Dubai to New York, some hotels just have that "it" factor that draws visitors far and wide. For some hotels it's their proximity to popular landmarks and attractions, for others it's their amenities. But these hotels have something few can claim: a true room with a view.