As we get closer to the 2020 Tokyo Summer Olympics, avid travelers and sports fans will become more acquainted with the name Kengo Kuma. He is not an athlete, but his innovative approach to building materials and open spaces have made him a world champion in architecture. This summer, all eyes will be on the Kuma-designed New National Stadium, the site for the opening and closing ceremonies as well as key football and rugby matches.
With Kuma at the design helm, Capitol Tokyu Hotel Tokyo remains one of the hottest tickets among the city's 5-star luxury hotel contenders. The city's many gold medal-caliber properties run the gamut from Western-style opulence to crisp layouts integrating traditional and contemporary Japanese architectural tenets. However, there's nothing quite like what Kuma accomplished with his concept for the Capitol Hotel Tokyu. It feels as timely and distinctive a setting as it did when it first opened after Kuma's remarkable transformation of the structure.
The lobby and concierge area is spacious and uncharacteristically quiet for a property in Akasaka, a posh business and residential neighborhood. This is a credit to the astute staff having the check-in, check-out and customer service procedures down to a science. However, the ambience is calming by design, from sleek, unobtrusive furnishings to a dramatic work by Toko Shinoda, the leading Japanese artist working in the sumi ink medium, intended to connect the original structure's past and present.
Kuma's vision of creating an effortless aesthetic flow between indoor and out succeeds thanks to the efforts of landscape architect Shunsaku Miyagi and interior design firm Kanko Kikaku Sekkeisha. Although there have been upgrades throughout the decade, the flow between updates is just as seamless. Room partitions based on shoji screens feel like natural outgrowths of Kuma's wood construction, allowing each guest the flexibility to have as much sunlight, privacy or city views as he or she desires. The view from the top-tier suite overlooks the National Diet Building and includes pleasant workspaces and executive entertaining sections. The rest of the suites are organized in a similar way, which echoes the aesthetics of the Hie Shrine, which the hotel also overlooks.
Aa delightful sense of continuity also flows through the restaurants, bars and meeting spaces, simply decorated yet sparkling with personality and natural beauty. Under the direction of Chef Minoru Tsuge, Suiren integrates formal and formal kaiseki (multicourse) presentations with tepanyaki and sushi presentations rooted in traditions, though anything but routine. Origami, overseen by Chef Naohito Nakamura, unites an all-day dining room, lobby lounge and pastry boutique into a light and vibrant dining concept that feels even more upscale than one would expect from a similar arrangement at a comparable hotel.
Kuma's appreciation of natural light and exposure to landscapes and the sky really come to life within the hotel's health club and spa facilities. The 14th-floor Jacuzzi room and swimming pool terrace are mind-blowing given the positioning of the windows — especially when windows are opened, weather permitting. As the hotel is steps from several subway lines connecting guests to key neighborhoods — including the stadium and other sites that will host different events around town during the Games —one can argue the city figuratively and literally is at one's feet. However, the sky is also the limit in ways hotel guests may not have imagined.
The Capitol Hotel Tokyu
2 Chome-10-3 Nagatacho
Chiyoda City, Tokyo, 100-0014
Japan
tel 81 3 3503 0109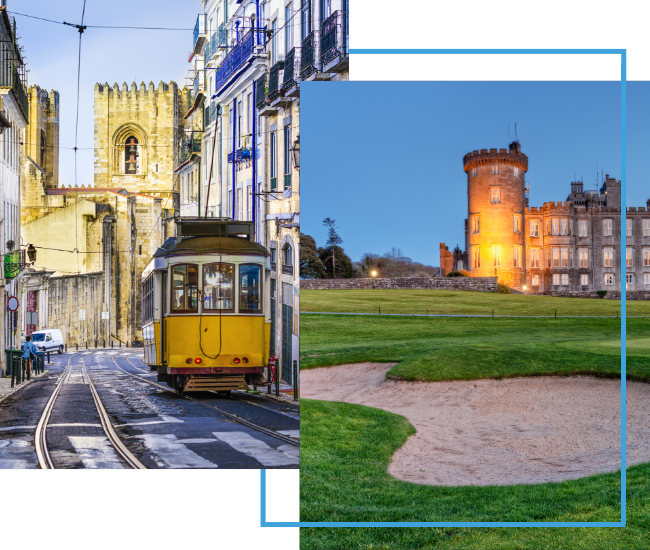 FX Excursions
FX Excursions offers the chance for once-in-a-lifetime experiences in destinations around the world.
Explore Excursions
Pleasant weather, autumn foliage and vibrant flowers are among the many delights awaiting nature lovers at botanical gardens and arboretums across the United States. However, some of these green spaces take on additional color this month and through Halloween when enterprising gardeners, landscape architects, management and other creative minds cast a spell with themed environments running the gamut from spooky to utterly bewitching.
Sponsored Content
Whether it's the people, the craic (fun) or the coasts, travelers always find something to love about the island of Ireland. What fills your heart?
For travelers who love all things autumn, Crystal Springs Resort, New York City's closest destination resort, features special offers and experiences to meet the demands of everyone's fall bucket list. Located only 80 minutes outside New York City in Sussex County, New Jersey, Crystal Springs Resort offers a quick getaway to enjoy fall foliage. Are any of these new offers or experiences on your bucket list?