AS PORTUGAL AGAIN EARNED Best European Destination in the World Travel Awards, the nation's primary airline, TAP Air Portugal, unfolds bold plans to more than double its flights from U.S. cities and add new routes throughout the world. By the summer of 2020 TAP will add 26 new weekly flights from the United States and Canada, for a total of 82 flights between North America and Portugal each week.
The new routes and greater frequency represent a more than 400 percent increase in just five years, from the 16 trans-Atlantic flights departing Newark (EWR) and Miami (MIA) in 2015. In addition to doubling the daily flights between New York (JFK) and Lisbon (LIS), the current Newark–Porto (OPO) flights will become daily. Flights from Miami will increase to 10 a week, and there will be daily flights from Washington, D.C (IAD), and Chicago (ORD) to Lisbon. Six flights a week will begin by summer between Montréal (YUL) and Lisbon, and five between Boston (BOS) and Ponta Delgada (PDL) in Portugal's Azores Islands. North American routes to Orlando (MCO) and Cancún (CUN) are also in the works.
These planned new and expanded U.S. routes come on the heels of three new routes added in summer 2019, when the first TAP flights to Lisbon took off from San Francisco (SFO), Chicago, and Washington, D.C. TAP also serves both Boston (BOS) and Toronto (YYZ) with daily flights to Lisbon.
TAP's focus goes beyond its North American routes. The operational expansion includes increasing flights to Natal (NAT) and Belém (BEL), Brazil, from three to five per week and adding a fourth weekly Porto–São Paulo (GRU) flight. The Tel Aviv (TLV) route, new in 2019, doubled to two daily flights, with the modern Airbus A321 Long Range allowing better connectivity between Israel and U.S. and Brazilian destinations.
After initiating six new European routes in 2019, this year TAP will launch a route to Santiago de Compostela (SCQ) and add flights on existing routes to other Spanish cities along with Casablanca, Morocco (CMN). In Africa, where TAP serves as many as 134,000 people a month, the latest new route is Banjul, The Gambia (BJL), bringing the total number of African destinations to 18.
As expected, recent expansions to TAP's routes paid off with a marked increase in passenger numbers, and in July 2019 the airline carried a record-breaking 1.7 million passengers, a growth of 11.6 percent from the previous year. The increased North American routes more than doubled the number of TAP's trans-Atlantic passengers.
New routes and increased frequencies mean corresponding investment in its fleet. In the summer of 2019, TAP's fleet reached 100 aircraft for the first time in its 74-year history. The first of the airline's order of 71 new Airbus aircraft — which include 21 Airbus A330neos, 19 Airbus A320neos, 17 Airbus A321neos and 14 Airbus A321 Long Range jets — have begun arriving. TAP is the launch airline for the A330neo and, as of the end of 2019, the world's only airline operating all of Airbus' latest-generation NEO aircraft.
In just one month, TAP christened seven new aircraft, named for important figures in Portuguese history and culture. With the upgrading of its fleet, TAP assures all passengers enjoy the same comfort as those on long-distance planes, with more space, ergonomic seats, onboard entertainment and connectivity that includes unlimited free messaging via WiFi. TAP is the first airline to fly the new Airbus A330-900neo, equipped with the AirSpace by Airbus cabin, quieter and with lighting adapted for different phases of the flight. It also features ergonomic and more spacious economy seats and state-of-the-art, full-flat seats in Executive Class.
The Airbus A321 Long Range, used on mid- and long-haul flights, also offers ergonomic and more spacious economy seating and state-of-the-art, full-sized seats in business class. All classes include Portuguese-designed Recaro seats.
With the fleet renewals, TAP added EconomyXtra seating for an upgraded economy-class experience, so far making it available on the Lisbon–São Paulo and Lisbon–San Francisco routes and on some medium-haul routes. These 56 reclining seats in the front rows of economy offer more space and adjustable headrests, as well as power and USB connections. On long-haul flights, EconomyXtra also includes headsets and a luggage compartment.
Along with access to more than 100 award-winning movies, including the latest Hollywood releases, TAP apps allow passengers to download newspapers and magazines to read during flights. Passengers can begin downloading upon check-in.
Along with greater passenger comfort, the new aircraft increase the fleet's fuel efficiency and reduce carbon emissions. The Airbus A330-900neo is equipped with Rolls-Royce Trent engines that average 17 percent lower fuel use than the previous generation. This significantly reduces both CO2 emissions and noise. Likewise, the Airbus A321-200neo consumes as much as 15 percent less fuel than the Airbus A321 and can fly longer routes. The Airbus A320-200neo, the improved version of the Airbus A320, proves the most advanced and fuel-efficient single-aisle aircraft flying today, below the industry average for emissions and noise.
Promoting Portugal and its products has always been a priority for TAP, and nowhere does it do this with more enthusiasm than with the pride it shows for Portuguese wines. These have consistently earned prestigious international awards, and a flight on TAP provides a good opportunity to sample them. TAP partnered with some top Portuguese wineries to select the 1.2 million bottles served on board annually. A panel of wine connoisseurs taste them on the ground and in the air to assure the best high-altitude choices.
On the ground, passengers will notice the new service desk in the departures area at Lisbon Airport, near the Premium Customer Center. The spacious area was designed for passenger comfort and convenience, with a rest area and a ticketing system so next numbers can be called via mobile phone.
Likewise, TAP's Premium Lounge in the Schengen area at Lisbon Portela Airport also emphasizes open spaces and a calm, uncluttered atmosphere. The lounge is open to Executive Class passengers and TAP Miles&Go Gold and Star Alliance Gold members. In other airports served by the airline, TAP shares lounges with Star Alliance and other partner airlines.
Partnerships and codeshares extend the airline's reach worldwide. This winter TAP expands its codeshare with Etihad Airways to include 10 additional routes in Europe. In August it expanded a codeshare partnership with Air China, covering additional routes from Chinese cities to London Heathrow, Frankfurt (FRA) and Barcelona (BCN).
In line with its mission to promote Portugal, along with increasing the flights that bring tourists and business travelers to the country, a TAP initiative encourages onward-bound passengers to stop for a few days to savor the attractions of Lisbon or Porto. TAP passengers can now spend up to five nights in either city without paying the stopover fee. Bonuses include hotel and museum discounts, half-price Lisboa Cards and complimentary wines at partner restaurants. The Stopover App helps visitors get the most out of their stay.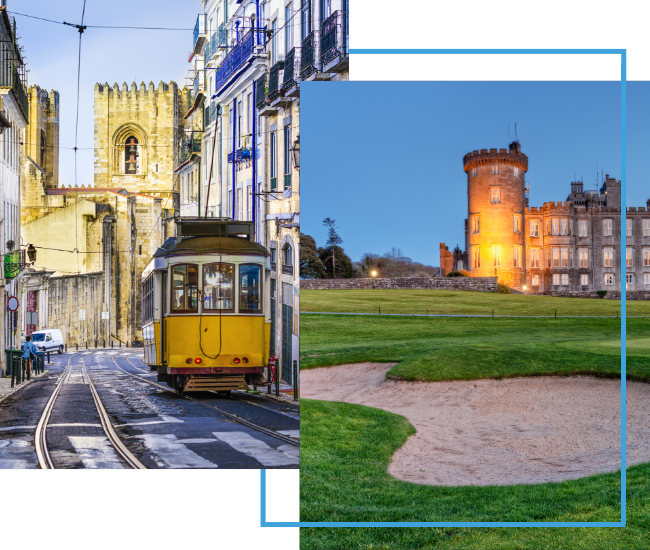 FX Excursions
FX Excursions offers the chance for once-in-a-lifetime experiences in destinations around the world.
Explore Excursions
If fabulous food and beverages are a must-have for any weekend getaway, then look no further than the City of Brotherly Love. Whether your palate has a penchant for vibrant Latin American fare or cozy French cuisine, whether you're an oenophile looking to swirl, sniff and sip your way around the globe or you'd rather sample farm-to-glass cocktails, Philly's got it all this fall. (With the exception of Bolo, which is a short taxi or Uber ride away and definitely worth the trip, the rest of these spots are all within walking distance of each other.)
Sponsored Content
Experience the life-changing destination of Greece by exploring its island gems in the Ionian Sea. Scattered off the western coastline of Central Greece, to the south of Peloponnese, the Ionian Islands are an island group comprising large and small islands.
From Santoríni to Dubai to New York, some hotels just have that "it" factor that draws visitors far and wide. For some hotels it's their proximity to popular landmarks and attractions, for others it's their amenities. But these hotels have something few can claim: a true room with a view.