At every turn Budapest reminds you it is one of Europe's great imperial capitals, but perhaps this storied grandeur is most obvious from a boat meandering down the Danube River, a rolling, glistening body of water that splits the city into the Buda and Pest sides. On my most recent visit to the Hungarian capital, a river cruise with my now-husband in 2019, we arrived via the Danube … and at night. Believe me when I tell you there's no better way to view the city, as the lit-up Hungarian Parliament Building proves a breathtakingly exquisite sight.
We sailed the Danube with U by Uniworld right after the New Year. Several river cruise lines ply these waters and will sail you into Budapest in the same spectacular way, including Uniworld Boutique River Cruises, Viking River Cruises, Avalon Waterways, Tauck, Scenic and AmaWaterways.
On my first trip to Budapest, on a tour of eastern Europe with my father in 2008, we arrived the traditional way, by air, and I can assure you that no matter your entry into the city, you will marvel at the architecture, and the beauty and splendor will still rivet, entice and leave you in awe.
And should you not arrive in Budapest on a boat, you can still take to the Danube with various boat tour options. The boat trips will likely operate at a leisurely pace, allowing you to take photos and selfies with outstanding monuments like the Gothic stunner that is the Hungarian Parliament or the pointed towers of Matthias Church on the Buda side or as you sail underneath the 19th-century Chain Bridge, especially once it's lit up for the evening.
Various options exist for exploring Budapest via waterway, including Budapest Danube Boat Tour, Budapest River Cruises – Silverline and Admiral River Cruises. Experience the grandeur of the Danube after dark with Night Cruise Budapest or Dinner & Cruise Budapest.
For my husband and me, our first actual taste of Budapest was a plate of traditional meats and potatoes at Great Market Hall Budapest. As our visit coincided with the start of the new year and it was early in the day, the market was quiet. However, this popular spot usually buzzes with locals and tourists. Shop and dine across the three floors of the large, beautiful building opened in 1897. Guided tours with tastings make an ideal option for first-timers. The 19th-century Downtown Market Hall and Feny Street Market also offer plenty of choices.
The food scene in Budapest should not be missed, and our stomachs only wished we had more time to fully immerse ourselves in all the culinary delights. I, in particular, am disappointed we missed sampling the classic street food of lángos, fried dough topped with shredded cheese and sour cream. From street food to food halls to Michelin-starred eateries, travelers can taste it all in the city. Mák Bistro shies away from the heaviness of traditional Hungarian cuisine in favor of a locavore menu featuring foraged ingredients. An important aspect of a visit to Budapest is to recognize its pre-war history and lasting influence: Café Kör serves up a taste of that time in its atmosphere and classic, unadulterated Hungarian cuisine. Onyx, previously Budapest's only restaurant with two Michelin stars, is currently undergoing its "metamorphosis," with diners eager to see its latest identity. And when it comes to nightlife, ruin bars are the rage, built in the ruins of abandoned buildings and stores and largely located in the District VII neighborhood, the old Jewish Quarter.
Slow things down and find relaxation at one of Budapest's historic baths dating back to the time of the Romans. Of the more modern iterations, the most famous is Gellért Baths in Buda. Though temporarily closed because of the COVID-19 pandemic, the massive wellness complex comprises a thermal bath (packed with minerals to help treat circulation problems, inflamed joints and other conditions), saunas and a variety of pools. Massage therapists are available if you or your companion want to elevate your visit. But its architectural splendor is another reason this specific bath proves so popular. About 100 years old now, the Art Nouveau construction features glass roofs, mosaic tiles, intricate wall sculptures and more.
Because of the diversity on offer, from Baroque to Neoclassical to Ottoman, pay close attention to Budapest's vast architectural landscape; it really will blow you away. Keep your eyes peeled for Art Nouveau (or Szecesszió in Hungarian), the period in which the city truly flourished. Architect Ödön Lechner's works were a prominent product of this period, so seek out the structural beauty of the Szent László Gimnázium and the Geological Museum. For something else especially unique and local, add the stunning Zsolnay porcelain tiles to your architecture hunt. Considered Hungarian design treasures, the tiles, glazed with iridescent eosin, are most evident on the roofs of the capital's most emblematic buildings including the Museum of Applied Arts, Postal Savings Bank (both designed by Lechner) and Matthias Church.
But many more structures feature these tiles, which gained massive popularity at the beginning of the 20th century, so get on the new Ferris wheel in the center of town. It offers incredible views of downtown and a peek at the Zsolnay-covered roofs and façades.
If it's really head-turning views you're craving, you'll want to catch the sunset at Aria Hotel's High Note SkyBar, one of the few rooftop boîtes in all of Budapest. Pick a yellow-cushioned seat, order a glass of rosé and marvel at the scene around you: a spellbinding medley of red-roof apartments and the dome, statues and towers of St. Stephen's Basilica.
INFO TO GO
Budapest's Ferenc Liszt International Airport lies about 12 miles from the center of town. Official transportation companies (for both private and group transfers directly to your hotel) operate manned kiosks conveniently placed at baggage claim and throughout airport terminals. Barring extreme traffic, a private car service into the city should cost around $25.
LODGING
Aria Hotel Budapest by Library Hotel Collection
One of Budapest's 5-star options, this city-center hotel is inspired by music of all types. Creature comforts include a stress-busting spa.
Hercegprímás Utca 5
$$$$$
Brody House
All 10 rooms in this atmospheric fin de siècle building are individually decorated with so much personality you could easily imagine one as your own city apartment.
Bródy Sándor Utca 10
$$$
The Ritz-Carlton, Budapest
In the heart of town, this grand and contemporary hotel offers stylish hangouts including a lobby lounge under a stunning rotunda and a beautifully tiled swimming pool under a glass ceiling.
Erzsébet Tér 9-10
$$$$$
DINING
Borkonyha Winekitchen
This Michelin-star winner serves elegant but unfussy dishes full of flavor. Try any of the countless labels of the offered 200 Hungarian wines.
Sas Utca 3
$$
Kiosk
An all-day dining destination combines great décor, delicious food and a hot spot atmosphere with a fabulous riverside location and views of one of the city's bridges.
Március 15 Tér 4
$$
Mazel Tov
Located in the old Jewish Quarter, Mazel Tov brings a Mediterranean vibe to Budapest. Relax and enjoy the cuisine indoors or outdoors — the garden is open in summer and heated in winter.
Akácfa Utca 47
$$$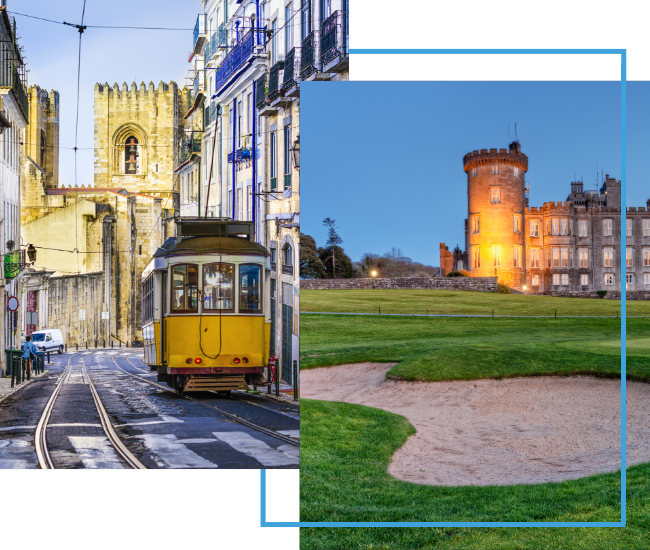 FX Excursions
FX Excursions offers the chance for once-in-a-lifetime experiences in destinations around the world.
Explore Excursions
In addition to intimate settings, smaller staff-to-passenger ratios, and personalized food and beverage options, river cruises have the advantage of providing a deeper dive into a region's culture, food and history. The Rhine, Rhône and Danube in Europe and the Mississippi River and St. Lawrence in North America have much to offer travelers with their itineraries, tying together beloved cities and lesser-known destinations along their routes.
Sponsored Content
Learning more about our readers' travel habits and preferences ensures Global Traveler delivers the content you desire. As the travel industry has adapted and changed over the last few years, it's more important than ever to connect. To best meet your short- and long-term travel content needs, please help us!
With the holidays right around the corner, travelers are preparing for holiday travels. For those looking for a last-minute getaway filled with holiday cheer, consider Croatia. With a variety of winter activities perfect for travelers and locals alike, the Christmas countdown in Croatia is in full swing. Leading up to Christmas, Advent in Croatia makes it even more worth your while to visit the country with free winter incentives. If you plan on visiting Croatia, here are five cities going all out for the holiday season: