With its enviable Mediterranean climate, warm hospitality and unique take on cuisine that melds California ingredients and technique with a smattering of global influences, it's easy to see why Napa Valley resides at the top of food and wine lovers' bucket lists. Napa's wine industry dates back to 1861 when Charles Krug launched the first commercial winery, but one singular event in 1976 really put the area's wines on the map. That was the year of the blind tasting dubbed The Judgment of Paris, when locally produced Chateau Montelena Chardonnay and Stag's Leap Wine Cellars Cabernet Sauvignon beat out all the best white Burgundies and red Bordeaux.
Today those two grape varieties still reign, but the region is also renowned for wines made with Sauvignon Blanc, Merlot, Zinfandel and Pinot Noir, not to mention its sparkling wines that pay homage to the traditional method of production (like Champagne) with a signature fruitiness that can only come from all that sunshine. Though deciding what destinations to hit during a wine tasting itinerary of Napa Valley can be as overwhelming as deciding which styles to sip at the tasting bar or bistro, you really can't go wrong.
No matter if it's your first foray to the region or your fifth, the town of Napa proper is a perfect place to center your trip. Long overlooked as merely the industrial center that visitors pass through on the way north to Yountville or St. Helena, Downtown Napa has emerged as California wine country's "it" spot as of late, boasting more visitors than all of Napa Valley combined. To make it home base for your vineyard pursuits, reserve a room at the luxe and modern Andaz Napa, the chic Archer Hotel Napa or the Blackbird Inn, whose 12 accommodations feature elements of the Arts and Crafts movement.
Book a tasting at Vintner's Collective, housed in a former saloon and brothel dating back to 1875, to sample 18 family-run wine labels under one roof — most of which don't have their own tasting rooms. Nearby, The CIA at Copia, an offshoot of the Culinary Institute of America geared toward enthusiasts, offers cooking and wine pairing classes, a kitchen shop and wine-focused garden-to-fork restaurant; however, at press time it is closed temporarily. Next door, Oxbow Public Market features gourmet artisans and purveyors; dining options include flights and snacks at CRU Tasting Lounge, bottles and fromage to go at Oxbow Cheese & Wine Merchant, and a brewery and distillery if you need a break from the grape. And after a day of wine tasting, dine at nearby Compline, a wine bar, restaurant and wine merchant named for the hour that signaled the end of the workday for European monks. It showcases eclectic varietals, cool producers and fun small plates.
Driving around Napa Valley to embark on a wine tour is easy: Route 29 runs north and south through the region, dotted with wineries on both sides. The entire area has no shortage of gorgeous terraces and patios that offer sweeping views of the vineyards, and a tasting or flight alfresco is at once safe, socially distant and soul-fulfilling. Just north of Napa, Trefethen Family Vineyards offers four themed flights in its courtyard, a reserve tasting on the villa deck or a five-bite-and-sip wine and culinary experience at a private table in the garden. Cakebread Cellars, known for its zesty Sauvignon Blanc, offers several tastings including a seated food and wine pairing that takes place in Dolores Cakebread's organic vegetable garden. And if you have aspirations of being a master blender, don't miss My Virtú at nearby St. Supéry Estate Vineyards & Winery, where you'll compare and contrast Sauvignon Blanc and Sémillon before creating your perfect blend to take home. Continue north to St. Helena and you'll happen upon Newton Vineyard, referred to as "Napa Valley's Secret Garden" for its mountainside location featuring abundant roses and English gardens. Sadly, the 2020 Glass Fire swept through the property and destroyed Newton's winery and tasting room on Spring Mountain. Newton plans to rebuild over the next few years. In the meantime, it is working to open a Downtown Napa tasting experience in the spring.
Another day, head southwest from town to Carneros, the area that straddles Napa and Sonoma whose cooler climate lends elegance and restraint to wines made from Chardonnay and Pinot Noir. Cuvaison Winery does a seated estate tasting on its modern patio of five of its wines crafted with fruit from the Los Carneros and Mount Veeder appellations (currently only by advance reservation). And if you love bubbly, carve out a few hours to spend on the massive patio at the château-like Domaine Carneros, lingering over a guided tasting flight of its Brut, Blanc de Blanc, Blanc de Noir and Rosé, paired with the perfect nibbles of potato chips and caviar, of course.
INFO TO GO
Napa Valley lies 70 miles from San Francisco International Airport, but the region is more easily accessed by flying into Oakland International Airport, 63 miles away; major carriers service both. Other options include Sacramento International Airport, 75 miles away; San José International Airport; or Sonoma County Airport. The closest options for private or chartered flights are Napa County Airport, 10 miles away, or Buchanan Field Airport, 40 miles away. After arriving by air, you'll most likely want to rent a car for the duration of your trip so you'll be able to easily access wineries, restaurants and shopping. Other ground transportation options include Uber or Lyft, and shuttles run to downtown Napa from SFO or OAK through Evans Airport Shuttle. Private transportation options to and around Napa include limos and shuttle buses through operators like Napa Valley Wine Country Tours, Napa Shuttle & Limo and Pure Luxury Transportation.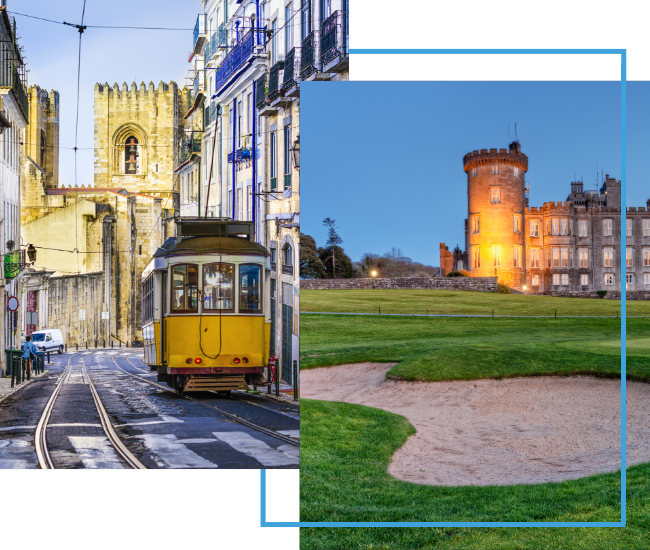 FX Excursions
FX Excursions offers the chance for once-in-a-lifetime experiences in destinations around the world.
Explore Excursions
Imagine yourself lounging in a stone cottage suite with a fireplace and freestanding tub, sipping hot chocolate in a rustic game and reading room with a raftered ceiling, and ice skating and cross-country skiing in the crisp mountain air. Sounds pretty perfect, doesn't it? Especially when you add in seasonal touches.
Sponsored Content
Whether it's the people, the craic (fun) or the coasts, travelers always find something to love about the island of Ireland. What fills your heart?
For the first time in Olympic history, when the 2024 Summer Olympics kick off on July 26, 2024, they will not do so in a stadium. Instead of an Olympic venue, the entire city of Paris will become the Olympic stadium, hosting the games among monuments, on bridges and on the grounds of some of the world's most historic sites. The Opening Ceremony will take place on the River Seine, where athletes will drift along on a flotilla of boats as spectators wave them on from the quays and bridges throughout the city.