Name: Stephen Thompson
Title: Senior executive vice president
Company, city: Qantas Airways; Los Angeles, Calif.
Number of employees: 28,000 worldwide; 250 in the United States
Recent project: G'Day USA, our annual campaign with Australia to bring trade, tech, Best of Australia to the United States
First job: I sold insurance in Adelaide for 12 months, then moved into the airline industry, starting at Ansett Airlines for 14 years and then Qantas for 24 years.
Little-known fact about you: I run three times a week, three 10k jogs around Santa Monica. I also run when I travel to help with jet lag.
Your Business
What innovations/initiatives do you foresee in the industry over the next years? Technology around the customer experience will continue to lead innovation, from quick booking and tracking to onboard products. Qantas has always been an innovator; we were the first to develop business class. Our new Boeing 787-9 is a game changer, allowing us to fly London to Perth in 17 hours. We work closely with GE for fuel-efficient engines and keep a close eye on our carbon footprint. Passengers love our Airbus A380s, which offer more space; some passengers actually route themselves to ensure they are on the aircraft.
Best career advice you've received: Always put the customer into the heart of what you do.
What advice would you give someone starting out in the field? The airline industry is very complex and always changing; never lose your sense of humor.
Stephen Thompson as a Traveler
Favorite travel memory or story: My honeymoon to Santoríni, Greece. We have been back since, and it was amazing to see the changes. When we first visited, donkeys took tourists down the steep cliffs, but now buses show up full of people.
One travel tip you cannot live without: Take a jog after a long flight to combat jet lag. Exercise helps get your body back into cycle.
Best advice for business travelers: Travel light; it helps you get to your destination as quickly as possible and through the airport without hassle.
About Qantas Airways
What can premium travelers expect from a flight on Qantas Airways?
Expect the most unique dining experience in the sky. Fresh ingredients, an onboard cook and a menu led by famed Australian chef Neil Perry paired with local wines help us create a restaurant experience. We employ lots of hotel and restaurant staff, and our team has a great deal of training in wine and food service. We strive to make a difference by showcasing our Australian characteristics. As "Spirit of Australia" appears on every fuselage, we must live up to our motto.
Tell our readers about the perks and partnerships of the airline's frequent-flyer program, such as the one with Ingogo.
Members earn one Qantas Point per dollar spent on eligible taxi travel booked using the Ingogo app. We also recently launched a program with Airbnb in which members earn one Qantas Point for every dollar spent with Airbnb. We established partners in dining, shopping and hotels in which you earn points and upgrades. Our female loyalty members can put their status on hold during maternity leave from business travel, making sure they return with their status. Our frequent-flyer program boasts 11.5 million members in a country of 23 million. Our goal is to make our members feel like they are part of the airline.
With a new app and in-flight WiFi coming to Qantas, what other upgrades can travelers expect in the next five years?
Our biggest upgrades will come with our new Boeing 787-9 Dreamliners on our U.S. routes. Our new business suite, designed by Thomson Aero in Dublin, will look just like first class for our business passengers. Our new economy class will have an additional inch of legroom, with even more in our premium-economy product.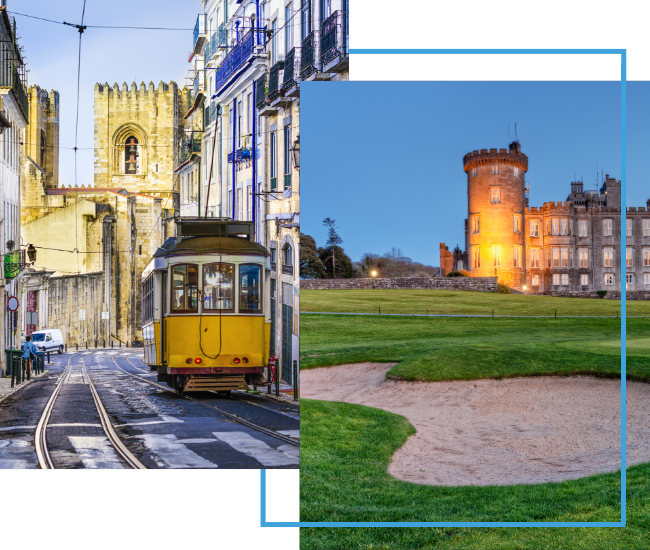 FX Excursions
FX Excursions offers the chance for once-in-a-lifetime experiences in destinations around the world.
Explore Excursions
Less than five years ago the world's first hybrid cruise ship, Hurtigruten Expeditions' MS Roald Amundsen, set sail for Antarctica in November 2019 with 450 passengers. The battery-hybrid-powered ship, named for the first man to cross the continent and reach the South Pole, was built specifically for voyages in polar waters. Its battery-hybrid power reduces the ship's consumption and CO2 emissions by 20 percent compared to equally sized ships.
A few months ago, I flew Polaris business class on a United flight from Dulles (IAD) to Paris (CDG). It was only when I got to my hotel in Paris I realized that I didn't have my iPad or its bag or accessories. Since I had been working on it in the restaurant in the Polaris lounge and then went directly to the gate, I knew I either left it propped up on my table when I packed up or in my business-class seat. But what was the best method to alert the airline about my careless mishap and (hopefully) retrieve it? With spotty data and WiFi, searching for information on my phone was frustrating and slow. Here's what I learned from the anxiety-inducing experience (and unexpected ending) about what to do if you leave something behind on your flight: