Hammacher Schlemmer Photo to iPad Scanning Dock
This groovy multitasking gizmo saves irreplaceable photos directly to your iPad while docking and charging the device, making it a snap to preserve your most precious pics (and documents). A free app controls the sheet-fed scanner, converting photos to a sharp 300- or 600-dpi JPG image in as little as 12 seconds, displaying them on screen in real time and stashing them on your camera roll. The dock recharges your iPad in five hours while holding it upright and scans sheets up to 8.5 inches by 14 inches. Compatible with iPad 4, iPad Mini and iPhone 5/s/c running iOS 6 or later. $119.95.
hammacher.com
Samsung Galaxy S6 and S6 edge
Billed as the most advanced smartphones on the market, the Galaxy S6 and S6 edge (with a dual curved-edge design) live up to the red-hot hype. They boast Samsung's cutting-edge core technology, including the world's first 14nm mobile processor with 64-bit platform, plus a new LPDDR4 memory system and UFS 2.0 flash memory for higher performance and enhanced memory speed with lower power consumption. The ultra-vivid front (5MP) and rear (16MP) cameras feature advanced light sensitivities and solutions for the best image quality available in a smartphone. Launch the camera from any screen in 0.7 seconds by double-clicking the home button. Sprint offers a free S6 with the Unlimited Plus Plan at $80/month; other plans vary.
samsung.com
Dreampad Mini
Most travelers are familiar with the havoc insomnia and jet lag can wreak on productivity. This high-tech sleep aid uses electromechanical transducers to convert music's electrical signals into calming vibrations only you can hear to reduce stress, stimulate your relaxation response and improve sleep. Simply download the five included music programs to your device (or purchase the optional pre-loaded MP3 player), connect the player to a cord within the zippered pocket, place the Dreampad Mini in your own pillowcase, and you'll soon be snoozing. More than 80 percent of participants in a recent study showed a significant relaxation response within 15 minutes, but there's a 30-day, money-back guarantee. $179.
dreampadsleep.com
TouchPico
The world's first interactive portable Android whiteboard, this innovative projector turns any flat surface — wall, ceiling or floor — into an 80-inch touch screen. Just turn it on, grab an infrared stylus (two included, as well as an AirMouse) and start interacting: Write on documents or present proposals and slide decks on the go. It's equipped with a built-in Android operating system, WiFi and 4GB of onboard memory, so you can download apps via Google Play or project any native Android app by plugging in your tablet or phone. It's about the size of a day planner, so you can easily take it with you. $599.
touchjet.com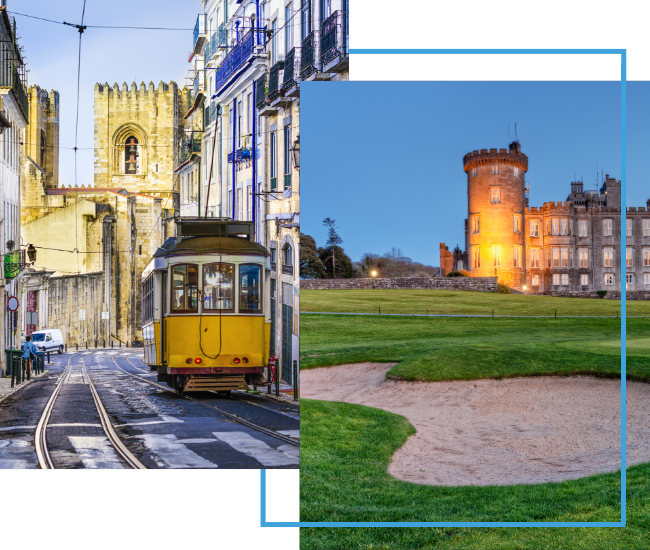 FX Excursions
FX Excursions offers the chance for once-in-a-lifetime experiences in destinations around the world.
Explore Excursions
In addition to intimate settings, smaller staff-to-passenger ratios, and personalized food and beverage options, river cruises have the advantage of providing a deeper dive into a region's culture, food and history. The Rhine, Rhône and Danube in Europe and the Mississippi River and St. Lawrence in North America have much to offer travelers with their itineraries, tying together beloved cities and lesser-known destinations along their routes.
Sponsored Content
IHG Hotels & Resorts is thrilled to announce the launch of a new mobile product feature for members: IHG Wi-Fi Auto Connect. This feature is now available exclusively in the IHG One Rewards mobile app for both iOS and Android users and will automatically connect IHG One Rewards members to WiFi upon arrival at more than 5,000 IHG hotels worldwide — no separate passwords or log-ins needed. This is in addition to the exciting benefits of being an IHG Business Edge member. IHG Business Edge provides small- and medium-sized businesses access to a user-friendly portal that displays comprehensive spending and savings data while providing the convenience of direct booking with a guaranteed discount.
With the holidays right around the corner, travelers are preparing for holiday travels. For those looking for a last-minute getaway filled with holiday cheer, consider Croatia. With a variety of winter activities perfect for travelers and locals alike, the Christmas countdown in Croatia is in full swing. Leading up to Christmas, Advent in Croatia makes it even more worth your while to visit the country with free winter incentives. If you plan on visiting Croatia, here are five cities going all out for the holiday season: