CHILE, THE LONGEST, THINNEST country in the world, is a study in contrasts. In the northern regions lies one of the driest parts of the world, the Atacama Desert. Its southern tip is the jumping-off point for travel to Patagonia, the lake country and on to the South Pole. Sandwiched in between, the huge valley west of the Andes is one of the world's most productive agricultural zones. Santiago, the country's capital city, sits at its center.
Abundant, reliable water, flowing west from the massive 22,800-foot-high Andes, keeps crops green and verdant year-round. Santiago represents the gold standard of South American cities, a model modern democracy and economy put to work. The city's personality stems from a can-do attitude; a young, well-educated population; and a feeling of optimism and achievement quickly contagious to visitors. Santiguans are friendly and quick to assist visitors, reflecting their pride in their city. This proves a plus for curious business and family travelers with a desire to experience the best of the city and sample the local culture.
Sernatur, Chile's national tourism agency, maintains headquarters in Santiago, with valuable visitor assistance in English available free of charge, a major plus for business travelers as well as families visiting the city. Its walk-up local tourist offices remain open six days a week and offer maps, literature and all types of visitor information.
Driving a rental car through the intense traffic in the city can be daunting for visitors, while the city's Metro system is clean, safe and reliable for individuals and families. Unlike in some cities in South America, they can enjoy inexpensive and fun daytripping around the city on the Metro, but it's best to avoid rush hour.
No visit to Santiago is complete without at least one day touring and tasting in Chile's wine country; you can reach several regions in just a few hours from the city center. One of the country's most notable regions, the Maipo Valley, lies even closer, about an hour from many of the best luxury hotels. The Casablanca Valley is a full-day trip but worth the drive, which can continue west to the Pacific Coast beaches and Viña del Mar. The valley, one of the newer wine regions of Chile, takes advantage of the cooling winds off the Pacific. Many wine grapes respond well to lower temperatures at night. Chilean wine growers believe the Casablanca Valley will one day emerge as the Napa Valley of Chile.
The country is now one of the five largest wine exporters in the world. Although these wines are designated "New World" by the industry, Spanish conquistadors brought vinifera vines with them to plant in Chile in the 16th century. The controversy surrounding Chile's most iconic grape, Carmenere, makes an interesting chapter in the country's wine history. Rooted in France, then Spain, this luscious, fruity, smoky red wine was long marketed as Merlot until modern winemaking and grape-growing technology identified it as something unique. Slowly, Carmenere emerged as the national grape of Chile. It pairs beautifully with the meat-centric, traditional cuisine of the country.
To see the most of the extensive wineries around Santiago, visitors may consider booking a food and drink tour. They can experience wineries and taste more wines in a day or half-day tour than on a self-drive trip. A simple search will uncover many options.
For an overview of Santiago, why not start at the top? Despite all the sightseers, the Sky Costanera observation tower in Las Condes barrio offers visitors an unparalleled view from its decks almost 1,000 feet above city streets. You can combine it with a bike or walking tour for a half-day family adventure. Two city parks prove worth a visit for a more natural top-of-the-city experience. Cerro Santa Lucía dates from 1540, when it was a fortress for the Spanish, and offers a great view from the heart of the city. Or move on to the Cerro San Cristóbal, part of the Parque Metropolitano de Santiago, one of the largest city parks in the world. The summit offers spectacular views of the city and the Andes to the east. For families, it also provides access to the metropolitan zoo. After exploring this oasis, the kids will delight in a stop for homemade gelato at Emporio La Rosa.
In a city known for its staggering number, size and variety of museums, Museo Bellas Artes de Chile is one not to miss. Opened in 1880, it houses more than 3,000 pieces in permanent and temporary exhibits from a range of artists, something for every taste and interest. It even boasts its own Metro stop, Bellas Artes.
Take a break for lunch at the Mercado Central seafood market. It's an architectural delight to be enjoyed as you roam the 200-plus food stalls and restaurants, a showcase for Chile's abundant fish and shellfish. It's much more than a market, with live music and massive fish displays. Plan to stay at least two hours and absorb the chaos. (Beware of your belongings, as the city's best pickpockets work the area.) Families may want to consider visiting the worldwide hit educational theme park, KidZania, soon to reach the United States in 2019. But keep in mind, exhibits are in Spanish.
Santiago doesn't feel it has time for a traditional Latin American siesta these days. But after a busy day exploring the city, many visitors enjoy a spa treatment or swim in the hotel pool in the afternoon.
Enjoy a drink at the picturesque bar La Piojera near the city center. Open since 1896, this Santiago gem boasts a history to match. Try a Terremoto sweet wine or traditional pisco sour and soak it all in. If meeting locals for dinner, you may be surprised to find things just get going at 10 p.m. local time. In fact, in many restaurants, the wait staff doesn't even appear until almost 10.
Luckily for visiting families, the city boasts plenty of fast food options and pizza stands for hungry kids. You can also take the gang to a trendy neighborhood such as Barrio Bellavista where you'll find non-stop action, food, bars, street vendors and shops galore.
Santiago Info to Go
Comodoro Arturo Merino Benítez International Airport receives flights with direct service from around the world. Non-stop service from several gateways in the United States, Europe and Asia make air travel to Santiago smooth and seamless. Visitors can connect to major cities across South America before and after their stay in Santiago. Bus, van and taxi services take travelers the 9.3 miles to the city center.
Where to Stay in Santiago
CASTILLO ROJO BOUTIQUE HOTEL For a unique local experience, this boutique hotel offers a breath of fresh air in the fun and trendy Bellavista neighborhood. After dinner the streets fill up with locals looking for a party. Constitución 195, Bellavista $$$
HOTEL SANTIAGO Mandarin Oriental's first property in South America sets the standard for luxury lodging in Santiago and beyond. Recently remodeled rooms are spacious and tasteful. Enjoy the pool, spa and gardens in this city oasis. Av. Presidente Kennedy 4601, Las Condes $$$$
W SANTIAGO A rooftop pool and bar, spa and a popular nightclub add to the luxury of the contemporary rooms of this 5-star hotel in a great location near the Metro. Isidora Goyenechea 3000, Las Condes $$$$
Restaurants in Santiago
LATIN GRILL A sophisticated, elegant atmosphere showcases Chile's premier seafood and meats in the Marriott. The deep wine list features older vintages from top producers in the country. Santiago Marriott Hotel, Av. Presidente. Kennedy 5741, Las Condes $$$
NOSO The innovative cuisine from a French chef, with a Chilean twist, is a top pick for fine dining, located in the W Santiago. Try the signature Patagonian lamb. W Santiago, Isidora Goyenechea 3000, Las Condes $$$$
OX One of the city's best steak houses makes the perfect showcase for Chilean grass-fed meats, along with signature cocktails. Enjoy a pisco sour before dinner. Av. Nueva Costanera 3960, Vitacura $$$$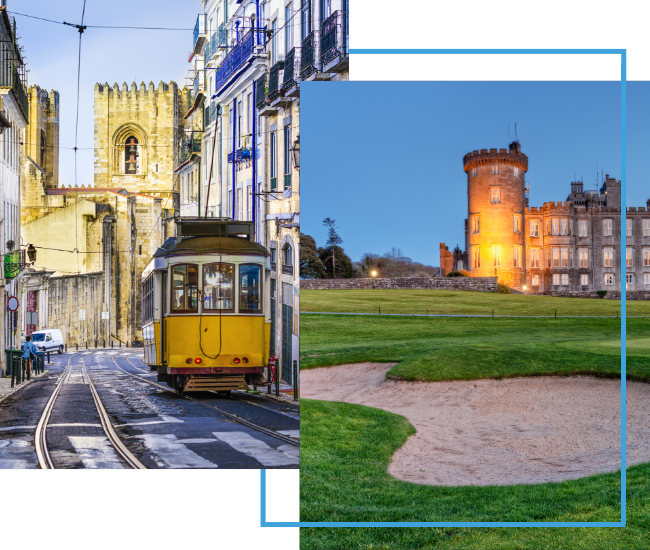 FX Excursions
FX Excursions offers the chance for once-in-a-lifetime experiences in destinations around the world.
Explore Excursions
If fabulous food and beverages are a must-have for any weekend getaway, then look no further than the City of Brotherly Love. Whether your palate has a penchant for vibrant Latin American fare or cozy French cuisine, whether you're an oenophile looking to swirl, sniff and sip your way around the globe or you'd rather sample farm-to-glass cocktails, Philly's got it all this fall. (With the exception of Bolo, which is a short taxi or Uber ride away and definitely worth the trip, the rest of these spots are all within walking distance of each other.)
Sponsored Content
United Airlines is in the midst of a major initiative to modernize its fleet over the next several years. After first announcing the plan in 2021, planes fitted with United's signature interior are finally beginning to appear across the airline's narrowbody fleet of Boeing and Airbus planes. United flyers are sure to notice these enhancements from the moment they step on board: Each new or updated plane sports remodeled seats, seatback entertainment screens for everyone, Bluetooth connectivity and more, all adding up to a better experience on every journey.
From Santoríni to Dubai to New York, some hotels just have that "it" factor that draws visitors far and wide. For some hotels it's their proximity to popular landmarks and attractions, for others it's their amenities. But these hotels have something few can claim: a true room with a view.