Call it kismet: As my flight touched down at Chicago O'Hare International Airport, I came across an article about the new Leaf Spa opening at Fairmont Chicago Millennium Park, becoming intrigued as I read about its wellness practices inspired by Earth's natural wonders and seasons, believing spa-goers "shed old leaves and blossom anew."
A quick check of my final schedule showed I could potentially squeeze a treatment in the next morning, between two meetings on that side of the Chicago River. As I read more about the seasonal treatment menu, the potential became a reality, and I scheduled a facial for the next day.
Nature and the seasons, as mentioned, play a large role in all the elements of Leaf Spa, right down to the names of the treatment rooms: Birch, known for rebirth and new beginning; Holly, for peace and good will; Red Oak, representing a willingness to survive; Red Maple, a symbol of endurance; Sycamore, representing strength; Fern, good luck; Ginkgo, with its hope, love and duality; and Bodhi, for attaining enlightenment, wisdom and compassion.
The treatments are also broken down by seasons; while you don't need to book treatments only in the associated season, they embody the elements and products of that time of year, therefore adding to the therapeutic benefits. My visit coincided with fall, so I was drawn to the Falless Facial, utilizing pumpkin and cinnamon to even out skin discoloration. Two other fall options included the Dosha Detox Body Treatment and Mindful Meditative Massage. Winter focuses on cleansing from the past and peacefully pursuing the future with offerings highlighting sage and including a Peaceful Pause Massage. Spring, of course, is about renewal, using botanical boosters, re-energizing the skin and incorporating rose aromatherapy. Honey plays a role in sum- mer's Honeysupple Facial, while the Cool Down Cure Body Treat- ment boasts aloe, coconut and cold therapy. Package options bundle various seasonal treatments together, and other treatments include the Knesko Mask, hot stones, CBD oil, soaks with herbal enhancements and scalp rejuvenation.
The morning of my treatment, Leaf Spa called to inform me, unfortunately, its aesthetician had an emergency and wouldn't be able to make my morning facial appointment. As I wasn't available later in the day, I opted to switch my treatment to the Mindful Meditative Massage, which begins with a guided breathing meditation and sound bowl healing, relaxing the mind before the restorative massage.
But there was much to get to before my massage even started. I was on limited time and couldn't fully take advantage of everything on offer; however, Leaf Spa is one place where I highly recommend allowing yourself as much extra time as possible. As I opened the spa's doors, candle-lit lanterns led me to the front desk, situated next to the Wish Tree and Alchemist Bar. The receptionist checked me in and took me over to the Alchemist Bar, full of healing herbs, essential remedies and plants. I selected rose and eucalyptus and, while I was in my massage, the spa created my own therapeutic scrub from my choices. Patrons can also select a topical, oil or tincture instead. This was one of the most unique and personalized touches I've experienced at a spa anywhere in the world. The Wish Tree, decorated with different-colored ribbons, collects every visitor's hopes and manifestations. I joined the others, tying my own ribbon to the tree's branches and setting my intention for the treatment.
On the way to the locker room area, I passed through the House of Knowledge, a gallery of plants, herbs and leaves from around the world that offer natural healing benefits. In the spacious, well-equipped locker room area, I changed into a plush robe and slippers, perusing the teas, nuts and dried fruits on offer. Soothing background music accompanied me as I made my way to the relaxation lounge's comfortable seating to await my therapist.
It felt like the rest of my short visit breezed by in a blur once my therapist greeted me and led me to my treatment room. New to Chicago, he shared with me what drew him to Leaf Spa, explain-ing its overhaul and new concept helped him make his decision to relocate. The massage left me feeling revitalized and ready to take on my afternoon of meetings with a renewed vim and vigor. The bag of incredible spa goodies, including my personalized scrub, I was gifted upon my departure ensured that feeling followed me home from the Windy City.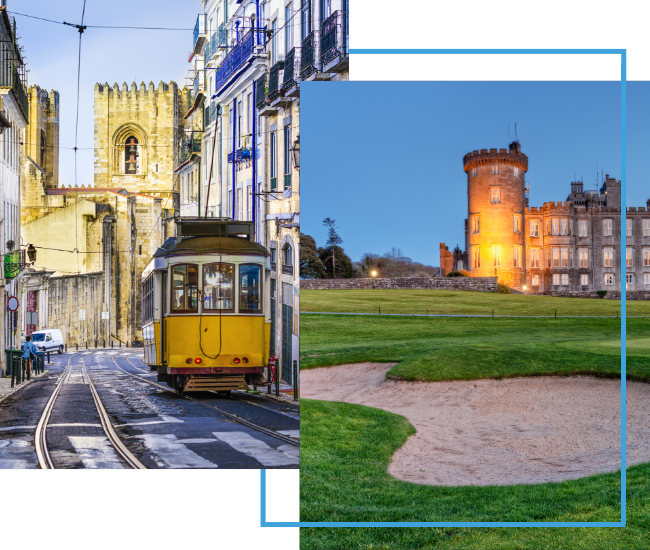 FX Excursions
FX Excursions offers the chance for once-in-a-lifetime experiences in destinations around the world.
Explore Excursions
Did the new film Oppenheimer rouse your interest in the nefarious world of international espionage? You can go straight to the real-life setting for covert actions this November (Nov. 10–12), when La Fonda on the Plaza in Santa Fe hosts a specially themed "Spies, Lies and Nukes" weekend. The hotel actually served as the retreat location for Manhattan Project scientists, who stayed at La Fonda on the Plaza to take a break from the stress of their work. During the weekend, the property's La Fiesta Lounge will make a tasty nod to those days by serving up a special Atomic Martini.
Sponsored Content
United Airlines is in the midst of a major initiative to modernize its fleet over the next several years. After first announcing the plan in 2021, planes fitted with United's signature interior are finally beginning to appear across the airline's narrowbody fleet of Boeing and Airbus planes. United flyers are sure to notice these enhancements from the moment they step on board: Each new or updated plane sports remodeled seats, seatback entertainment screens for everyone, Bluetooth connectivity and more, all adding up to a better experience on every journey.
Ever want handcrafted martinis and freshly shucked oysters delivered straight to your room? The Read House's New Martinis & Pearls service has you covered. Shining in 1920s-themed decor, the historic hotel in the heart of Chattanooga offers a true Gatsby-esque experience, now further elevated with this upscale amenity. Guests can now indulge in their perfectly chilled martini, made to order, and "pearls" (oysters) in the comfort of their room.