Etosha National Park, an arid, salty-white landscape in northern Namibia, is home to the world's largest elephants. Size is relative; the only true measure is to stand next to one. So here I am in Etosha, face to face with a full-grown bull elephant. How is it possible? How have I not been squashed?
The secret lies in the pane of elephant-proof glass between us. I am in the hide at Olifantsrus Camp; the elephant drinks from the waterhole immediately on the other side of the window. He appears to be aware of me, but thirst is his greater concern. He sucks huge quantities of water into his trunk, then hoses it into his mouth. I gaze up, awestruck.
My lifelong passion for wildlife has taken me all over the world, giving me many memorable encounters. Few have been as close as this. In any venture into the wilds, you need to adhere to two overriding priorities: Minimize disturbance to the animals and ensure your own safety. This remarkable hide gives you proximity without compromising those priorities.
Later, from the hide's upper level, we look directly down on a lioness as she drinks. We can hear every lap of her tongue and can see her tawny hide shudder in response to the flies buzzing around her. Melodic birdsong provides the soundtrack as the sun sets and the light fades. Eventually the lioness pads off into the advancing dusk as another elephant herd cautiously makes its way toward the waterhole. The end of an unforgettable day.
We travel for many reasons. Whether on business or for leisure, experiencing different places and cultures is endlessly enriching. But traveling to watch wildlife adds an extra dimension. Nothing can be taken for granted. You can spend hours looking with no reward, or you can have a once-in-a- lifetime encounter. Nothing is guaranteed, and anything is possible.
In Alaska I once flew by floatplane to Kaflia Lake in Katmai National Park. We coasted to the shore, where I jumped from the floats onto the beach. The intention was to hike to a safe overlook close to a waterfall where we might see grizzly bears catching salmon. It was early September, the peak time for grizzlies fattening up on fish before their winter hibernation. My two companions were still on the floats when one of them pointed a finger along the beach. There, unmistakably, was a grizzly bear heading my way.
The golden rule in almost every encounter with a dangerous animal: Don't run. Separated from my companions, too far from the plane to retreat, I had no option but to hold my ground. The bear reduced the distance and didn't notice me at all until he was around 30 feet away. He suddenly stopped and sniffed the air, then made a detour around me. I didn't breathe until his shaggy hulk began to recede.
Not every close encounter proves as dramatic as that. On Ecuador's Galápagos Islands, a two-hour flight west of the South American mainland, the unique animals show little fear of humans. Time and again you find yourself checking your stride to avoid stepping on a lava lizard or a marine iguana or a seal pup. Once, while I was photographing a Galápagos hawk, a Galápagos mockingbird landed on my head and perched happily for a minute or two.
Wildlife viewing in the Galápagos Islands presents a form of culture shock. The usual rules that govern interactions between humans and animals appear to have been rewritten. The apparent tameness of the wildlife is noticeable in the sea as well as on land. Immediately off the island of Bartolomé, I was snorkeling above a reef busy with fish when a feathery shape torpedoed past me, trailing a comet's tail of bubbles. Then again, from another direction. And then again, brushing my arm. It was a Galápagos penguin, and there was no doubt what it was doing: It was playing with me.
We humans have given wild animals many reasons not to trust us, which is why so many sightings are distant and fleeting. They know we represent a threat and are therefore wary. But sometimes those broken bonds of trust can be restored. One place where that happened was Tswalu Kalahari Reserve in South Africa.
At daybreak one cold morning, I found myself waiting with my wife in an area of Kalahari scrubland amid a scattering of holes. When the rising sun cast its light on the holes, first one head popped out, then another, then another. Before long, around 50 meerkats emerged, standing upright on their hind legs, allowing the sun to warm their bodies. Drowsy baby meerkats tried to follow the example of the adults, but kept falling asleep and toppling over. Gradually the heat of the day took hold, and the meerkats headed off to hunt, leaving us behind. But for 20 remarkable minutes, they seemed to accept us as part of their group.
These are just some of the extraordinary moments I have shared with wild animals. There have been many others. My wife and I spent three months self-driving in South Africa's Kruger National Park (a vast reserve the size of Israel). For most of that time we were based in the central area of the park, where we got to know the territories and habits of several individual leopards. We spent many hours with them, watching them hunt and — more often — sleep. The thrill never waned.
In Uganda I trekked through the thick vegetation of the appropriately named Bwindi Impenetrable Forest to spend an incredible hour with a family of mountain gorillas. Most of the time they ignored us, but two young gorillas became ever bolder, culminating in one of them stalking up to me, touching the lower leg of my trousers, and then lolloping away with a squeal of triumph.
On a trip to Australia, I had to adapt to a whole new cast of characters: marsupials. Besides kangaroos, wallabies, koalas and wombats, I also learned to identify pademelons, quolls, quokkas, bilbies, bandicoots and potoroos. Best of all, one night in northwest Tasmania I crawled on my belly to within a few feet of a wallaby carcass positioned outside a hide and watched two Tasmanian devils viciously squabble over it.
Madagascar, when I visited nearly 30 years ago, offered a similar wildlife wonderland, full of species found nowhere else on Earth. The lemurs — primitive primates distantly related to us — usually get top billing, but I have always had a particular interest in snakes, and it was there I got to handle a Malagasy tree boa, which twined around my arms and eventually disappeared down the neck of my shirt. It took several minutes to coax it back out.
When you encounter animals in the wild, it works best when it's on their terms, making these experiences magical. Modern human life all too often is concerned with being in control. Face to face with a wild animal, for once we relinquish that control and recognize our relative place in the scheme of things.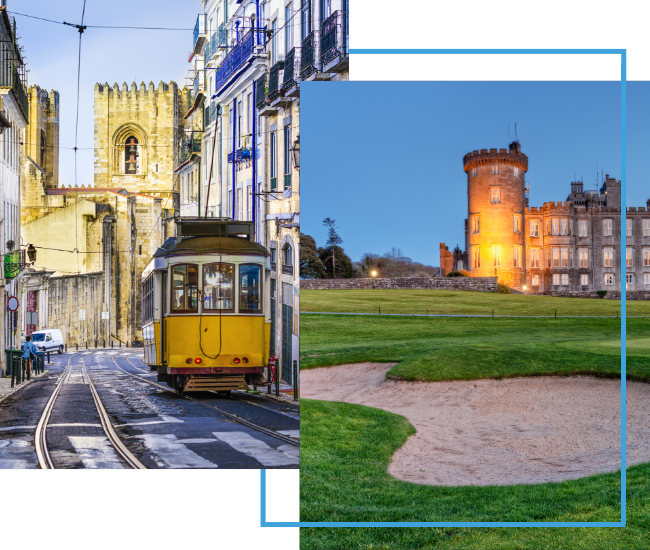 FX Excursions
FX Excursions offers the chance for once-in-a-lifetime experiences in destinations around the world.
Explore Excursions
There may not be snow in Los Angeles this season, but Waldorf Astoria Beverly Hills is certainly full of the holiday spirit, with Christmas, Hanukkah and New Year's events happening in the hotel's gorgeous event spaces.
Sponsored Content
Embracing a life well lived often means embracing a life well-traveled. Every journey becomes a canvas for experiences that shape our lives and at the heart of every adventure lies the indispensable companion: quality luggage.
Looking for fun things to stuff into the toe of a few holiday stockings? Here are some great choices: