Ports of Call: Sint Maarten, St. Kitts & Nevis, Anguilla, Antigua & Barbuda, Guadeloupe, St. Lucia, St. Vincent and the Grenadines, Barbados
Embarkation/Disembarkation: Seabourn is synonymous with service, so when I say throughout this review how easy a process was or how great the ship's crew was, it's genuinely the truth. Nothing will feel like an inconvenience with the Seabourn team at the helm — a fact that rang true for both embarkation and disembarkation.
We met a Seabourn representative at the airport in Philipsburg, Sint Maarten, and joined other cruisers on a shuttle to the port. Inside, there were no lines, and we checked in right away and were aboard quickly. Seabourn holds your passport for the duration of your trip to easily clear customs and immigration at the respective ports. Before long, we were in our stateroom.
On our final day, we were booked for an excursion that would take us around Barbados before shuttling us to the airport, so we disembarked based on our tour schedule. We awaited the call for our group with sadness as our cruise was ending; we enjoyed the same seamless service and experience we'd come to expect at disembarkation. Our luggage was handled for us as we toured the island and greeted us upon arrival at the airport.
Guest Quarters: You often hear horror stories of tight, cramped cruise line quarters, but this wasn't the instance on Seabourn Odyssey. I was traveling with my mom on a mother-daughter trip through the Caribbean. The accommodations were roomy enough for us both to spread out.
Upon entrance, the bathroom was to the right. It boasted both a shower stall and a tub and had granite countertops and first-rate amenities. Outside the bathroom door, as you continued down the short hallway, stood a small vanity and a large walk-in closet. We had the bed separated into two twin beds, each flanked by a nightstand. Across from the beds sat a dresser. A TV was part of another section of storage between the bedroom and the sitting area, which boasted a couch and coffee table and a dinner table with two chairs. A veranda with a small table and two chairs rounded out our impressive cabin.
Services/Amenities: As stated before, service is where Seabourn really shines. Each member of the crew, led by hotel manager Zoran, was friendly, attentive, informative and helpful. Another nice aspect of a Seabourn cruise is the all-inclusive nature. You can order that afternoon cocktail without worry and try dining in several different outlets with no concern for upcharges.
We dined everywhere, ensuring we tried all the ship offered. Stand- out evenings included our dining on the pool deck at Earth & Ocean on the Patio and a Sunday evening meal at The Grill by Thomas Keller (one reservation per sailing is allowed). The Restaurant offers a more formal dining experience, and The Colonnade and The Patio were perfect options for casual breakfasts and lunches. We enjoyed a girls' night in with in-room dining one evening. I'd also recommend partaking in the afternoon tea.
A spa, in partnership with Andrew Weill, is offered, along with a fitness studio. Seabourn Square provides the perfect spot for relaxing or socializing, as well as a midday or morning caffeine pick-me-up. "An Evening with Sir Tim Rice" is the pinnacle of entertainment on the ship and complements a casino, shopping, card room and multiple bars. I'd recommend the trivia contests, which we won one day.
We chose to enjoy a combo of shore excursions and time on our own. Even on islands where we had to tender, getting to/from land was still efficient and quick.
Unfortunately, given flight and sailing times, we didn't get to experience Sint Maarten. In St. Kitts, we enjoyed Seabourn's signature Caviar in the Surf event. If this is an offered option on your cruise itinerary, do it! It's phenomenal. The unique beach barbecue is a blast, and it's fun to watch the ship's crew hop in the water to serve caviar from surfboards. Everyone has a good time.
Anguilla brought rain, so we decided to lay low on the ship. In St. John's, Antigua, we chose a snorkeling adventure, one of the shore excursions available for purchase — after some morning shopping, of course. Guadeloupe was our favorite of the islands; we wandered Terre-de-Haute on our own and had a wonderful day. In St. Lucia, Bequia and Barbados we were part of organized shore excursions. The aerial tram in St. Lucia was a unique way to see the island, and our tours in St. Vincent and the Grenadines and Barbados offered excellent overviews of the islands. If you have an afternoon or evening flight from Barbados, I'd highly recommend the tour, as it takes the hassle out of luggage and airport transfers.
TOP TAKEAWAYS:
◆ I cannot say it enough, but it's so true: From beginning to end, the service experience on Seabourn is exceptional.
◆ While this isn't per se a reflection on Seabourn, the whole trip with
my mom was special, heightened by the cruise line that catered to us both as individuals and together. Our memories will last forever.
◆ Stateroom amenities include L'Occitane and Molton Brown.
SEABOURN CRUISE LINE seabourn.com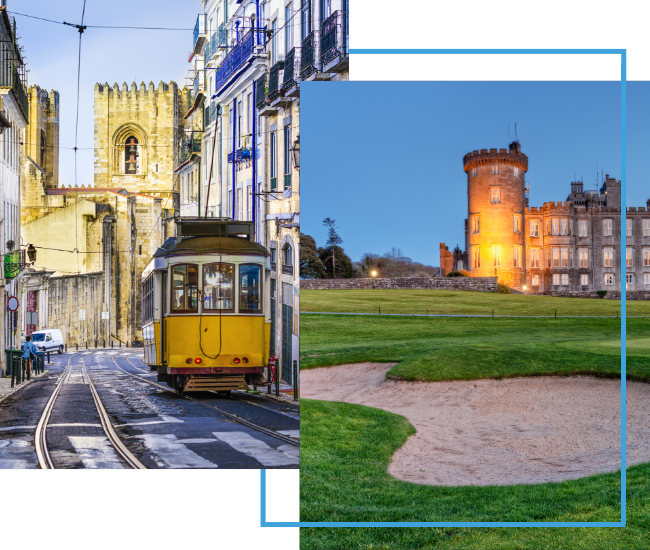 FX Excursions
FX Excursions offers the chance for once-in-a-lifetime experiences in destinations around the world.
Explore Excursions
Less than five years ago the world's first hybrid cruise ship, Hurtigruten Expeditions' MS Roald Amundsen, set sail for Antarctica in November 2019 with 450 passengers. The battery-hybrid-powered ship, named for the first man to cross the continent and reach the South Pole, was built specifically for voyages in polar waters. Its battery-hybrid power reduces the ship's consumption and CO2 emissions by 20 percent compared to equally sized ships.
Sponsored Content
Whether it's the people, the craic (fun) or the coasts, travelers always find something to love about the island of Ireland. What fills your heart?
A few months ago, I flew Polaris business class on a United flight from Dulles (IAD) to Paris (CDG). It was only when I got to my hotel in Paris I realized that I didn't have my iPad or its bag or accessories. Since I had been working on it in the restaurant in the Polaris lounge and then went directly to the gate, I knew I either left it propped up on my table when I packed up or in my business-class seat. But what was the best method to alert the airline about my careless mishap and (hopefully) retrieve it? With spotty data and WiFi, searching for information on my phone was frustrating and slow. Here's what I learned from the anxiety-inducing experience (and unexpected ending) about what to do if you leave something behind on your flight: