From the substantial windows in the circular Rondo Hall at the Hotel Dan Carmel, Haifa (www.danhotels.com/deluxe-hotel-haifa), breathtaking views of the Mediterranean and the Bay of Haifa sweep toward the horizon. From this prestigious position atop Mt. Carmel, the Golden Dome Bahai Shrine and hanging gardens add to the visual splendor.
At the Hotel Hafen (www.hotel-hafen-hamburg.de) in Hamburg, Germany, the dramatic sloped-glass Elbkuppel room and the many-windowed Ellipsen room afford spectacular vistas of Hamburg Harbor below.
Private penthouse suites reserved for visiting celebrities and rock stars? Hardly — these are the views from the hotels' meeting facilities. While it used to be that a hotel's most stunning views were the heady domain of top-tier guests, hoteliers and corporate meeting planners have come to recognize the value of providing meeting goers with a true sense of place, an experience that can translate to enhanced creativity and productivity.
"There's a reason executives choose certain exotic locations and meeting places that have a dynamic or intriguing element," explained psychologist Todd Kashdan, Ph.D., author of Curious? Discovering the Missing Ingredient to a Fulfilling Life. "Study data shows that when your mind is stimulated, you're more likely to generate new connective tissue and to find meaning in what is being said. This is pretty important. In a meeting setting, you want to begin by making sure that those who are attending are intrigued and that their curiosity is activated."
An unexpected environment with enticing, exciting views can act like a shot in the arm. By shaking the brain out of its day-to-day office torpor and challenging the senses, new thought patterns and connections are likely to emerge. And when you're trying to put together a brilliant new ad campaign, having your imagination aroused can be a very good thing.
At Journey's End Resort (www.journeysendresort.com) on tranquil Ambergris Caye in Belize, the conference center offers all the ambience and facilities of a tiki bar. Just outside, the world's second-longest barrier reef stretches the length of the coast. Instead of a sterile, characterless space, the room features a floor of thick beach sand. Executives can kick off their shoes and dig their toes into the sand while tropical breezes play throughout the room — and the PowerPoint presentation is in full swing.
Just 20 minutes from downtown Vancouver, the floating John MS Lecky UBC Boathouse (www.ubcboathouse.com) provides state-of-the-art meeting equipment and the experience of being gently rocked during brainstorming sessions atop the currents of the Fraser River.
"To spark creativity, it's important to do something out of the ordinary," said Paul Baard, Ph.D., clinical associate professor of communications and media management at Fordham University. Baard, who has acted as a consultant to international businesses — including the A. C. Nielsen Company's television division, the New York Mets Baseball Club and Dun & Bradstreet — added that this type of opportunity takes people who are under constant stress to meet company goals and puts them in situations where they're able to think freely. As an added bonus, employees are likely to return to their offices animated, with renewed enthusiasm and commitment.
"Who knows how many great ideas, inventions and dramatic breakthroughs have come out of these experiences? All these things are attempts to spark creativity," said Baard. "There is a flatness in the routine of day-to-day. We need to make it easy for people to come up with new ideas, which means re placing routine with something more stimulating. We're not stuck in a routine when we go outside of our familiar surroundings. In your office, just the idea that the CFO may walk down the hall at any minute can inhibit creativity."
At the St. Brides Spa Hotel (www.stbridesspahotel.com) in Pembrokeshire in Southwest Wales, the Cliff and Harbour suites have massive glass walls overlooking Carmarthen Bay. In nearby Scotland, Edinburgh Castle (www.edinburghcastle.gov.uk) offers conference space in its Jacobite Room with gorgeous views of the city. In the historic town of Porto, Portugal, meeting venues include Taylor's Port Wine Cellars (www.portocvb.com), still owned and operated by descendants of the founding families. Many of the event rooms provide unparalleled views of the Douro River and the old city center with its sloping, richly colored roofs. And great views needn't be stationary: In Wales, meeting groups can charter an entire train from the Ffestiniog Railway (www.festrail.co.uk). While executives dream up new business plans, vintage and modern train cars slip through the scenic Welsh countryside and Snowdonia National Park.
Within London's Queen Elizabeth II Conference Center (www.qeiicc.co.uk), the Anticci Lounge's cheerfully hued décor overlooks some of the city's most famous landmarks, including Big Ben, the London Eye, Westminster Abbey and the Houses of Parliament. On the other side of the Atlantic, the Ocean Ballroom at The Ritz-Carlton, Palm Beach (www.ritzcarlton.com/palmbeach) has magnificent views of the ocean, as well as an outdoor terrace and poolside business cabanas that can be utilized for business gatherings.
Meeting space at Spring Creek Ranch (www.springcreekranch.com) in Jackson Hole, Wyo., encompasses 3,200 square feet of beamed, rustic floor space — all on a butte overlooking the Jackson Hole Valley and Teton Mountain Range. At Rockwater Secret Cove on British Columbia's Sunshine Coast, the isolated and serene conference space faces the Malaspina Strait, with Thormanby Island and Vancouver Island edging the seascape in the distance. As a bonus, meeting goers can be booked into the property's luxury Tenthouse Suites once the day's meetings are over.
"These are enhancements," said psychologist Kashdan, "and serve to put you in a positive mood. That translates to the ability to think more flexibly and results in increased creativity. Our working memory can be enhanced. When we are anxious or tired, our memories become clouded. It becomes difficult to synthesize what you're listening to when two people are talking about different things. When our minds are rested and relaxed, we see connections and our problem-solving is increased. It's the perfect situation for curiosity to transpire. How you set the mood can help, or it can hinder."
An increasing number of meeting space planners understand the importance of boosting productivity and realize the value in marketing their best views to corporate groups. This includes venues that might at first seem better suited for tourists and weddings. A good example is Berlin's iconic TV tower, the TV-Turm (www.tv-turm.de/en/index.php), which can be exclusively reserved for meeting events. Built in the 1960s and designed to suggest the Sputnik satellite, it's set in the center of Berlin with panoramic views of the surrounding city. In Cooperstown, N.Y., the Otesaga Resort Hotel (www.otesaga.com), popular for weddings, provides unsurpassed views of Lak e Otesaga.
For this type of effort to be successful and worth the expense, according to Baard, time needs to be allotted for actually exploring the location and not just viewing it while in meetings — and three needs must be met for participants: autonomy, competence and relatedness. Without them, all the views in the world won't amount to anything.
"Autonomy means allowing employees some freedom during business gatherings and not micromanaging them or checking up on them," Baard elaborated. "Respect their competence — people love to grow and be challenged. And don't forget relatedness. We like to be part of a real, honest team. There has to be a level of mutual reliance and respect. Take your employees somewhere exciting, and let them think new thoughts and come back to the office on fire. It's idea investment."
Kashdan concurred. "I think this is something that leaders and people in the business world intuitively know. But they are not taking full advantage of the curiosity that everyone has. What makes a productive, zealous worker? Traveling to a new environment or setting is an optimal situation. Why are workers so interested, energized and engaged in these settings? As part of having this experience, we grow a little bit. And, when the company allows this, we feel a greater bond with management and commitment to our job. This will spill over when you get back to home base. The meeting attendees recall that they explored, that they discovered things. Employees should be allowed — and encouraged — to be curious explorers."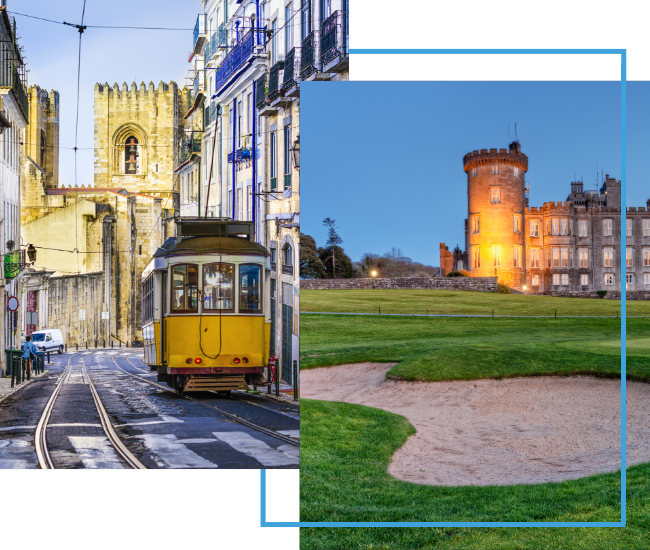 FX Excursions
FX Excursions offers the chance for once-in-a-lifetime experiences in destinations around the world.
Explore Excursions
Mazatlán, Mexico, has long been an attractive home destination for Canadian and American retirees, but, in recent years, young, digital nomads have also discovered the charms of this coastal city, finding inexpensive accommodations, beautiful weather and plenty of bandwidth for working remotely. The laid-back beach scene definitely eases the transition of relocating to Mexico's West Coast.
Sponsored Content
Are you looking to enhance your business trip with a little leisure? Look no further than Portugal, a country renowned for its captivating blend of history, culture and natural beauty. And with TAP Air Portugal, you can effortlessly transform your business trip into an unforgettable bleisure adventure. Discover why Portugal and TAP Air Portugal are the perfect combination for an enriching and rejuvenating experience.
For its third year, Global Traveler awards the airline, cruise line and hotel brand best representing diversity, equity and inclusion within the travel industry. Over the past year Global Traveler analyzed many airlines, cruise lines and hotel brands to determine which companies prove most committed to changing the world through diversity and inclusion.