December in Rome can be beautifully clear with bright, blue skies and sunlight warming its ancient stones. Or it can be dim, damp, cold and relentlessly gray. Of course, I arrived during a spell of the latter.
I don't love Rome. I don't dislike it either, but when I'm there on business, I usually spend my free time outside the city in Tivoli's gardens of Villa d'Este and Villa Adriana or Frascati and the other wine towns. But December is not the time for gardens or vineyards.
As pale afternoon light slowly faded into even dimmer gray, I headed for the Pantheon, thinking that contemplating one of the Roman Empire's greatest masterpieces might put me in a better frame of mind to appreciate the city.
And it did. Even though Pope Urban VIII had its bronze roof stripped off and melted down to cast the baldachino in St. Peter's and cannons for Castel Sant'Angelo, the building is in remarkable condition for its two millennia. The 142-foot dome seems to hover there of its own accord, so well are its supports hidden inside the walls. Behind the building, I smiled at Gian Lorenzo Bernini's little elephant placidly carrying an obelisk on its back.
By then, the sky was fading from dismal gray toward the inky black that comes too soon in December, and streetlights began to flicker on as I wrapped my scarf closer and walked toward Piazza Navona. At the end of the narrow street a glow lit the sky ahead; as I approached the piazza, it seemed almost like daylight. It was as though the Romans had gathered all their lights here to dispel this creeping gray chill that lay siege to the rest of the city.
Piazza Navona — a huge, oblong space that takes its shape from the first-century Stadium Domitian where chariot races were held — had been transformed into an enormous open-air Christmas market. I could barely spot Bernini's three magnificent fountains for the carousel, the bright stalls and the life-sized presepio at the piazza's center.
These public nativity scenes are found throughout Italy during Advent, a tradition believed to have been started by St. Francis of Assisi in 1223. He built a replica of the manger scene at his hermitage near Assisi, adding an ox and a donkey for a realistic touch. The scene is repeated there on Christmas Eve; and elsewhere in Italy similar scenes use life-sized or smaller figures of carved wood or terra cotta, often dressed in real clothing. Many of Rome's churches have indoor scenes of priceless old figures that parishioners have treasured for centuries.
Not only did all Rome's lights seem to be in Piazza Navona, but most of the people as well. Bundled up in greatcoats, they strolled arm in arm, gathered in conversations punctuated by grand gestures, browsed among the craftsmen and munched on disks of fried dough from which snowstorms of powdered sugar fell onto their coats and scarves. The fragrance of the frying dough filled the chilled air, and I began to feel peckish.
With sugar dusting down the front of my own coat, I browsed and stopped to buy Christmas presents from craftsmen selling hand-carved nativity figures, delicate embroidered linens, knitted hats, bright pottery, wooden toys, marionettes, holiday decorations and filmy lace — all set among dazzling displays of candied fruits, nuts, cakes, biscotti, fruit breads and almond nougat.
Despite the sugar-dusted snack, I was ready for a serious meal, so I headed to nearby Campo de' Fiori. I'd rarely seen this piazza empty of café umbrellas, fruit, vegetables and flowers since it's one of Rome's most colorful and lively markets. On this night the freethinking monk Giordano Bruno, whose statue stands in the campo, looked lonely and cold in the wind blowing off the Tiber — until I remembered that his ideas had gotten him burned at the stake during the Inquisition.
I shivered and headed for the warm glow of La Carbonara at the far side of the piazza where I savored a carpaccio of smoked swordfish, pan-roasted lamb and artichokes cooked in a style originated in this very neighborhood.
The next day's weather was more of the same. Buoyed by Christmas spirit from the day before, I headed to do some serious shopping on the Via Veneto and surrounding streets. But first I had a mission.
A couple of months before, at the Bilbao Guggenheim in Spain, I walked through the museum's permanent installation by Richard Serra, a series of pressed steel sheets standing as curving walls in the form of ellipses that torque as they rise overhead. Fascinated by their narrow — and somewhat disorienting — passages, I learned from the curator that Serra's inspiration had been a church in Rome that I'd never seen.
So I began my day in Sant'Andrea al Quirinale, a Bernini masterpiece that in any other city would be filled with visitors. In Rome, it gets lost in the overabundance of churches, which is how I'd missed it before. I could only thank Richard Serra for bringing me to this magnificent place.
Art, architecture and design meld seamlessly into one opus in the Baroque interior, and it's no wonder that Bernini considered it his finest work. Late in his life he would sit inside just to enjoy its beauty — which is reputedly the only compensation he got for it other than bread from the bakery of the Jesuit Novitiate for whom the cardinal had ordered it built. As I stood in the center of this elliptical space, my eyes followed the vertical lines up to the round golden dome overhead; I understood how it had inspired Serra's torqued walls nearly four centuries later.
My curiosity satisfied, I headed toward Piazza di Spagna and found a presepio that includes a 19th-century street scene. Looking as though he could have been part of the old street, a vendor was roasting fat brown chestnuts, their toasty aroma filling the air. As I wandered toward Via Veneto's bright shop windows, holding a newspaper cone of hot chestnuts in my gloved hand, I mused that Rome was not at all a bad place to be on a gray December day.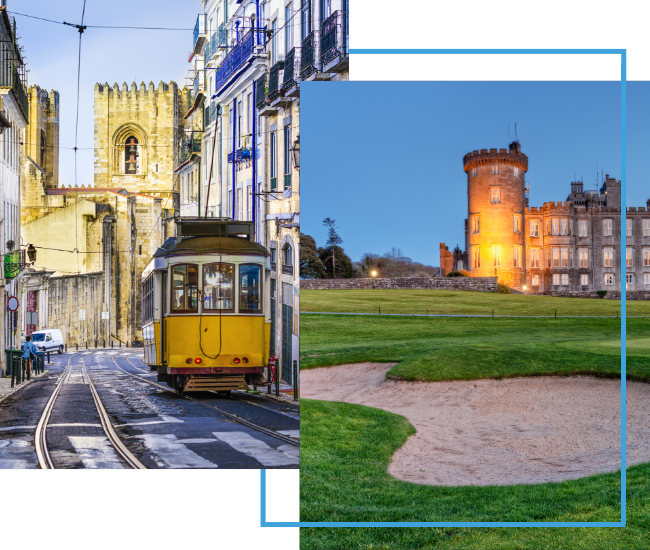 FX Excursions
FX Excursions offers the chance for once-in-a-lifetime experiences in destinations around the world.
Explore Excursions
Think of Tokyo and your mind may wander to the neon signs and bustling crowds of Shibuya and Shinjuku, or the tranquility of the Meiji Jingu shrine, but this huge city offers much to those who explore away from the main tourist areas.
Sponsored Content
United Airlines is in the midst of a major initiative to modernize its fleet over the next several years. After first announcing the plan in 2021, planes fitted with United's signature interior are finally beginning to appear across the airline's narrowbody fleet of Boeing and Airbus planes. United flyers are sure to notice these enhancements from the moment they step on board: Each new or updated plane sports remodeled seats, seatback entertainment screens for everyone, Bluetooth connectivity and more, all adding up to a better experience on every journey.
Automotive museums of all sizes will always capture the imaginations of car and racing aficionados. However, the best deliver a lot of substance beyond the machine itself. Some place an emphasis on science and technology or history, while others display iconic cars from film and television. Museums established and operated by the world's top automakers (think Mercedes, BMW, Audi and Porsche in Germany, and Toyota, Honda and Nissan in Japan) have built-in followings.