The Rittenhouse has long stood out as one of Philadelphia's finest hotels, centrally located in one of the city's poshest neighborhoods. Needless to say, I knew I was in for an afternoon of luxurious pampering when I hopped in my car and headed down I-95 from my suburban home to the heart of the City of Brotherly Love. As I drove through the seemingly endless roadwork on the highway, I realized just how long it had been since I'd driven this once-familiar route into the city as a result of the pandemic. Of course I was eager for the relaxation and bliss that was in my future, but it was also a welcome feeling to head back into Philadelphia for a moment of normalcy.
The Rittenhouse sits directly on Rittenhouse Square, one of the five original squares planned by Philadelphia's founder, William Penn. Surrounded by high-rise luxury buildings, fine-dining restaurants and high-end shopping, the tree-filled square attracts Philadelphians and tourists of all ages to enjoy an oasis in the city. Named for astronomer and clock maker David Rittenhouse, the. square's walkways run diagonally, beginning at the park's four corners and meeting at a central oval. Much like the city overall, Rittenhouse Square is also chock-full of art, with noteworthy outdoor sculptures including Antoine-Louis Barye's Lion Crushing a Serpent and Paul Manship's 1911 Duck Girl.
But speaking of oases, the green space of Rittenhouse Square wasn't the one beckoning me on that July afternoon. Mine sat just opposite, instead overlooking the plaza. Parking couldn't have been easier, and I was out of my car, through the lobby and in the elevator on my way to bliss in no time.
The spa opens into a bright, spacious lobby, with the spa shop and a sitting area to the right and reception and the salon space to the left. The Rittenhouse Spa & Club offers a complete line-up of spa and salon services, a saltwater pool, a steam room and an outdoor deck. As I walked through the fitness center with the spa attendant, I thought to myself how well-equipped it was, even boasting a few Peloton bikes. It's like she could read my mind, commenting to me, "Don't concern yourself with the gym; you're here for relaxation!"
Dubbing itself "ingredient- conscious," the spa prides itself on the quality of the products used in its services, sourcing exclusive partners to find high-quality, effective products. This was a draw for me, and I took time to learn more about some of the brands utilized. There's Kypris, featuring holistic, high-performance, organic, sustainably grown ingredients formulated using green biotechnology. Zents is hydrating, healing and ultra-gentle in 10 mindful aromas; and Clove & Hollow is affordable, cruelty-free vegan cosmetics for all skin tones. I appreciated that the spa took the time to describe the background of the products used on its website and in its literature.
Another standout from my experience is the staff. From the minute I entered to a warm and genuine welcome, it continued from there. The staff attendant showed me around, found me a cozier robe and smaller slippers and was there after my treatment with makeup wipes for the mascara that had smudged under my eyes. Rox, my therapist, was thorough, walking me through my treatment step by step, engaging in easygoing conversation and checking in regularly without being obtrusive. As I checked out, one of the front desk receptionists went out of his way to check and see if the rain had arrived yet. Justin Mills, spa director, made it a point to offer a personal hello.
I always look to try a spa's signature treatments. I was torn between the 1000 Roses Facial — which uses Bulgarian roses to transform imbalanced complexions into glowing softness — and the Rittenhouse Luxe Ritual. I ultimately chose the latter, a 120-minute body ritual that includes a full-body exfoliation, body wrap, hot oil scalp treatment and a hydrating shea butter massage. Decisions, decisions, but I don't think I could have gone wrong either way.
For two hours I gave in to relaxation and the skills of Rox. Even the exfoliation was relaxing, and I was absolutely blissful as she deeply massaged my scalp as I lay wrapped in plastic and sheets while soothing ingredients imbued themselves into my skin.
How relaxed was I? To start, each person I encountered on my way out of the spa and hotel noted how relaxed I looked. And then, even the aforementioned road construction coupled with rush- hour traffic and a summer thunderstorm on my way home couldn't dampen my Zen. Make sure to put a visit to The Rittenhouse Spa & Club and a stroll through Rittenhouse Square at the top of your Philadelphia to-do list.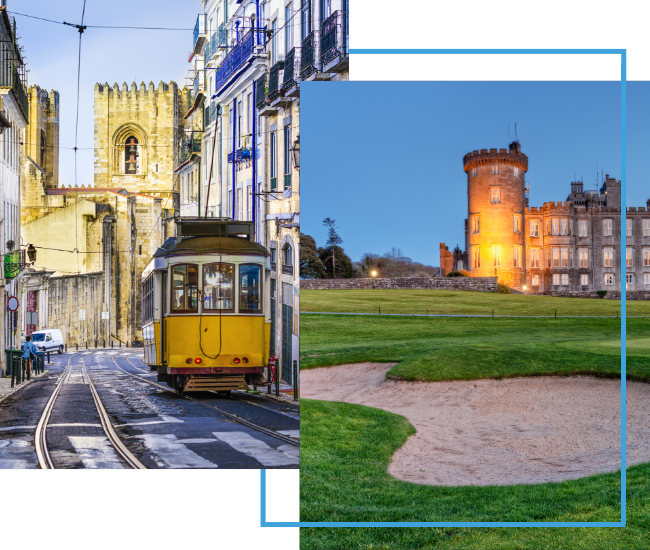 FX Excursions
FX Excursions offers the chance for once-in-a-lifetime experiences in destinations around the world.
Explore Excursions
There is something magical about sipping a glass of local wine while watching the sun slip into the Aegean Sea as the afterglow tinges traditional, white-washed Cycladic houses with glorious shades of rose, purple and gold. Ancient Greeks believed Helios, the Sun God, caused sunsets by driving his fiery chariot into the sea. Standing at water's edge in Mykonos, watching the sky slowly turn from purple to inky black, you almost believe it.
Sponsored Content
Are you looking to enhance your business trip with a little leisure? Look no further than Portugal, a country renowned for its captivating blend of history, culture and natural beauty. And with TAP Air Portugal, you can effortlessly transform your business trip into an unforgettable bleisure adventure. Discover why Portugal and TAP Air Portugal are the perfect combination for an enriching and rejuvenating experience.
The prospect of a post-visit treasure hunting session inside the shops of landmark museums such as the Louvre in Paris, the Uffizi Gallery in Florence and The British Museum in London can be irresistible. However, some of Europe's smaller and more unusual museums boast retail spaces with a surprising "wow" factor, often as well-curated as the galleries.