O n nearly every golfer's list of top courses to play in North America, The Ocean Course at Kiawah Island Golf Resort boasts the most oceanside holes in the Northern Hemisphere, including 10 along the Atlantic Ocean and another eight running alongside these. Designer Pete Dye's wife, Alice, suggested raising the holes to dune height so golfers could see the Atlantic with unobstructed views. What Mrs. Dye did not consider was how the wind would wreak havoc with players and their shots. It is said no other golf course in the world, outside of Ireland, experiences more wind, often adding up to an eight-club difference to any shot.
Readers are likely familiar with Kiawah Island Resort from traveling there or watching PGA players tackle the courses. Most recently, the Bidens spent a week in one of the lavish homes on the Ocean Course fairway, many of which are valued at more than $35 million. The Sanctuary Hotel offers the most sought-after accommodations on the island, and we enjoyed spectacular dinners at The Ocean Room and The Atlantic Room; the former by far made the best presentation and meal, including superior appetizers. I ordered caviar for the table … to raised eyebrows, but they all enjoyed the treat. Chef Robert Rando puts on a spectacular show
Hats off to our planning team, including John Kelley (aka "The Apprentice") for making all the dinner reservations and Neil Curran (aka "Swirly") for selecting the wines with each dinner. I have to give a shout out to trip captain Bob Hancock, who planned the entire trip and kept all the credit card points to boot!
When it comes to accommodations, let the buyer beware, as there is a huge discrepancy between The Sanctuary, the Bidens' beach mansion and the condominiums. As we were there to play golf (often twice a day) and enjoy fine meals, we booked the two-bedroom condominiums, which were a disappointment. Each is independently owned but rented through Kiawah Resort. These were dated, in need of serious renovations and poorly stocked. I shared a condo with my brother, and his room had a twin bed (all pink) and broken window blinds. The others in the group said our place was better than theirs, with many missing the essentials promised such as proper kitchen utensils and even glasses and plates. So much for happy hour — we made do! I must admit that value, course quality and restaurants put Kiawah above other golf meccas such as Myrtle Beach. The sore spot for us was the condominium quality.
We arrived early for the game, warmed up, then met our caddies, Mike and Jimmy, who were a gas. They excelled at finding wayward balls and sharing local stories, including the bloviated home prices. As this is a walking course, caddies are a requirement and a great help. Our foursome included Neil Curran from Palm Beach Gardens, Florida; John Kelley from Philadelphia; my brother Gerry from Dallas; and myself.
HOLE 4
453 yards, par
The highest-ranked handicapped hole on the front nine, Hole 4's large green allows you to play your second shot with a mid-iron. Unlike every other day on The Ocean Course, this time we
had relatively no wind, and we played without major clubbing adjustments. We got in the groove with the caddies and exchanged jokes and stories while they learned our game and got better at club recommendations. We all teed up and hit away … there really is little possibility of error besides the traps on the right and the path on the left. Neil passed the fairway and nearly put his ball in the hazard that crosses the hole and cuts off the green. I was short but center, and Gerry and John sailed toward those uninviting bunkers. Neil made a nice shot to the green and even with a long putt secured par. The rest were pleased to walk away with bogeys and one double bogey.
HOLE 7
527 yards, par
The caddies shared how different this hole plays in howling wind, requiring players to make a difficult decision about ball flight and where the wind might carry the shot. But we could fire away as the fairway is wide and the bunkers and grass mounding are not too troublesome. The team made great connections. Neil found one of those pesky bunkers and deftly made his way back into play with fine distance. The rest of us pounded our 3-woods; without strong winds, we took dead aim at the green. John over-shot the green on his third but stayed on the back collar while the rest of us chipped up and made this relatively long par-5 and game changer.
HOLE 9
464 yards, par 4
It is always nice to come to the ninth hole and know you have another nine to make up for any errors in judgement. A large and wide fairway welcomed us; however, a waste bunker fringes the entire left side, and the right slopes away, which can send balls rolling out of control. We all slammed our drives, Gerry catching the waste bunker then taking a wild jump left; his ball was gone for good. Neil hammered one right and missed the center fairway bunker, which I caught. John's drive was his best of the day, landing over the bunker and in position A for the approach to the hole. The hole is a little tricky, as it is offset to the left, but that did not stop me and Neil from securing par and setting us up to take on the back nine.
HOLE 14
194 yards, par
Some say this is the most beautiful hole on The Ocean Course; others say it is the bane of their existence. Players often miss shots to the elevated green, leaving them with a challenging chip uphill. Depending on the wind, you may need to add several clubs to make the green. We came through fairly well with a par for Neil, a bogey for me and John, and a double for Gerry.
HOLE 18
439 yards, par
We teed up with our tired "dogs" from walking the course, but we knew it was do or die on the 18th hole. Neil and Gerry followed the pro tips and sent their drives hugging the right side of the fairway. John and I never listen to advice, and our balls were findable but in a sandy mess left.
Neil continued his fine play fol- lowed by Gerry … both missing the green but close enough to chip up for par and bogey, respectively. Mean- while, John and I hacked out and back into play, both disgracefully scoring double bogeys. We thanked our caddies and sat back for a drink while watching the ocean and a wedding taking place on the putting green … a beautiful setting on one of the top U.S. courses.
Kiawah Island Golf Resort
1 Sanctuary Beach Drive
Kiawah Island, South Carolina 29455
tel 843 768 2121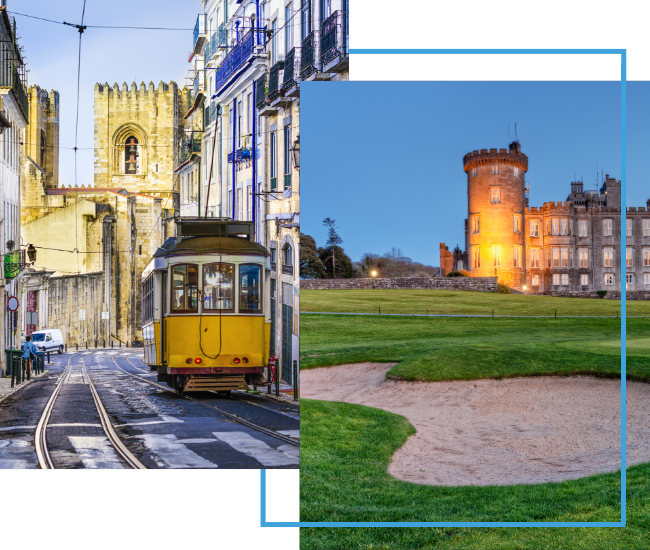 FX Excursions
FX Excursions offers the chance for once-in-a-lifetime experiences in destinations around the world.
Explore Excursions
There's no doubt the northern lights are awe-inspiring and spectacular. Unfortunately, they're also fickle and fleeting, and despite your best-laid plans of checking this item off your bucket list, sometimes Mother Nature's luminescent show just doesn't cooperate. But one cruise line has a new fail-safe in place.
Sponsored Content
United Airlines is in the midst of a major initiative to modernize its fleet over the next several years. After first announcing the plan in 2021, planes fitted with United's signature interior are finally beginning to appear across the airline's narrowbody fleet of Boeing and Airbus planes. United flyers are sure to notice these enhancements from the moment they step on board: Each new or updated plane sports remodeled seats, seatback entertainment screens for everyone, Bluetooth connectivity and more, all adding up to a better experience on every journey.
Think you need a degree in sailing to enjoy a yachting holiday? Dream Yacht Worldwide, a leader in yacht charters, wants you to relax and enjoy the journey. Newly expanded to include the British Virgin Islands, Martinique, Tahiti and the Seychelles, the "Easy Crewed" offered by Dream Yacht Worldwide also include charter options in Greece and Croatia.