ONE DESTINATION APPEARS on nearly every avid and leisure traveler's bucket list: Japan. Luckily for business travelers, it's also a mecca for big industries including agriculture, technology, textiles and manufacturing. Regions that once employed whole towns of coal miners, fishermen and farmers now produce electronics, automobiles, forging machinery, textiles, pharmaceuticals and consumer goods.
As one of the country's top three cities, next to Kyoto and Tokyo, Osaka is one of a kind within the country. With a storied reputation for rising up, moving forward and adapting when adversity strikes, it boasts a neighborhood feel along with impressive big-city stature and opportunity.
Osaka's reputation as a hub for outsourced goods and an incredible trade economy is a relatively new concept, as Japan was secluded from the Western world for most of its history. The country only opened to U.S. trade in 1853, after 200 years of warming up to the idea.
Nestled along the Seto Inland Sea and Osaka Bay, Osaka's positioning with easy river access for water transportation made it a dream-scape for trade. Asian travelers and businessmen have ventured to Osaka's shores since the fifth and sixth centuries, when the prosperous prefecture represented the political heart of Japan.
Visitors flocked from Korea and China, bringing new ideas such as Buddhism, innovative forging techniques, new technology and manufacturing skills. While Buddhist temples popped up in Osaka and Kyoto and women's culture ascended on a steady climb, the city ventured into the Heian period. Factions arose, conflicts erupted and hundreds of years went by while the city experienced economic booms, destruction from war, rebuilding periods and political changes followed by times of peace — all bringing Osaka into the 14th and 15th centuries as a stronghold of Japanese culture and political influence. The city proved to be a comeback kid.
The first Westerners who made their way to Japan's islands for trade were the Dutch, Spanish and Portuguese in the 16th and 17th centuries. After European traders' attempts to convert the locals to Catholicism, Japan refused trade with nearly all foreign prospects in 1639, only minimally trading with Chinese and Dutch vessels.
The reopening of Western trade with Japan in the 1850s proved not only big business and a political move but also a huge cultural shake-up and touristic undertaking. As Osaka welcomed trade for the first time in centuries, foreign business travelers arrived with the need for dining, shopping and accommodations. Foreign needs quickly turned into a money-making outlet for the city, as establishments boasting authentic Japanese culture and eateries filled the port city, acting as a siren call to newcomers.
Times changed again for Osaka when the Tokugawa clan took control of Japan and moved the political center to Edo, present-day Tokyo. Economic powers followed, leaving Osaka in dire straits.
Osaka began its slow, determined climb back to the top of industry and soon became known as tenka no daitdokoro, meaning "kitchen of the nation." Osaka produced and distributed rice throughout the country, and eventually overseas when laws allowed, re-establishing itself as a force to be reckoned with. The "kitchen" aspect stuck, and remains as a clear vein running through the city today. Osaka is known for dishes like yakiniku barbecue and noodles like udon and ramen — attracting long lines of locals and in-the-know tourists. The lines grow by early afternoon, stretching along main city streets and back alleys.
The Tokugawa clan fell in 1868, and Japan again restructured. The capital city, now known as Tokyo, remained a booming economic metropolis while Osaka focused on working its way back.
With technological advances at home and abroad, and Osaka's fiercely determined people, the region developed its own culture. Its unique personality created a clear break with traditional Japanese practices, along with a blossoming arts scene that remains evident on and in buildings, boasting a sense of whimsy.
With a new interest in industrial factories, the city produced manufactured goods by the smoke load and was only officially inducted as a municipality in 1889. The newly official city played host to massive industrial business expos, poised as the epicenter of production and soon became the first city in Japan with an operating streetcar system. Today the city boasts walkable side streets and impressively efficient roadways. The city's prowess in industry and engineering reflects in its well-established marketplace today.
Osaka rebuilt its position as a world power post-World War II, not only surviving but flourishing as it rose from the ashes with more style, character and gumption than before.
Today, Osaka is known for its eclectic nightlife, enticing street food and unusual modern architecture, all on constant display in the America-mura neighborhood. Conveniently, this cultural hub designed for tourists but beloved by locals runs perpendicular to the famous Dōtonbori canal and pedestrian walkway lined with unique shops, nightclubs, restaurants, street-food carts and oddities like a Shiba Inu café.
Walk through covered markets and food stalls, boasting drugstores peddling matcha and wasabi Kit-Kats and Japanese character-clad everything, or turn the corner for another neighborhood with an entirely different attitude jumping at you off the walls — some literally with characters popping off restaurant roofs and siding.
"Many locals prefer Osaka and Kyoto to Tokyo. There's so much good food and places to go at night … I think it's one of the main reasons people love to come here," said our local guide, from Kyoto himself, as we pulled into Osaka Station by way of the Sakura Shinkansen high-speed train.
Indeed, arriving by train, passengers sense a work-hard, play-hard mentality evident in the sky-high office buildings to one end and a glowing grid of neon nightlife to the other — peppered with ancient shrines in the distance and high-end stores lining the busy streets. The shopping and fashion industry in Osaka mean a big boom for the economy, thanks to locals and tourists from Asia and the West — a clear sign of an affluent city.
While the Osaka Prefecture is the third-most populated in the country, with more than 8.8 million residents and more than 2.6 million in the city alone, the atmosphere is actually quite calm, not the typical go-go-go of a city one would expect. This attitude, along with the allure of its incredible food culture, downtown, ancient history and vibrant nightlife, acts as a magnet for tourists and business travelers.
Boasting more than 180,000 business establishments, the second-largest concentration of business in the country, the city proves a hub for government functions, economic prospects and an influx of jobs. Nearly 1 million workers travel into the city each day, rounding out the daytime population to nearly 3.5 million. Still, Osaka feels more akin to the borough of Brooklyn, New York, than the bustling metropolis of Midtown Manhattan.
Even with its ancient history, Osaka appeals to the young. Software engineers, mechanical engineers and tech developers flock here for work and an affordable cost of living. With an average apartment going for half the rate as one the same size in Tokyo — the capital city regularly makes most-expensive-cities lists — Osaka appeals to up-and-comers as well as the fiscally responsible.
Up there with manufacturing, wholesale and retail trade, real estate and specialized sciences providing technical support, tourism thrives as a main revenue source in Osaka. Home to big-name brands like Panasonic, Osaka does not depend on one primary form of revenue. Perhaps a hard-learned lesson from its past, or the result of a diverse educational, political and societal landscape, Osaka has just enough stake in enough varying industries to adapt to whatever trend it sees next.
With all the trappings and attractions of a fast-paced city, Osaka comes with the added flair of its unique personality and calm, welcoming demeanor. Through endless political changes and economic shifts, Osaka found its footing and climbed higher than before, building an eclectic, modern-meets-tradition, vibrant and diverse cityscape in its wake.
CHECKING IN WITH NAOTO IDE
Osaka Convention & Tourism Bureau
After hosting integral business leaders from around the world, what's next in Osaka's bright future of events? Osaka is looking forward to hosting many events, including the Rugby World Cup 2019, the World Masters Games 2021 and Expo 2025.
As a local, what do you consider new and exciting this year? This year, Osaka was proud to host the Group of 20 conference. In other big news, the Mozu-Furuichi burial mound group has been designated as a UNESCO World Heritage site. These 49 ancient mounded tombs are 1,600 years old and lie just south of Osaka.
What should visitors know about Osaka? The Osaka Convention & Tourism Bureau selected a new catchphrase — "DOWNTOWN OF Japan" — that more specifically expresses Osaka's vitality, its brilliance to the world and its history and culture. It is appropriate for launching the Osaka international tourist city to the world. Based on this catchphrase, we aim to communicate Osaka's diverse attractions to as many countries as possible in order to establish Osaka brands around the world.
INFO TO GO Most travelers flying directly into Osaka arrive at Osaka International Airport. While traveling within Japan, visitors often purchase a Japan Rail Pass prior to their arrival in the country as an efficient way to navigate a multicity visit. Within Osaka, visitors often walk or use cabs and public transportation.
DIVERSIONS
While the quirky, modern side of Osaka attracts travelers from all over the world — including sites like Universal Studios Japan and Dōtonbori's vibrant nightlife, canal rides and foodie attractions — the city is historically known for its ancient history and iconic landmarks.
Visitors flock to Shitennoji, a Buddhist temple dating back to the year 593; the famous Osaka Castle, lined with pristine gardens and boasting a stunning city view; and the Hōkoku Shrine, a historic Shinto shrine honoring Toyotomi Hideyoshi.
The Shinsekai shopping district dates back to the early 1900s, with fun souvenir shops and attractions, while Shinsaibashi district offers more fashionable boutiques. Manga culture is alive and well in the Nipponbashi district, and the Nakanoshima region boasts more green space to walk through artistic and architectural attractions.
For a stunning view of the expansive city, sightseers head to Tsutenkaku, or observation deck, for a bird's-eye view of Osaka, new and old.
JUST THE FACTS
Time zone: GMT+9
Phone code: Country code: 81 City code: 66
Currency: Japanese yen
Key industries: Agriculture, automobiles, manufacturing electronics and consumer technology
LODGING
THE RITZ-CARLTON, OSAKA Enjoy a stylish stay with bayside and city views, four dining establishments, a spa and a cigar bar. Hanagatami offers an authentic Japanese dining experience with seasonal options of local classics.
2 Chome-5-25 Umeda, Kita-ku $$$$
THE ST. REGIS OSAKA
The "best address in Osaka" offers a prime location and traditional Japanese design, using natural elements and luxury European touches. The rooftop beer garden blends Italian, French and Japanese style with all-you-can-drink pricing.
3-6-12 Honmachi, Chuo-ku $$$$
SHERATON MIYAKO HOTEL OSAKA
Upscale accommodations complement five restaurants, a top-floor bar overlooking the city, an indoor pool and a fitness center. A variety of on-site eateries offer international cuisine from Chinese and French to locally inspired Osakan and Japanese dishes.
6 Chome-1-55 Uehonmachi, Tennoji Ward $$$
DINING
HAJIME
This elegant and sophisticated establishment offers vegetable-forward menu options. Pair a fine selection of wines with the exceptional tasting menu.
Edobori, Nishi Ward $$$$$
KORYU
Head to this chic, upscale restaurant for seasonal, fresh cuisine. The traditional Japanese tasting menu pairs with a variety of saké, wine and beer.
Dojima, Kita Ward $$$$$
YONEMASU
Opened in 2016, this Michelin- starred restaurant boasts fine dining, fresh sushi and stunning multicourse meals.
Ōsaka-fu, Ōsaka-shi, Kita-ku, Ōyodominami
$$$$
COMING AND GOING
U.S. citizens need a passport valid for the extent of their stay. Visas are only required for stays longer than 90 days, and no vaccinations are required.
OFFICIAL LANGUAGE: Japanese.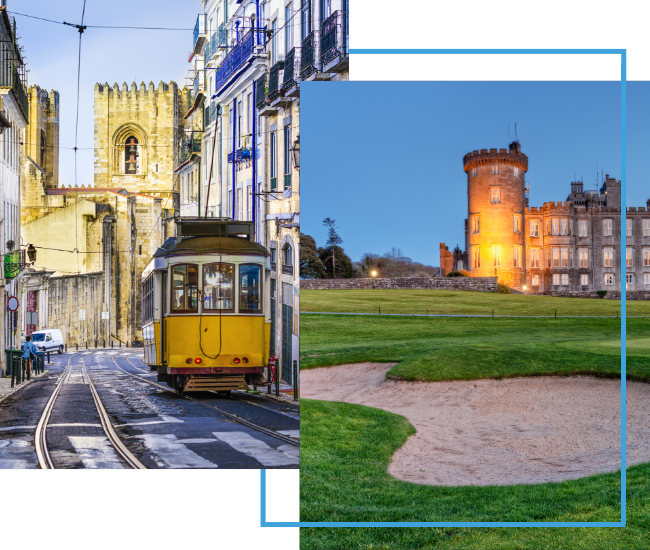 FX Excursions
FX Excursions offers the chance for once-in-a-lifetime experiences in destinations around the world.
Explore Excursions
One thing  surprising about the Prince Edward Island capital is its abundance of shops specializing in affordable, fashion-forward jewelry rendered in sterling silver, vermeil, 14K gold and semi-precious stones. Whether you prefer delicate pieces or bold wearable art, you can be assured the pieces for sale are inspired by the maritime island setting and, therefore, specific to the place where they are created. Here are a few shining, woman-owned examples:
Sponsored Content
Don't risk losing all the money you've spent if you must cancel your trip at the last minute. Allianz Travel Insurance can give you:
Norway, a haven for visionary artists, architects and designers, showcases an exceptionally diverse array of cultural attractions. This year, the country commemorates exciting milestones and unveilings captivating enthusiasts of the arts, from iconic scenic routes to new museums to gallery openings. Up Norway features these new offerings in personalized itineraries catered to aesthetes.