Flames flicker in the long, low fireplace embedded in the stone wall beside me. It stretches from one end of the indoor pool to the other, casting a glow across the surface of the water. I butterfly my way back and forth through the glimmer with languid strokes. This is no time to race: Here, in the tranquil English countryside at Lucknam Park, I can't find a single reason to rush.
Like so many others, I grew up captivated by the tales of the elaborately constructed social worlds of English aristocracy as portrayed in the novels of Jane Austen and Charlotte Brontë. But even more enthralling to me were the descriptions of grand manors and country house estates.
Lucknam Park perfectly fulfills my Austen-Brontë daydream. The historic house (a Relais & Châteaux property) is set upon a green swath of a 500-acre equestrian and wellness estate in the village of Chippenham, a short 6 miles from the historic spa city of Bath. It's also less than two hours by car from London but might as well be a world apart. Sleek horses
doze in the sunshine. The impressive main house sits arrayed at the end of a broad avenue edged with 400 towering lime and beech trees — some so old their branching arms entwine.
While Jane Austen spent five years living in nearby Bath, my guess is she didn't have access to the type of wellness experience that's part of Lucknam Park. The estate's modern spa complex includes a hydro zone with six thermal cabins, all arranged within a group of buildings that once served as stables. This quiet area can be found behind the main house, accessed through a courtyard and along a path that leads through gardens. The footpath is bordered by several sculptures from the property's own collection of original art and statuary, much of it reflecting an equestrian theme.
The enormous indoor pool has a swim-through door to reach the outside, where serene gardens create an oasis that invites restful lazing in the sunshine. I do exactly that, winding down before my scheduled Bespoke Massage, with plenty of time to enjoy the hydrotherapy area.
Toweling off from my swim, I head into the sauna, then cool off beneath a shower next to the ice fountain. Afterward, I slip into the Amethyst Room, where light emanating from a large amethyst embedded in the ceiling cycles through a range of colors. I spend the next 20 minutes in the Japanese Salt Room before settling in for a steam session in the Aromatic Steam bath.
Shortly after, my therapist greets me with a smile in the spa's relaxation area, where I enjoyed a cup of herbal tea, and leads me to a wood-floored room filled with candlelight. She allows me to choose from a selection of scented oils, then asks whether my preference is for a soothing, calming massage or something more invigorating.
I choose the soothing option, and over the next 90 minutes she applies techniques from a variety of bodywork traditions to work the knots from my shoulders and upper back. Treatments here feature a number of high-end body care brands including 111SKIN, HydraFacial and KLORIS. The KLORIS brand, in particular, has a global reputation for its line of intelligent CBD wellness products that prove ideal for those with stress or minor aches and pains. The spa menu offers a range of body therapies: facials including the hour-long Platinum HydraFacial Experience; 60-minute Melting Candle Couples Massage by Natural Spa Factory; and 90-minute KLORIS Sleep Soundly Ritual, which utilizes a blend of CBD-infused balm and supportive aromatherapy oils.
After my spa afternoon, I set out on foot to explore the woodlands and fields and to work up an appetite for dinner. On-site choices include the Michelin-starred Restaurant Hywel Jones by Lucknam Park, under the capable direction of Executive Chef Hywel Jones. Thinking ahead toward dessert, I follow a trail that borders the equestrian center, watched by a tall bay mare who stands near the paddock fence. Horses play a big part in the estate's setting, and guests looking to augment their wellness break can take a riding lesson or enjoy a hack across the surrounding countryside. There's also a yoga studio with scheduled classes and plenty of winding paths and meadows for long walks.
In my sumptuous suite, the sparkling marble bathroom is stocked with products from Natural Spa Factory, a company based in Bath that creates deeply moisturizing and nourishing cruelty-free blends. I fall in love with the Fig & Vanilla Body Lotion and vow to stock up before heading home.
The following morning, after a long, deep sleep in my canopied bed, I enjoy a brisk pre-breakfast walk through the fields. Turning back to gaze at the manor house, I can make out the peaked outline, a haven framed by the branches of beech trees. For just a second, it's easy to entertain another fantasy: The sprawling house with its walled gardens, lily ponds and horses is mine. All I really need is a carriage to draw up beside me to deliver me back to my imaginary private spa world.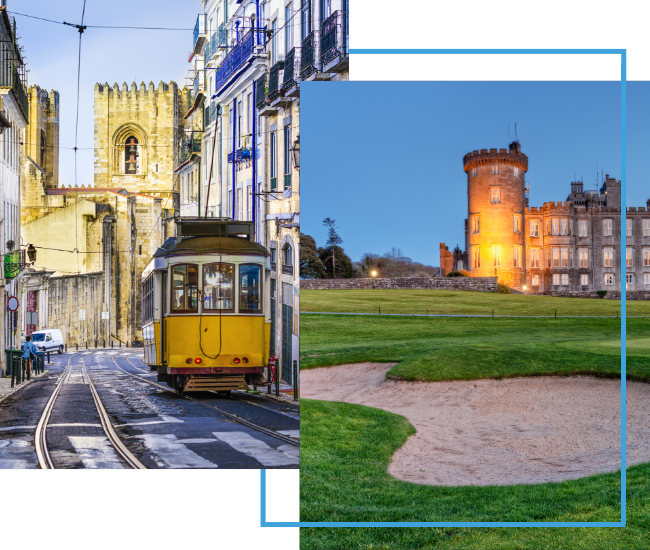 FX Excursions
FX Excursions offers the chance for once-in-a-lifetime experiences in destinations around the world.
Explore Excursions
As first-time restaurateurs, but with plenty of hospitality-related experience, Ria and Kevol (Kev) Graham were not entirely comfortable opening their first restaurant in the Brooklyn neighborhood of Williamsburg, where several upscale restaurants and 5-star hotel dining is just a block away. And to make matters worse, they opened in July 2020, when New York City was in the middle of the COVID-19 pandemic.
Sponsored Content
Exclusive Sailing with Global Traveler
In addition to intimate settings, smaller staff-to-passenger ratios, and personalized food and beverage options, river cruises have the advantage of providing a deeper dive into a region's culture, food and history. The Rhine, Rhône and Danube in Europe and the Mississippi River and St. Lawrence in North America have much to offer travelers with their itineraries, tying together beloved cities and lesser-known destinations along their routes.