According to "The State of Gender Equality in the Travel and Hospitality Industry," published in December 2022, the industry as a whole is making progress in regards to diversity, equity and inclusion, but there is still work to be done.
"Across the travel and hospitality industry, the women in executive- level roles are often the only women in the room," said Jennifer DiPasquale, president, Women Leading Travel & Hospitality, a membership organization for executive women across the travel industry.
"We created a supportive community where a C-suite hotel leader can connect with another C-suite leader from an airline, cruise or other sector, for example," DiPasquale continued. "Through virtual peer calls, in-person networking events, a national summit and more, we unite, inspire and empower women to grow in their professional and personal lives."
Lucy Lieberman, who recently marked two years as CEO of Tablet Hotels and international director of Michelin Guide Hotels, serves on the advisory board of Women Leading Travel & Hospitality. "I am lucky to be in an industry that has strong gender diversity, and organizations like Women Leading Travel & Hospitality is doing an admirable job of fostering connections between females in the industry," she said. "My team at Tablet/Michelin Guide Hotels is almost half female, with the leadership team 50 percent female."
TAKING A SEAT AT THE TABLE
More women are taking a seat in executive board rooms, including Andrea DeMarco, president, Regent Seven Seas Cruises. "It's an absolute honor for me to lead Regent Seven Seas Cruises, especially as the first woman to take the helm as president in our 30-year history," said DeMarco, who stepped into the position in January. "I joined the cruise industry after taking my first cruise over 20 years ago, where I fell in love with the vacation experience and decided to follow my passion. I had big aspirations and challenged myself to always work hard, but the reality of where I am today truly is such an honor."
When asked what it is like to be a female leader in a male-dominated industry like aviation, Jodie Brinkerhoff, vice president of innovation, Dallas Fort Worth International Airport, told Global Traveler, "It's challenging but getting better. I have spent my career in financial services, technology and aviation, operating in sales, technology and, now, innovation at Dallas Fort Worth International Airport.
"I was often the only woman in meetings, especially those talking tech or business strategy. But that's changing," Brinkerhoff continued. "With the emphasis on diversity, equity and inclusion, and strong research that shows diversity is critical to innovation and business performance, there's movement. I see a greater effort to include others and more women taking a seat at the table. That's a good thing."
She added that, as an innovation leader at the world's second-busiest airport, it is imperative she advocates for diversity of opinions at the decision-making table. "I have to speak up," Brinkerhoff said. "I will now point out when the room lacks diversity and speak up when I see something that could be done more inclusively."
"While I'm proud to be a woman in a very male-dominated industry, I'm also very proud of my strong work ethic and vision that led me to this leadership position," said Leona Qi, president, VistaJet U.S. "Luck doesn't just happen; it happens to women that are constantly pushing themselves to learn and do the hard work to prepare. … Within the industry, I'd love to see half of women in aviation in management roles."
Heather Samp, managing director, AAdvantage at American Airlines, agreed. "I enjoy working alongside a diverse group of colleagues who create thoughtful solutions for our customers," said Samp. "While some areas of the airline industry in which I've worked, such as revenue management and network planning, have historically been predominantly male, that's changing.
"A higher number of women are graduating with STEM degrees, and our industry will benefit as colleagues with more diverse backgrounds are attracted to the complex problem-solving opportunities available within aviation," she added. "It's an exciting time to be in the industry."
FINDING INSPIRATION
In Arizona, Laura McMurchie, vice president of communications, Experience Scottsdale, has 30 years of experience in the tourism industry. "I've had the privilege of working for and with extraordinary women — women who exemplify compassion, intuition and inclusiveness," said McMurchie. "From my perspective, women lead by inspiring others. Women lead by connecting others, whether our families, coworkers or neighbors.
"I've been inspired by the thoughtful women leaders in my organization — our CEO, my fellow vice presidents and my team," she continued. "I've learned that the best way to lead is with kindness because through kindness you can lift others around you and show them they are valued. Kindness creates respect, which creates trust, which creates great results."
Samp at American Airlines has also found inspiration from her network. "Earlier in my career, I founded a cohort for women leaders to help develop within the organization through training, coaching and more," she said. "Even though I moved to another department years ago, the group is still going strong and has grown to be inclusive of other organizations. Getting to be a champion for these colleagues has been tremendously rewarding.
"Sometimes all you need to do is make a spark, and others can help fan the flame," she added.
STRIVING TO MAKE TRAVEL ACCESSIBLE
"While we believe that travel can be a force for good and for change, bringing people of all backgrounds together, the harsh reality is that women just aren't free to travel anywhere they want in the world," said Michelin Guide Hotels' Lieberman. "They may not be allowed somewhere on their own or at all, or are subject to strict dress codes, or are just advised against going due to how dangerous a place is for women travelers. … One organization we are proud to have partnered with to increase access to travel is Statement Junky, whose vision is to inspire Black and Latina girls to explore beyond their communities."
Founded by Rashell Paling, Statement Junky's mission is to cultivate the next generation of globally conscious girls.
"At the intersection of education and exploration, Statement Junky's Passport Queen Clubs serve as a safe space for girls to build sisterhood and discuss issues important to them," said Paling.
"Navigating the world as a girl or young woman of color presents a very specific set of challenges, from battling insecurities around skin complexion, hair texture, body type and sexuality to combating discrimination, marginalization and criminalization," she continued. "Using exploration and a passport as essential tools to access the world, we support girls to find a piece of themselves at the end of each journey, ultimately cultivating the next generation of globally conscious girls."
Henley Vazquez also makes a splash in the travel industry — she co-founded Fora, a modern spin on the traditional travel agency with a mission to empower travel entrepreneurs.
"There is a growing desire for meaningful, flexible work," said Vazquez. "While there are countless people who are passionate about travel, a career as a travel advisor is often out of reach — and unknown — to most of them.
"Meanwhile, 1.5 million women left the workforce due to the pandemic and are searching for a side-hustle or a new career," she continued. "My co-founders and I built Fora to empower anyone to transform their passion for travel into a role as a travel advisor on their own terms."
DFW's Brinkerhoff recognizes that desire for flexible work, too. "When you study the reasons why women opt out of promotions and executive responsibilities, you realize we still have lots of opportunities to design work in a way that works for all," she said.
"My advice to women is to follow your passion and push yourself outside your comfort zone," encouraged DeMarco of Regent Seven Seas. "In order to grow, you must challenge yourself and not be afraid of failure. Work hard, execute and believe in yourself.
"At the end of the day," she added, "you are the author of your own story, so write a good one."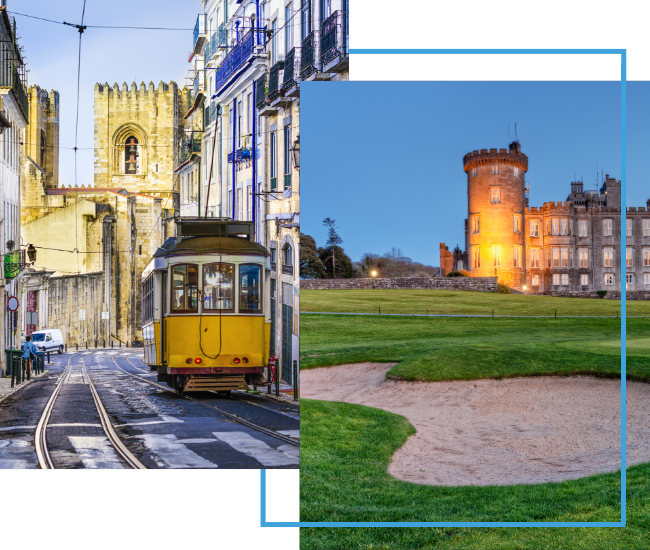 FX Excursions
FX Excursions offers the chance for once-in-a-lifetime experiences in destinations around the world.
Explore Excursions
If fabulous food and beverages are a must-have for any weekend getaway, then look no further than the City of Brotherly Love. Whether your palate has a penchant for vibrant Latin American fare or cozy French cuisine, whether you're an oenophile looking to swirl, sniff and sip your way around the globe or you'd rather sample farm-to-glass cocktails, Philly's got it all this fall. (With the exception of Bolo, which is a short taxi or Uber ride away and definitely worth the trip, the rest of these spots are all within walking distance of each other.)
Sponsored Content
The Islands of Tahiti are among the most beautiful and sought-after vacation destinations in the world. The endless images of overwater bungalows with Bora Bora's majestic peak towering over waters of every shade of blue have an intrinsic pull. But with 118 islands and atolls to explore, there is so much more to this spectacular region of the Pacific.
From Santoríni to Dubai to New York, some hotels just have that "it" factor that draws visitors far and wide. For some hotels it's their proximity to popular landmarks and attractions, for others it's their amenities. But these hotels have something few can claim: a true room with a view.