This is a love story involving a frequent traveler, a swanky business-class lounge, Polaris seat 7A and palate-tempting libations.
It all started when my PlusPoints upgrade cleared for a United Airlines flight on a Boeing 777 from Washington Dulles to Paris (CDG), where I was headed to judge the Cointreau Global Margarita Competition at the liqueur brand's château in Angers. (I did pinch myself and wonder if they asked the right person for the gig.) Dulles' Terminal C houses one of six United Polaris lounge locations. A few hours before my flight, I set up shop in the lounge's sit-down restaurant to get some work done while partaking in a three-course lunch and a few glasses of something to get me through my endless afternoon of Teams meetings.
I settled into a table in the back corner and ordered a Beet the Jet Lag, a good-for-you tipple with beet-infused Don Julio tequila, lime, agave and egg white, garnished with a dehydrated beet chip and served in a Lagavulin whisky-rinsed glass. (Remember that last detail.)
The menu changes frequently and incorporates seasonal and local ingredients. I decided on pan-seared shrimp and scallops with blood orange served over a curried carrot emulsion drizzled with tarragon oil, plus herb-roasted lamb loin adorned with pistachio pesto — dishes to pair with my favorite pour from the wheeled cart of by-the-glass options. The Rainstorm Pinot Noir from Oregon's Willamette Valley is a juicy, raspberry- and strawberry-tinged earthy red that over-delivers for the price and cozies up to many other dishes here, like duck leg confit over crispy sunchokes. It's also perfect with a short rib burger on a buttery brioche bun, a perennial favorite no matter if you're on an a.m. flight to Tokyo or a red-eye to Brussels. (Again, keep the latter fact top-of-mind.)
After I finished my midday repas and contemplated heading to my gate to await pre-boarding, I glanced at the busy bar, filled with business-class passengers passing time before their overnight European flights. Blue-backed bar stools sat along a spacious bar top, and cobalt bottles flanked the gilded and mirrored back bar. I couldn't resist another glass of Champagne, and throwing back some tiny bubbles was infinitely more compelling than hanging with the crowded masses.
As I sipped my flute, a man with warm eyes and a charming Belgian accent jockeyed up to the bar. I offered him my stool, saying I was happy to stand a bit before my eight-hour flight. We discussed his penchant for peated whisky (Lagavulin, specifically) and mine for Champagne, as well as where we were headed. He said he used to be a commercial pilot for
a Star Alliance partner and now works in private business aviation. We chatted for a fleeting 20 minutes, exchanged business cards and raised one final toast before heading to our respective gates for our trips to CDG and BRU.
I found my Polaris seat (7A), glanced at the wine menu with options like an Albert Bichot red Burgundy and a Duckhorn Vineyards Sauvignon Blanc, and accepted a glass of Champagne Heidsieck Monopole from the pre-flight cart. My phone vibrated with a WhatsApp message from my Lagavulin-loving private pilot. Turns out he was also seated in 7A, asked my opinion on his pre-nap dinner options, and opted for a weightier, more structured red Bordeaux.
Fast-forward six months, and said pilot and I are all in on one another — a true unicorn travel love story. The Polaris lounge (and seat 7A) are part of how we dissipate the miles (and times) that stretch between us. As a few close friends told me, of course a travel writer falls in love with a private pilot she meets in a business-class lounge.
Even if your experience isn't quite as life-changing as mine, sipping a beverage in a space with a moniker chosen to invoke a sense of relaxation and, yes, sleepiness, makes the skies a little more comfortable … and a little more friendly.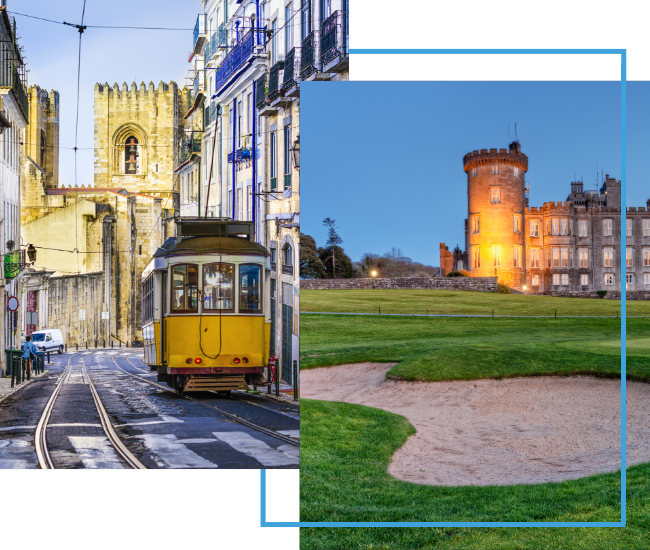 FX Excursions
FX Excursions offers the chance for once-in-a-lifetime experiences in destinations around the world.
Explore Excursions
Red Savannah launched a new series called In the Footsteps of…, which debuts itineraries of well-known figures, the first being Coco Chanel. As Chanel No. 5 celebrates its 102nd anniversary this year, the travel company invites fashion lovers, history enthusiasts and admirers of Coco Chanel to experience the new itinerary, In the Footsteps of Coco Chanel. The experience allows travelers to step into the remarkable life of one of most iconic figures in the fashion world.
Sponsored Content
In an increasingly digital and interconnected world, the Global Business Travel Association (GBTA) Convention remains an indispensable platform for business travel industry professionals seeking to make the most of the power of face-to-face connections. Taking place August 13–15 in Dallas, the 2023 GBTA Convention provides the unique opportunity for professionals and companies to join visionaries, thought leaders and industry experts for meaningful networking, cutting-edge insights and inspiring innovation.
Mazatlán, Mexico, has long been an attractive home destination for Canadian and American retirees, but, in recent years, young, digital nomads have also discovered the charms of this coastal city, finding inexpensive accommodations, beautiful weather and plenty of bandwidth for working remotely. The laid-back beach scene definitely eases the transition of relocating to Mexico's West Coast.