Actors John Travolta and Kelly Preston live a life most people read about in big, fat glossy novels; the kind you read to escape into a world of "If only I could…." Part of making that dream world a reality involves making the real world a much smaller, more accessible place. Travolta and Preston are true global travelers, with the world, quite literally, at their doorstep. They can simply finish breakfast and walk through the foyer of their Florida home onto a luxury-equipped Boeing 707 or a Gulfstream II the same way that other people might head out to the family station wagon.
Travolta's convenient access to the family aircraft is facilitated, in part, by the family's residence in Jumbolair, a fly-in community located north of Ocala, Fla. Their $9-million Jumbolair home is situated immediately off the main airstrip, so Travolta can be out the front door and airborne in a matter of minutes. The house is a testament to Travolta's love of aviation, and features a central structure that resembles an air traffic control tower and a mural inside reminiscent of the wonderful old-time airline advertisements. (Remember when you used to dress up for a flight, and not just because you were hoping for an upgrade to business class?)
If Travolta simply needed access to a private jet, he could certainly afford to hire a pilot. But he's a born aviation enthusiast, who far prefers to fly the jets himself. And he's no dilettante. According to the Federal Aviation Administration database, Travolta has the highest pilot medical certification possible and — if a career change were in the cards — he could easily take an active role as a commercial pilot. In June 2002, Travolta added another feather to his captain's wings when he became the official "ambassador-at-large" of Qantas Airways. He took on the role, he says, not merely for business or for pleasure, but to help rebuild a sense of trust in the aviation industry and in diverse cultures following 9/11.
This was a business decision backed by more than just superstar status — though that is how the relationship between the Australia-based international airline and the actor/pilot began.
During a 2001 promotional tour for the film Swordfish, Travolta flew his ex-Qantas Boeing 707 to Australia — a landing that did not go unnoticed by the airline's top brass. Travolta's B707 sports the original Qantas 1960s brand and livery and the name Jett Ella Clipper, in honor of his son Jett and daughter Ella. From the outside, it looks very much like a plane you might have boarded for a flight out of Sydney back in the good old days when the idea of the "jet set" was fresh and new.
The Qantas execs liked what they saw; and Travolta's appreciation for Qantas' track record mirrored their trust. Said Travolta, "Qantas epitomizes what a successful airline represents: from safety to achievement to service."
With Travolta, Qantas has on its team not only a global A-list celebrity, but also a first-rate aviator who successfully completed B747-400 first officer simulator training before his official appointment as ambassador. As Qantas ambassador-at-large, Travolta gets to fulfill one of his many lifetime dreams: to be a pilot flying for a respected international airline.
Yet, as much as we would all love to hear "Ladies and gentlemen, this is your pilot John Travolta speaking," that doesn't appear to be happening anytime soon. Aside from using their "have-plane-will-travel" lifestyle for commuting to and from work on film projects, Travolta and Preston jet around the world to promote charitable causes such as Healthy Child Healthy World, an organization devoted to protecting children from harmful environmental exposure, and Narconon drug recovery programs. (They recently hosted a blockbuster fund-raiser in Hawaii ensuring the opening of a new Narconon facility on Oahu.)
That isn't to say they won't jet off to a potluck supper with an equally mobile friend (why not?), but the record shows their hearts are very firmly planted in family and civic obligations. Nice way to use the sky and, so, thanks.
Global Traveler caught up with Travolta on set in Connecticut, during hair and make-up, where he is filming the Disney comedy Old Dogs with Robin Williams, Preston and the Travoltas' daughter Ella Bleu.
---
Global Traveler: What is your affiliation with Qantas and how did it come about?
John Travolta: I was on a public relations tour for Swordfish, and I requested a meeting with the CEO of Qantas to inquire about a possible affiliation in which I would represent the airline as an ambassador of some sort. Fortunately, I won them over.
GT: When was the last time you flew commercial?
JT: Five years ago I flew commercial with Qantas to research all three classes of service for my new job with them as ambassador.
GT: Your own Boeing 707 seems like a combination penthouse/tour bus/ family car. When you first purchased it, was it being used in a similar fashion by its original owner or did the interior require a complete redo?
JT: Mansour Ojjeh, a Saudi Arabian entrepreneur, had it outfitted by his father, who founded Tag Group, which at one time owned Tag Heuer watches. I did not have to do anything.
GT:Do your children have their own bedrooms and play areas or is the whole plane their play area?
JT: The whole plane is a play area for the kids!
GT: Who picks the in-flight movie?
JT: Mostly Ella.
GT: Do you have a full-time flight crew on-hand at all times?
JT: Yes.
GT: Does this include a chef?
JT: I have a full-time chef in residence who handles the in-flight menus.
GT: Do you have your own custom silverware and crystal on board like the major airlines in the "good old days" of air travel?
JT: The 707 has two sets of china: a custom set with my logo on them and a set of Marco Polo pattern by Haviland. And Christofle flatware.
GT: Is it true that your pilot and crew uniforms are by Armani?
JT: On the Gulfstream II, yes, the uniforms are by Armani. On the 707, there are two uniforms: a new uniform by Qantas designer Peter Morrissey and a vintage 1960s Qantas uniform.
GT: Any must-haves you insist upon on-board when flying? Do you say, "Kelly, did you remember to pack the Ding Dongs," like other families taking a long road trip?
JT: There are always two main entrée choices in a five-course meal. And we always travel with a children's menu.
GT: You reportedly use your planes like most commuters use cars. Tell us about a recent trip that illustrates this.
JT: I commute daily on the Gulfstream II to church in Clearwater, Florida, and once a week in the 707.
GT: What is one of the most spontaneous and extravagant trips you ever took?
JT: I took a spur-of-the-moment trip to Paris.
GT: You live in a fly-in community and pretty much park your planes in your foyer. Are your neighbors families like your own, who have taken living and commuting to another level, or business people who fly into the community for meetings, and so on?
JT: Both.
GT: When you are flying home from a hard day's work do you call ahead to tell Kelly you are on your way, "Be home in 10 minutes. Anything you need at Safeway?" or does your family just hear your jet coming?
JT: Both.
GT: The world is a much smaller place when you decide to trade in your cars for planes. Do you find yourselves hanging out with friends who share this lifestyle and philosophy because you are on the same wavelength and have fewer limitations? For instance, do you call up Oprah and say, "Kelly and I are having a barbecue in Florida tomorrow; can you make it and bring some potato salad?"
JT: Yes.
GT: Given your great love of aviation in general and I'm sure your own planes specifically, was it hard to sell your Lockheed Constellation? Did you find a good home for her?
JT: Yes, it was hard to sell. But fortunately, Vern Raburn, former partner of Bill Gates, and currently the CEO and president of Eclipse Aviation, purchased and refurbished it and flew it around the world for air show displays.
GT: Do you see a 787 Dreamliner in your future?
JT: Only if Boeing wants to give me one.
GT: Do your children think Dad is a pilot or an actor?
JT: Both — they know I am an actor and a pilot.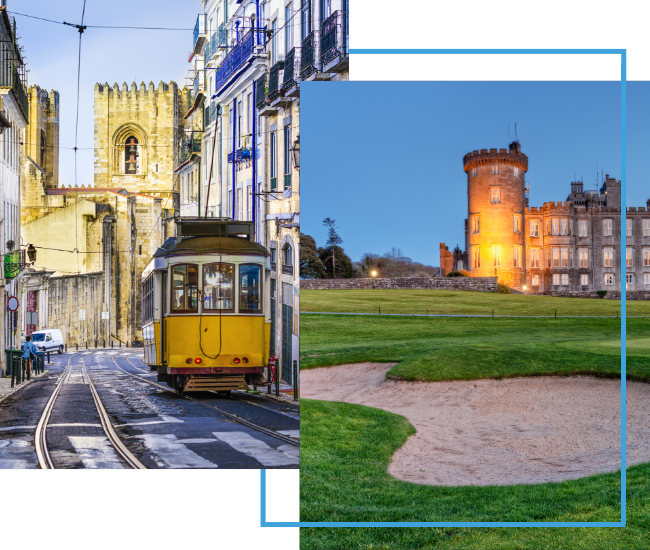 FX Excursions
FX Excursions offers the chance for once-in-a-lifetime experiences in destinations around the world.
Explore Excursions
More than 22 million visitors pour into Bangkok each year, adding to the roughly 11 million residents of the Thai capital famous for its bustling streets. Packed with food carts, markets and cultural spectacles, life in Bangkok is unusually defined by its vibrant street scene, both day and night. That means you don't necessarily need a solid plan when heading out on any given evening.
As first-time restaurateurs, but with plenty of hospitality-related experience, Ria and Kevol (Kev) Graham were not entirely comfortable opening their first restaurant in the Brooklyn neighborhood of Williamsburg, where several upscale restaurants and 5-star hotel dining is just a block away. And to make matters worse, they opened in July 2020, when New York City was in the middle of the COVID-19 pandemic.