It's a glorious April morning and I am listening to birds sing love songs in Portugal's spring sunlight. All around me are tall stones of the Almendres Cromlech, an entire field containing nearly 100 menhirs, some with strange carvings. Their history, our guide, Carlos, tells us, is shrouded in prehistoric mist, but thought to be the work of early Iberians, perhaps of North African origin, who settled around Evora in Neolithic times (about 4000 B.C.).
I am delighted. I love not only prehistoric stones, but also the tantalizing mysteries and surprises history presents like a gift when it's least expected. This is not Carnac or Stonehenge, but the Iberian site is all the more alluring for being almost unknown to travelers.
"What a nice birthday present," I murmur to my husband as we climb back into the van. Today is my birthday, but only he knows that, since our traveling companions were total strangers to us until less than a week ago.
We are in Portugal to trace the roots and history of the Sephardic Jews, and are headed from Evora to Lisbon for our last night before flying home. Carlos, a Lisbon native, is driving, and has throughout the week spiced our itinerary with such charming side trips — once to a mountaintop sanctuary overlooking Castello de Vide, once to find a Roman building standing alone in a farmer's field, another time to explore the town of Fundao, once home to the ancestors of a fellow traveler.
As we ride through cork-oak forests and pastures bright with wildflowers, someone asks our Portuguese companions about fado. Although it has no direct relation to the subject of our quest for Sephardic Jewry, none of us wants to leave the country without hearing Portugal's own unique music.
We had planned to go our own ways this last night — for us it was to have been a quiet little neighborhood place for a dinner a deux on my birthday — but after a week's traveling, friendships have formed, and we decide to dine together and listen to fado.
We recall having seen a tiny, local bar, A Baiuca, as we were wandering through Lisbon's old Judaria — the Medieval Jewish quarter. A slate sign hanging by its doorway read "ha fado vadio." Our guide through the maze of steep narrow lanes had said it was his favorite fado bar, but it looked barely large enough to accommodate our group of eight.
A fellow traveler, Virginia, also a Lisbon native, suggests Club de Fado. Although it's a bit larger than the tiny Alfama and Barrio Alto bars preferred by local fado fans, she assures us it's not one with the touristy folkloric spin. It is, she says, a place where locals and tourists mix; where rising young singers share the stage with fado veterans. We agree, and she whips out her cell phone to reserve a table.
Virginia must know somebody, because our table is within a few feet of the chairs set aside for the guitarists, the bass player and the fadista. As we peruse the menu I learn something important about dining in Lisbon: Don't order fish on Monday. "There is no fresh fish," the waiter tells me. "It is Monday. The fish market is closed."
In Lisbon, if it's not fresh today, they don't serve it. I opt for pork.
Carlos orders sangria, which he explains is just as popular in Portugal as in Spain. Our plates are barely on the table before the lights dim, two guitarists take the empty chairs, a bass player takes up his bow and a diminutive young woman stands beside them. She hardly looks big enough for the voice that follows the opening guitar chords. I have no clue what the words mean, but the subject of the melody is clear — unrequited love.
Fado is Portugal's soul music; a melodic lament that rises from somewhere deep within the singer — usually a woman dressed in black, one hand clutching a black shawl wrapped around her shoulders. I am reminded of fishermen's wives waiting on the beach as the sun drops lower and the evening breeze turns chill, pulling at their shawls as they scan the horizon for familiar boats.
Only occasionally does the fadista's face light in a smile and her song turn to the upbeat melody of romance in full bloom, before it drops into the lament of parting and the anguish of love lost. It can lift your heart in a few notes and break it in the next.
I am acutely aware of the stone silence of the crowd — no table chatter, the waiters stop serving and taking orders, everyone's attention riveted on the fadista.
Her songs end, and as the applause dies she takes a few steps forward, then stops. The guitars hit a chord and she turns her rich contralto toward the unmistakable tune of "Happy Birthday" in Portuguese.
"How nice," I think, "It must be someone else's birthday, too." Only when the waiter places in front of me a perfect disk of pudim flan with a single candle in it, do I realize that she is singing to me. She flashes me a radiant smile and waves as she moves away. I look at my husband, who is clearly as surprised as I am.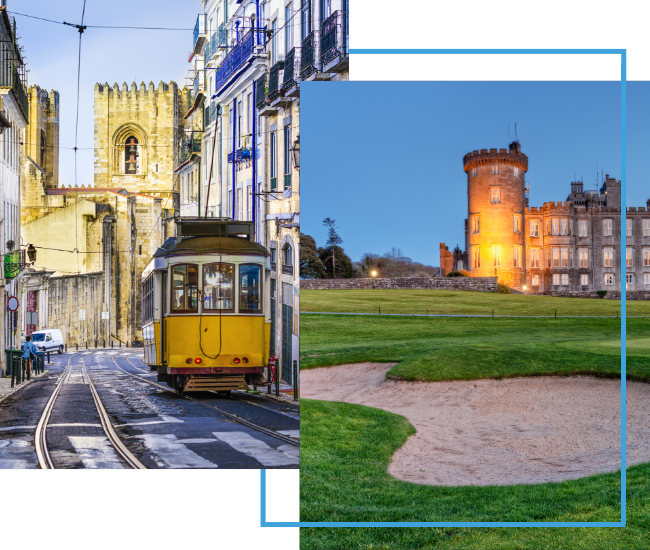 FX Excursions
FX Excursions offers the chance for once-in-a-lifetime experiences in destinations around the world.
Explore Excursions
Red Savannah launched a new series called In the Footsteps of…, which debuts itineraries of well-known figures, the first being Coco Chanel. As Chanel No. 5 celebrates its 102nd anniversary this year, the travel company invites fashion lovers, history enthusiasts and admirers of Coco Chanel to experience the new itinerary, In the Footsteps of Coco Chanel. The experience allows travelers to step into the remarkable life of one of most iconic figures in the fashion world.
Sponsored Content
From the moment you step onboard Air Tahiti Nui's Tahitian Dreamliner, you will be transported to The Islands of Tahiti. The French Polynesian carrier considered every detail to awaken its passengers' senses, creating the feeling you are already on the Islands while 30,000 feet in the air.
Mazatlán, Mexico, has long been an attractive home destination for Canadian and American retirees, but, in recent years, young, digital nomads have also discovered the charms of this coastal city, finding inexpensive accommodations, beautiful weather and plenty of bandwidth for working remotely. The laid-back beach scene definitely eases the transition of relocating to Mexico's West Coast.