Visitors to the south of France are lured to St. Paul-de-Vence, the medieval, walled village perché with its steep, narrow, shop-studded, cobblestone alleyways leading to the ramparts overlooking flower-strewn hillsides down to the Mediterranean. For me, the town's major claim to fame has always been the restaurant Colombe d'Or, a Riviera icon, where, for more than 30 years, I have loved lunching at the family-owned, art-filled auberge.
In 1990, when I made my first foray to visit museums in and around Nice, the restaurant was as much an art venue as nearby Fondation Maeght, a privately held museum. That first lunch was so memorable Colombe d'Or has remained my go-to Provençal restaurant, where I book a table as soon as my flights to Nice Cote d'Azur are confirmed. My memories include meals with my late husband; my eldest daughter; a good friend; my granddaughter; and Val, my childhood pal. It's always magical to eat amidst paintings, sculptures, stabiles and ceramic murals and to enjoy culinary pleasures reflecting straightforward, house-made regional dishes that best represent locally sourced, farm-fresh ingredients.
On my most recent meal at Colombe d'Or this May, Val and I dined on the outdoor terrace, facing the vibrant, ceramic mosaic mural Fernand Léger created, framed by a vine-covered entry wall that separates the idyllic calm of the restaurant from the street. My 19-year-old granddaughter, Emma, and I sat at a similar table in 2015, when she let me taste her appetizer of grilled, local sweet peppers bathed in olive oil.
As usual, the waiter brought the multicolored, hand-written menu Paul Roux had designed; soft bread with a crisp crust; sweet local butter; and a little bowl filled with perfect, black Niçoise olives. Then, we shared Panier de Crudités, which arrived in a natural basket filled with tiny mushrooms, baby cucumbers, cherry tomatoes, teeny radishes, celery stalks, an artichoke and an endive, accompanied by a garlicky aioli.
As I saw the waiter deliver asparagus to a nearby table, I recalled dining indoors, in 2018, with my daughter and I sitting side-by-side against an outside wall, while noticing the waiter carrying a platter of fat, white asparagus spears topped with a maize-colored Mornay drizzle. Of course, we ordered them. On this day, the asperges were fat and green and served with a light-as-air, creamy golden sauce. Suffice to say, I enjoyed them once again.
More often than not, I share the main dish I love best: the whole grilled fish. Part of that pleasure is watching the server debone it at the table. Using two forks, he precisely carved the herb-topped, olive-oil scented fish; moved the herbs away from the body; removed the head and tail; trimmed the sides; divided it for two; and served it on a plate garnished with a simple, parsley-studded, boiled potato and half lemon. Valerie only eats salmon, but instead of her usual smoked salmon, she ordered the bubbling, garlicky Escargots de Bourgogne. I splurged on a calorically and gastronomically rich foie gras from Landes, and received a plate with two thick slices of juicy seared foie gras on fresh vegetables, sided by a sauce touched with sweetness.
For dessert, we shared the house special, the Tarte de la Mère Roux; an apple-topped, delicately crusted delight named for and dedicated to Babtistine Roux, the "mother" who originally baked the traditional open-faced apple pie. Then, we had the pleasure of meeting Danielle Roux, working in the family business for 40 years.
As usual, I lingered while walking toward the stairs and, en route, glanced into the front dining room to observe and absorb the beauty of the paintings; I admired paintings hung between arched windows with wooden shutters and stepped inside the white, stucco-walled room centered with a sunken cement banquette surrounding the fireplace.
Place du General de Gaulle
06570 Saint-Paule-de-Vence
France
tel 33 4 93 32 80 02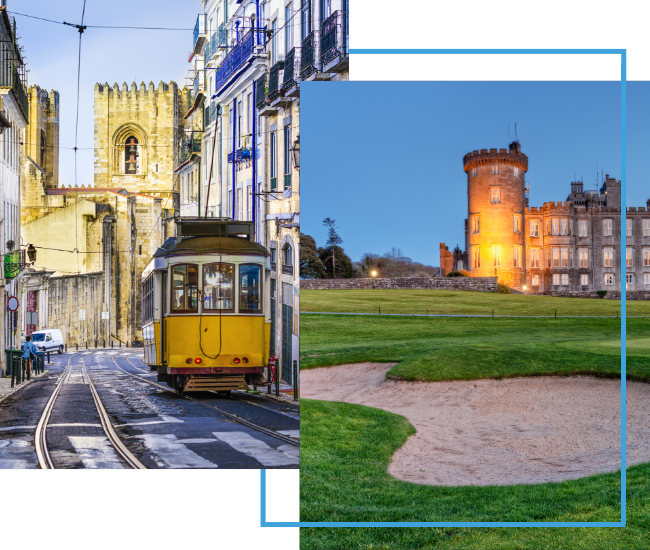 FX Excursions
FX Excursions offers the chance for once-in-a-lifetime experiences in destinations around the world.
Explore Excursions
If fabulous food and beverages are a must-have for any weekend getaway, then look no further than the City of Brotherly Love. Whether your palate has a penchant for vibrant Latin American fare or cozy French cuisine, whether you're an oenophile looking to swirl, sniff and sip your way around the globe or you'd rather sample farm-to-glass cocktails, Philly's got it all this fall. (With the exception of Bolo, which is a short taxi or Uber ride away and definitely worth the trip, the rest of these spots are all within walking distance of each other.)
Sponsored Content
Are you looking to enhance your business trip with a little leisure? Look no further than Portugal, a country renowned for its captivating blend of history, culture and natural beauty. And with TAP Air Portugal, you can effortlessly transform your business trip into an unforgettable bleisure adventure. Discover why Portugal and TAP Air Portugal are the perfect combination for an enriching and rejuvenating experience.
From Santoríni to Dubai to New York, some hotels just have that "it" factor that draws visitors far and wide. For some hotels it's their proximity to popular landmarks and attractions, for others it's their amenities. But these hotels have something few can claim: a true room with a view.