The imperial capital of Japan for more than 1,000 years (794–1868), Kyoto remains Japan's capital of culture. The city of about 1.5 million people boasts more than 1,500 Shinto shrines and Buddhist temples, 17 UNESCO World Heritage sites and three imperial palaces (including Nijo Castle with its squeaking floorboards designed to warn the ruling shogun of intruders). Not to miss: the stunning Temple of the Golden Pavilion at sunset and Fushimi Inari Shrine with its thousands of vermillion torii gates ascending the forested mountain.
Machiya (wooden Japanese townhomes) line many of Kyoto's well-preserved streets, especially in Gion, the city's most famous neighborhood. These centuries-old, lattice- fronted structures once housed craftsmen and merchants. Now they contain restaurants, teahouses, tiny specialty shops, galleries and workshops where skills still pass down through generations. Look for Kiyomizu pottery, red-and-gold lacquerware, indigo- dyed denim, silk kimono designs and woodblock printing … but with a distinctly modern twist.
Kyoto is the birthplace of kaiseki — a hyper-seasonal, multicourse, haute cuisine meal. Hanamikoji Street hosts the city's most celebrated restaurants. Many small eateries, like renowned 12-seat Kyoto-Gion Nanba, book months in advance. Food tours offer a popular alternative. Stroll the lantern- lit streets, stopping in small bars, hole-in-the-wall ramen joints and amiable little eateries. Food Tours Japan offers several in Kyoto.
Many visitors to Japan place seeing a geisha top of the list, and Gion's narrow cobblestone lanes prove the best place to spot kimono-clad geishas flitting like brightly colored butterflies on their way to an evening's appointment. If you want more than a glimpse, visit a traditional teahouse to enjoy ochaya-asobi (teahouse play). You can make arrangements through Weft Hospitality, which specializes in unique experiences like traditional tea ceremonies and private meditations with a Zen master. Or book a geisha makeover, complete with beautiful kimono, porcelain-white makeup and a photo shoot. (Find details at kyoto-maiko.com.)
Cruise ships dock at Osaka Port, about one hour by taxi from Kyoto. Other neighborhoods to explore: Nishijin, the city's famed silk-weaving district; Higashiyama, known for its historic temples; Arashiyama, notable for its sky-high bamboo grove; and Fushimi, a saké-brewing district along the willow-lined Horikawa River. Best times to visit are during cherry blossom season (March–May) and in October and November, when the ubiquitous Japanese maples show off their brilliant autumn foliage.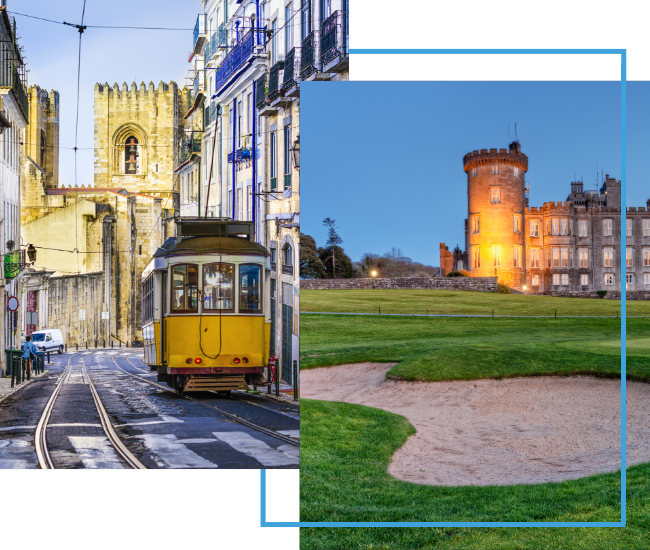 FX Excursions
FX Excursions offers the chance for once-in-a-lifetime experiences in destinations around the world.
Explore Excursions
If fabulous food and beverages are a must-have for any weekend getaway, then look no further than the City of Brotherly Love. Whether your palate has a penchant for vibrant Latin American fare or cozy French cuisine, whether you're an oenophile looking to swirl, sniff and sip your way around the globe or you'd rather sample farm-to-glass cocktails, Philly's got it all this fall. (With the exception of Bolo, which is a short taxi or Uber ride away and definitely worth the trip, the rest of these spots are all within walking distance of each other.)
Sponsored Content
One affordable plan can protect an entire year of trips: business or pleasure, short or long, domestic or international.
From Santoríni to Dubai to New York, some hotels just have that "it" factor that draws visitors far and wide. For some hotels it's their proximity to popular landmarks and attractions, for others it's their amenities. But these hotels have something few can claim: a true room with a view.