Kiev is often referred to as "the mother of all cities" by Russians and Ukrainians — and not just because of the overabundance of matronly babushkas tottering around. The fact is Kiev is the cradle of Slavic civilization — thought to be at least 1,500 years old — and traceable as the origin of all culture, language and religion associated with this part of the world.
Founded in the fifth century as a trading post, Kiev gradually grew to be the political and cultural capital of Rus', an East Slavic state. Virtually wiped off the map by the Mongol Invasion of 1240, the city slowly recovered while being traded around by regional powers until finally coming to rest under Russia's influence in the late 17th century. As the capital of Soviet Ukraine (since 1934), it developed into the third most important city in the former USSR following World War II. Ukraine declared its independence in 1991 on the heels of the Soviet collapse and Kiev has been busy redefining itself ever since — an effort punctuated by sometimes baffling political turmoil that continues to this day.
In the interim, Ukraine's Orange Revolution has been at odds as it strives to attain the goal of drumming out corruption and cronyism while changing course toward democracy and eventual E.U. and NATO membership. Key players in the unfolding drama include Yushchenko, his former prime minister, Yulia Tymoshenko, and pro-Russian former prime minister Viktor Yanukovych.
Ukraine's recent alignment with Western ways and new ambitions for E.U. and NATO membership has plainly infuriated Russia, which is finding itself in a large and powerful but increasingly lonely position in the region. Several rounds of political power play climaxed on January 1 when, after Ukraine rejected a four-fold natural gas price increase, Russia shut off supplies to Ukraine. The move also strained gas supplies for a number of European countries further down the pipeline.
And the sniping continues. Ukraine accuses Russia of deliberately trying to destabilize its economy as it pulls further away from its former ally. At the same time, Russia claims it is merely asking Ukraine to pay market price for gas. Ukraine depends on Russian state-controlled energy giant Gazprom for one-third of its natural gas imports.
These painful developments have been widely blamed on Tymoshenko's questionable handling of the economy and Yushchenko's rapid reforms, meant to gain E.U. approval. The resultant public backlash was felt in the March parliamentary elections, which gave a winning 30 percent of the vote to Yanukovych and his Party of the Regions. Since then, Yushchenko has seemingly reluctantly thrown his support to Yanukovych, his former nemesis, as candidate for prime minister.
Bitter problems with Russia notwithstanding, it should be noted that Ukraine's "westernization" hasn't been wholly embraced domestically, either. The pro-Russian Crimea regional parliament, which is very much against NATO involvement, went so far as to declare its territory a NATO-free zone. This announcement was flatly ignored by Yushchenko, who has made NATO membership his one of his priorities.
On a final, politically positive note, the Orange Revolution did indeed have its successes, most notably the establishment of free speech in the Ukrainian media. Additionally, there was the unveiling of a business climate free of political interference, which sparked an almost instantaneous economic surge in Ukraine. New business ventures in IT, finance, trade and commercial enterprises are sprouting. Meanwhile, Kiev's stalwart industries, including food processing — the far and away leader — energy production, chemicals, textiles and metallurgy, continue to thrive with growth in almost all sectors. Finally, the city's trading post legacy is alive and well. The portion of the Dnipro River leading from Kiev to the Black Sea is one of Europe's most navigable arteries, fostering a considerable amount of river transport for both freight and passengers. Kiev boasts one of Eastern Europe's largest and modern river port crane systems.
Though repeatedly pounded by purges, genocides and wars (it was almost completely destroyed in World War II), Kiev has preserved several original and reconstructed architectural landmarks. Like many notable cities of the former Soviet Bloc, post-war architecture is a captivating mix of modern buildings creeping up between older, color-starved cement apartment blocks. The same can be said for Kiev's nearly 3 million residents as round-bodied babushkas, heads draped in scarves, sell fresh fruit and flowers on the street to local women at the other end of the spectrum — striving to achieve a Paris Hilton-esque image.
A complex public transport system dutifully carries people to every corner of the city, though speed and comfort are usually missing from the arrangement. Buses and electric trolley buses are readily available, but often stiflingly crowded, slow and unreliable. The street tram system is still chugging along, but is being phased out gradually. The city's comprehensive and congested metro system is poorly marked (even in Ukrainian), but it's nevertheless the quickest and easiest way to navigate Kiev.
The sudden easing of the country's visa rules in late 2005 has caused an abrupt boom in the number of business and leisure visitors. Although spoken English still may turn heads on the street, savvy entrepreneurs have jumped on the opportunities associated with the city's burgeoning tourism industry. The physical city itself is aglow with pride — restored, painted and redecorated. And in June, Delta initiated direct air service from the United States to Ukraine, offering flights five days a week from New York (JFK) to Kiev (KBP). In addition, Hyatt is gearing up for the late-2006/early-2007 opening of its new property, Hyatt Regency Kiev-Saint Sophia.
---
LODGING
PREMIER PALACE HOTEL
This gorgeous five-star hotel, Kiev's first, sits in the heart of the city radiating opulence. Old Europe decor is balanced by modern conveniences and cute touches like day-of-the-week carpet in the elevators to help orient jetlagged travelers. Rooms are gorgeous with Internet/WiFi service and luxury bathrooms stocked with a rainbow of toiletries. Other amenities include an executive floor, Ukrainian and Japanese restaurants, sauna, pool, fitness center, boutique and casino. $$$$
PREMIER PALACE HOTEL
5-7/29 T. Shevchenka Blvd./Pushkinska St.
tel 380 44 537 45 00, fax 380 44 279 87 72
www.premier-palace.com
PRESIDENT HOTEL
The immediate, friendly and doting service here almost overshadows the dark and mildly off-putting hallways. Once you leave the nice, bright, pink lobby, the hotel's age and outmoded decor are difficult to overlook, but the upshot is you can see how the rich and political elite lived back in Soviet times. Standard rooms are modest and tired. Suites have Internet/WiFi service and there is a business center. The four-star designation and prices may be ambitious, but when you factor in the history lesson, it seems fair. $$$
PRESIDENT HOTEL
12 Hospitalna St.
tel 380 44 256 3256, fax 380 44 256 3254
www.president-hotel.com.ua
RADISSON SAS HOTEL
Opened in fall of 2005, Kiev's first international hotel chain has 255 rooms and is one swimming pool short of a five-star classification. The hotel features two restaurants, underground parking, a 250-person conference hall with six board rooms, free WiFi, and a well-equipped fitness center offering complimentary sauna and massages. The hotel's guestbook already sports such names as Tony Blair, Prince Henry and Pavarotti. Three styles of business-class rooms — maritime, Scandinavian and Italian — have typical facilities, including espresso machines. $$$$
RADISSON SAS HOTEL
22 Yaroslaviv Val St.
tel 380 44 492 2200, fax 380 44 492 2210
www.kiev.radissonsas.com
---
DINING
PLEASURE CAFÉ
Little more than a simple terrace and a breezy sunroom, this is one of Kiev's dining secrets. Hip and quiet by day, lounge-ish and casual by night (assuming you opt out of the karaoke bar).The menu of light meals focuses on meat, fish and sushi. An English menu is available, but spoken English is sparse. This is one of those impossible-to-find places — facing the Palats Sportu buildings, walk between the two buildings, past the lowered vehicle gate and security guard (who will be happy to give directions) and under the connecting skywalk; the terrace is on your right. Or better yet, have your cab call for directions while en route. $$
PLEASURE CAFÉ
3 Sportyvna
tel 380 44 496 4135
VIOLA'S BIERSTUBE
This cellar pub/restaurant is popular for business lunches and as a staging area for big nights on the town.What appears to be a standard bar menu yields surprisingly tasty meals and both written and spoken English are profuse. Ignore the address; this place is down a dark alley off the south side of Bohdana Khmel'nyts'koho Street, just off Khreschatyk, behind a thick, unmarked wooden door. $$
VIOLA'S BIERSTUBE
Shevchenko Blvd 1
tel 380 44 235 37 51
TERRACE
On the top floor of the Vozdvyzhensky Hotel, snuggled in a gentrified neighborhood-in-progress is one of Kiev's most elegant dinning options. The view from the promised terrace features the historic center city in one direction and new but charming condos in the other. Just off the classic street market of Andriyivsky uzviz, the menu here focuses on extravagant grilled meat and fish (there's also a vegetarian section) made with fresh Ukrainian ingredients. They also whip up a memorable breakfast. $$$
TERRACE
Vozdvyzhens'ka 60 A
tel 380 44 536 12 79
www.vozdvyzhensky.com
---
DIVERSIONS
Though western-style shopping centers are profuse, souvenir shopping should be done along the winding cobblestone market street of Andriyivsky uzviz, where handmade crafts, art and jewelry line the road along with the ubiquitous stacking dolls (matrioshka), with contemporary styles decorated to resemble George Bush, Britney Spears and the Pope. Also, many of the underground crosswalks that traverse major intersections have been transformed into tiny shopping centers, some even with food courts.
Kiev is a surprisingly green city, with two botanical gardens, shady streets and the sprawling parklike area along the Dnipro River where you'll find the popular Caves Monastery, the top tourist site in Kiev. Founded in 1051 in caves dug by hand, the monks who worshiped here were placed in the caves upon death and due to the stable temperature and humidity, their bodies were naturally preserved. Farther south along the river is the World War II Museum, with indoor and outdoor displays of military equipment, sculptures and historical information. St. Sophia's Cathedral, named after Hagia Sofia in Istanbul, is also a must-see for its interior mosaics and frescos dating to the 11th century. Stop by the recently reconstructed Golden Gate, the original entrance to Old Kiev, for photo opportunities and a hearty breakfast (weekends only) at the Golden Gate restaurant/bar across the street.
Although it's no Moscow, Kiev's nightlife brims with possibility. Quiet jazz bars to rip-roaring risqué nightclubs await discovery, with a constellation of blinding lights from casinos and strip clubs adding a slightly debauched edge. Roaming pedestrian areas, where beer from plentiful kiosks is cheaper than water, can be equally enjoyable. Almost tragically trendy is the Arena Night Club (Basseyna 2A, tel 380 44 492 00 00), atop the popular shopping center of the same name, where local celebrities (and hopeful celebrity-spotters) hang out. At the other end of the spectrum is the "chill out" bookshop ambience of Baboon (Bohdana Khmel'nyts'koho 39, tel 380 44 234 15 03) where live jazz, free WiFi and profuse reading material make for a bookish night. Art Club 44 (Khreshatyk 44, tel 380 44 279 41 37) is a local institution and home base for newly arrived visitors, featuring frequent live music and a mixed crowd of funseekers. Enter through the archway on Khreshatyk and look for a bouncer manning a door on the left.
---
Checking In With Polina Kryuchkova
Owner and General Manager of Advance-Tour and KievTravel.com.ua
Global Traveler: Tell us about both how long and in what capacity you have lived in Kiev and your background in local tourism.
Polina Kryuchkova: I have lived in Kiev for 27 years and have worked in local tourism and marketing for 11 years. I started working as a travel guide and interpreter for foreigners in 1996. I subsequently worked for several companies, and last year I registered my tour company and the Web site KievTravel.com.ua. I had a strong desire to share my love of Ukraine's most beautiful places — Black Sea, Crimean and Carpathian mountains, Lviv, Odessa, Kherson and Kiev. I felt the Ukrainian tourism industry had great potential and decided to start my own business in this sphere, specializing in individual tailored tours.
GT: Aside from the obvious increase in visitors, how has the abolishment of the Ukrainian visa regime affected tourism and foreign business interest in Kiev?
PK: Today Ukraine has a visa-free regime with the countries of CIS, E.U., the United States, Canada and Japan. That means tourists and business travelers from those countries are allowed to enter Ukraine without a visa for up to three months. Another positive change stimulating travel to Ukraine was the introduction of direct flights to cities in United States, South America and Europe.
The number of foreign tourists to Ukraine in 2006 grew by 8 percent over 2005. According to the statistics of the State Department for Tourism and Resorts, the greatest percentage of foreigners came for personal travel (89 percent) and for business travel (7 percent). That is not a tourist boom yet, but most Ukrainian experts predict rapid tourism increase in the next three to five years when Ukraine is able to offer a more developed infrastructure.
I would also like to mention the growing interest of foreign investors to Ukraine. The cumulative foreign investments into Ukraine reached $18.8 billion in the first half of 2006. Pure investments inflow during this period was $2.3 billion, 3.7 times higher than the same period in 2005. The most attractive spheres of economy for foreign investors are real estate, machinery, food and processing industries.
GT: How do you see Kiev developing in the next five years as Ukraine aligns itself with the European Union?
PK: Kiev will grow considerably and whole new residential areas with multi-level buildings will appear. The city will have a larger number of bridges, metro stations, churches, hotels, restaurants, nightclubs, supermarkets, parking lots and shops. Kiev will also preserve its unique "green" face in its large number of trees, flowers and parks.
GT: Is there any way to predict how the current political rivalries will affect the economy and foreign investment in the coming years?
PK: We had presidential elections in the end of 2004 and Parliament elections in 2006. The period of elections was considered to be unstable and risky; that is why most investors preferred to wait and see the outcome of elections before signing business agreements. Now it is clear what parties won and how to negotiate with Ukrainian large businesses and get the political support and guarantees of the government. Political rivalries in Ukraine will always exist, but the experience of hundreds of foreign companies proves that it is possible to operate in Ukraine successfully, if the company has professional local managers.
GT: What are some of the main obstacles that people traveling to Kiev on business might encounter?
PK: Today Ukraine still lacks VIP-class hotels; we sometimes even have difficulties in finding available rooms in five-star hotels for executive travelers who come on business trips and decide to book their hotels less than seven to 10 days before their arrival. Some business travelers even prefer to be accommodated at top-notch apartments on Khreschatik equipped with everything including Jacuzzi and high-speed Internet.
Another obstacle is the shortage of internal airline flights between some of the Ukrainian cities. It is easy to travel to any part of Ukraine from Kiev, but there are difficulties if, for example, a foreigner arrives in Odessa and wants to go to Simferopol. This situation is changing and new flights are introduced each year.
---
Just the Facts
Time Zone: GMT+2
Phone code: 638
Currency: Hryvnia
Entry/Exit Requirements: Passport required.Visa not required for tourist/business/private stays of up to 90 days.
Official Language: Ukrainian, though Russian is widely understood.
Key Industries: Building and real estate trade, food and beverage production and trade, machinery, banking and finance, IT
---
INFO TO GO
Borispil International Airport (KBP) is 22 miles east of central Kiev. Bus company Atass runs shuttle service connecting the airport to the central train station three times an hour, 24 hours a day. A taxi ride to the city costs $30-435. Smaller and less popular Zhulyany Airport (IEV) is only five miles from Kiev.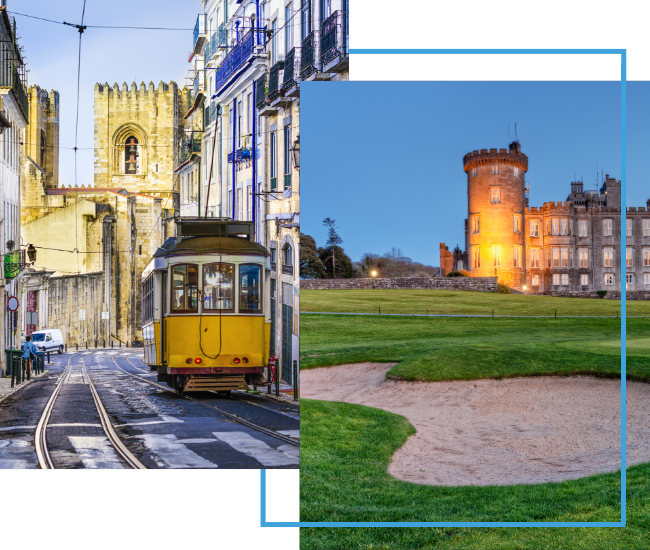 FX Excursions
FX Excursions offers the chance for once-in-a-lifetime experiences in destinations around the world.
Explore Excursions
Everyone loves a good Christmas tree, but these iconic hotels around the world take it one step further with designer-styled trees illuminating lobbies and public spaces, wowing all who enter. From Lela Rose to Louis Vuitton, don't miss these ultra-luxury trees redefining tree decorating as we know it.
Sponsored Content
The Global Business Travel Association (GBTA) believes business travel is a fundamental force for good and brings the industry together to connect, innovate and set new standards. With members from across the globe, GBTA engages the many voices of business travel to build a collective future, providing a platform for buyers and suppliers to come together, connect with peers, grow their network and shape the future of the industry.
As another phenomenal year of travel comes to an end, it's time, as always, for Global Traveler to celebrate and award those who do it best as we announce the 2023 winners of the GT Tested Reader Survey awards. But that's not the only cause for celebration here: We've hit another major milestone, as this marks our 20th year honoring the best of the best inn world of travel!