NESTLED IN THE NORTHWESTERN COASTAL area of Italy, Liguria, more commonly known as the Italian Riviera, is popular among tourists for its beaches, colorful towns and cuisine. Genoa more or less divides the region into two sections. To the west lies the Riviera di Ponente, which translates to "the coast of the setting sun," and to the east is the Riviera di Levante, which translates to "the coast of the rising sun." The latter boasts more fame as it lays claim to jet-setting towns like Portofino and Santa Margherita, with the picturesque Cinque Terre a few train stops away.
The perfect visit to the Italian Riviera combines glitz and glamour with traditional rustic charm, or in other words, the best Liguria has to offer. Begin your journey in Portofino, the fishing village famous for its picturesque harbor and celebrity-laced history. Five-star hotels abound, so pick one and make sure to have a drink at each of the others.
Do as Elizabeth Taylor loved to do and make the luxurious Belmond Hotel Splendido your home for a few days. Dine at La Terraza, the outdoor restaurant with a patio overlooking the bay, and indulge in her namesake pasta featuring housemade spaghetti and fresh tomatoes from San Marzano, Sorrento and Pachino. Head to the property's sister hotel, Splendido Mare, for a Tintoretto (pomegranate and Prosecco cocktail) under the stars at Chuflay restaurant.
Portofino offers myriad ways to explore the area, all with the touch of a button. The concierge at Belmond Hotel Splendido can coordinate kayak tours, allowing you to journey to Portofino's lighthouse by night, paddle to Olivetta, or kayak along the coast to an authentic 18th-century Ligurian mill where you can relax with a sumptuous lunch. If you prefer to tour by land, set off on a Portofino cycling tour through Liguria's stunning landscapes, led by a professional guide who will cycle you up and over Mount Portofino or race you beside the shimmering sea.
If fishing sounds appealing, you can experience a day in the life of a fisherman on the Castel Dragone boat where you will learn local fishing techniques, dive into the waters of the famous Blue Mile, lunch on your catch and then head to the tiny Fishing Museum in Punta Chiappa.
An unusual sight in Portofino is the statue of Christ of the Abyss, a bronze statue submerged underwater that represents Christ giving a blessing while looking up toward the sky with open arms in a sign of peace. Created to protect fishermen and scuba divers, it was also dedicated to the memory of Dario Gonzatti, the first Italian scuba diver. Images of the statue, which capture an ethereal silhouette, cause Instagram envy among divers on coordinated tours.
And, of course, it wouldn't be Portofino without a dash of romance. Charter a luxury yacht to tour the bay and enjoy sunset views of the town from the sea while sipping Spumante.
Once you've had your fill of the luxe life, nearby Genoa is chock-full of ancient shops, enchanting eateries and quaint museums. Spend a day wandering through boutiques and tasting sweets. If you're feeling adventurous, visit the Aquarium of Genoa to feed penguins, meet dolphins or book a private Ligurian brunch in front of the shark or dolphin tank.
Farther afield, Cinque Terre, or "five lands," comprises five remote villages that cling to the rugged coastline. Genoa is the region's capital city, and while the train runs along the coast, the best way to experience Cinque Terre is to make one village your home base, then trek the stunning path connecting each of the towns.
Making headlines back in 2011 for devastating mudslides and floods that carried fishing boats all the way to Morocco, Vernazza has made a comeback and is as inviting as ever. Book a room in the pedestrian-only center of Cinque Terre's prettiest town and connect with locals in the colorful square overlooking the water. Sip cappuccino, sample gelato and admire the locals' laundry unabashedly hanging out windows over the square.
Put the maps away and wander down the narrow alleyways, losing yourself in this quaint village. Meander down to the water and marvel at the tiny boats that sustain the livelihood of many of the town's residents. The 16th-century Belforte Tower at the edge of town was converted into a restaurant 50 years ago, and local families continue to manage it and offer local cuisine with incredible views of the sea. Make a reservation in advance, as this is one of the most popular restaurants in the area.
When ready to hike between villages, first check to make sure the trails are open and purchase the Cinque Terre hiking pass from one of the town visitor centers. The entire trail can be done in a day or spread out over a few days — either way, you can always hop on the train for a lift back to your base. Be prepared to see several tourists, as the villages and paths are quite small. Wear comfortable shoes, pack sunscreen and water and take the train to Riomaggiore, where you can start with the easier, paved path.
With a small beach and a wharf framed by towering houses, get a whiff of fresh basil as restaurant owners sit outside tearing leaves apart for the region's most famous sauce, pesto. The waterfront trail connecting to the next town, Manarola, is called La Via dell'Amore, as it previously provided an easy path for young lovers to connect. Currently undergoing repairs, it may be partially closed, so be sure to check before embarking on the next leg of the journey.
Once you arrive, climb the terraced vineyards of Manarola for lunch at Trattoria dal Billy and indulge in the house specialty, fresh trofie pasta with pesto, the perfect fuel for the steep hike to the village of Corniglia which sits high above the sea, providing the perfect vantage point for views of the coastline and a much-needed break.
As the sun begins to set, wind your way back down the mountain to Vernazza, where you can call it quits for the day or hop the train to Monterosso al Mare to treat yourself to a refreshing lemon granita on the widest strip of beach in all of Cinque Terre, reflecting on your favorite view of the day.
However you choose to schedule a visit to the Italian Riviera, you'll be certain to find the same stunning sea views, vibrant buildings nestled in lush green hillsides, handmade pasta with fresh Ligurian pesto and warm-hearted locals who are proud to share their heritage with you. While it may not be off the beaten path, Liguria is understandably a destination to put on your bucket list, again and again.
Italian Riviera Info to Go
The Liguria area is serviced by Genoa Airport, with connections to various European hubs and domestic destinations. Other airports which are not too far away, and which may offer more frequent and cheaper flights, include the one at Pisa (PSA) and Milan's Linate (LIN) and Malpensa (MXP) airports. Pisa International Airport has its own train station with good connections to Cinque Terre, though one or two changes of train are required. From Milan, trains leave from Milano Centrale station direct to most Riviera towns, and that station is easily reached by frequent airport buses or by direct trains from Malpensa. From Malpensa a direct bus connection to Genoa runs once or twice a day depending on the season.
Where to Stay in the Italian Riviera
BELMOND HOTEL SPLENDIDO A beautifully restored former 16th-century monastery, Belmond Hotel Splendido is the epitome of Italian glamour, nestled snugly in Portofino's hillside. Salita Baratta 16, Portofino $$$$$
GRAND HOTEL MIRAMARE Built in 1903, the Miramare was one of the first grand hotels on the Riviera, rapidly becoming a must for the international jet set of the time. Via Milite Ignoto 30, Santa Margherita Ligure $$$$
LA MALÀ An antique Ligurian house converted into elegant and comfortable rooms offers breathtaking views from a natural stone terrace. Via San Giovanni Battista 29, Vernazza
Restaurants in the Italian Riviera
RISTORANTE BELFORTE Whether on one of the terraces or in the medieval tower, each table offers incomparable views, and the food is excellent wherever you sit. Via Guidoni 42, Vernazza $$$$
RISTORANTE PUNY Traditional and charming, snag a table overlooking the marina and try the famous pappardelle. Piazza Martiri dell'Olivetta 5, Portofino $$$$
TRATTORIA DAL BILLY Sample fresh trofie pesto pasta while sipping local wine and enjoying a view of terraced vineyards overlooking the sea from Manarola. Via Rollandi 122, Manarola $$$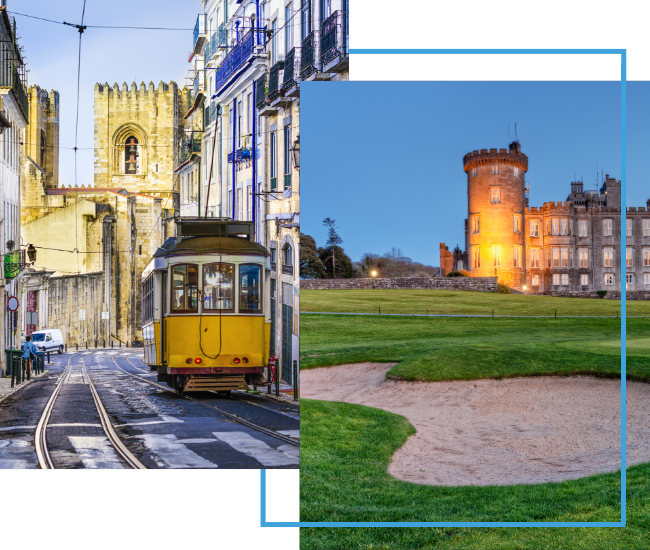 FX Excursions
FX Excursions offers the chance for once-in-a-lifetime experiences in destinations around the world.
Explore Excursions
Corsica with steep, gray cliffs overlooking the Mediterranean and sandy beaches attracting summer visitors, is a French-governed island sometimes confused with Sardinia and Sicily, Italian islands to the south. Fortunately, all three islands share the same love for good wine, food and sun-splashed beaches.
Sponsored Content
Many small- and medium-sized businesses face time and budget constraints when organizing corporate hotel travel for employees. To address this problem, IHG® Business Edge emerged as a cost-free business travel solution for small- to medium-sized enterprises, offering travel managers exclusive access to enticing perks, handpicked educational resources and comprehensive company travel metrics. IHG Business Edge connects our loyal customers to our portfolio of 5,800 hotels and resorts across 18 brands in more than 100 countries.
If you're ready to do a little holiday catch-up with your besties, make a beeline for Conrad New York Downtown. The lobby metamorphosed into a holiday forest of heavenly scented, decorated Virginia Spruce trees. Make your first stop ATRIO Barista Station in the lobby for a complimentary hot spiced apple cider (until Dec. 3) or hot chocolate (Dec. 22­–24).