The robes are just the beginning. Savvy hotel guests know to take home their favorite lodging's feathery down pillows, the silky 600-thread-count sheets, the tea-scented candles and especially the plush pillow-top or thick foam mattress that created a cocoon for sleeping. Travelers buying hotel furnishings for themselves not only means big business for lodgings but also smart shopping for consumers. After all, where else can you try out mattresses, pillows, bedding and other products overnight before purchasing them?
Westin Hotels & Resorts, an early marketer of furnishings to the public, launched its Heavenly Bed in 1999. Since then, the Heavenly line exceeded $135 million in retail sales. "To date, Westin has sold over 100,000 Heavenly Beds and 175,000 Heavenly Pillows, with sales skyrocketing in the U.S., Europe and Asia," says Brian Povinelli, global brand leader, Westin.
Marriott began offering hotel products to the public in 2005. "For seven of those 10 years, the business grew, but gradually. You couldn't call it a trend," says Michael Weiss, director of online retail, Marriott. "But in the past three years we've seen hyper growth. The business has doubled." Marriott now sells more than 30,000 pillows a year, all purchased through ShopMarriott.com, the Marriott-branded online furnishings portal.
Hilton's sales to homes have risen, too. "Over the past few years we've seen a steady increase in guest interest to purchase hotel furnishings," says Cindy Patton, senior director, product development, Hilton Worldwide. "We attribute this to a number of factors, including an expanded portfolio footprint and a stronger economy, allowing more people to travel more often."
Patton credits hotels with popularizing a particular boudoir look. "The best example of a home design trend inspired by hotels is the white bed. The demand has increased enough that you now see retail designers with their own hotel collections, inspired by the white, crisp, clean look that guests find in their hotel rooms," she says.
It's not just deep-pocketed guests at luxury or upscale properties who purchase hotel furnishings. Ritz-Carlton, St. Regis, Sofitel, JW Marriott, Westin, W, Waldorf Astoria and Four Seasons sell items, as do Marriott, Hilton, Renaissance and Kimpton — but so do Hampton and Courtyard, lodgings that typically attract more budget-conscious travelers.
The most popular merchandise for the contented hotel guest: mattresses and pillows. "I buy W pillows and the St. Regis bed," says Stacy Shoemaker Rauen, executive editor, Hospitality Design magazine. "When you buy from a hotel, you have something proven, something that's the best. Someone else has done the research, done the work, so you get the cream of the crop."
Hotel brands spend years and mounds of money designing and testing room products. Hotel mattresses must be durable, safe, washable and comfortable. Importantly, you can take a hotel mattress for a trial sleep but not usually one you see in stores. "The way we buy bedding products is a little bit backwards," says Weiss. "Hotel rooms provide ideal environments to try the mattress. People feel confident. They've slept on it and they love it."
Pillows, depending on the size and filling, cost $40 and up. A full-sized Westin Heavenly Bed (all sizes come with a box spring) has a price tag of about $1,800; a California king with box spring is $2,400. A full St. Regis pillow-top mattress costs $2,500, and the California king $3,500. The matching box spring adds another $500. The foam mattress, Marriott's most popular bed, comes with a box spring and sells for $1,500 for a twin and $2,250 for a California king.
Four Seasons Hotels redesigned its beds in 2014, adding Gel-Touch foam to absorb heat, pocketed coils to minimize the transfer of motion and a choice of three mattress toppers so guests can choose the firmness level that suits them. A twin mattress retails for $1,650 and a king for $2,250. To purchase the beds, guests should contact the Four Seasons hotel nearest their homes.
Sleep-enamored travelers don't have to limit themselves to mattresses. Guests can add bed skirts, mattress toppers, sheets, pillow cases, bolster pillows, duvets and duvet covers . . . essentially recreating the complete look and feel of their hotel slumber experience. Plumping up to a "total bed" adds another $1,000 to $2,000 to the mattress and box spring price.
Careful shoppers might be able to purchase bedding similar to that sold by hotels, and possibly for less money, during a mattress store sale, but the exact same, custom-designed mattress, the jewel in the guestroom crown, can only be obtained through the lodgings' shopping sites or, in the case of Four Seasons, through the local hotel. "The Heavenly Bed is manufactured by Simmons exclusively for Westin," says Povinelli. "Each bed sold is made exclusively for the Westin Store and is not available for purchase in Simmons retail outlets. Our custom bed is composed of 10 layers including a 13-inch, no-flip pillow-top mattress and individually pocketed coils, whereas the standard box spring unit is 8.75 inches."
Something else you can test at a hotel and virtually nowhere else: showerheads. Even the best bath shops rarely hook fixtures up to plumbing; and even if they did, you still couldn't get naked to test the waters. If you like your steamy Marriott shower, find out whether you rinsed off under the Rainfall showerhead with 72 spray nozzles ($99) or the Raindance version with 86 spray nozzles ($220). Then purchase the bliss-inducing fixture through ShopMarriott.com.
For many reasons, it makes sense to buy the exact bed that sweetly swaddled you into dreams as well as the showerhead that invigorated you with paradisiacal jets. However, there's also a psychological component to purchasing hotel items. "People buy products from hotels because they savored something. They had a memorable experience and they want to take that home," says Sophie Donelson, editor in chief, House Beautiful magazine. DoubleTree by Hilton, for example, sells tins of its signature cookies, and the Waldorf Astoria offers chefs' hats and aprons.
Upscale lodgings also enable guests to sample a different lifestyle. "What I love about hotels is that they make that experience of living well possible," says Donelson. "You can go to a good hotel and try out the faucets, the bed, the perfect chairs in the lobby. It's like going to a department store and trying on a dress that's out of your league, but in a hotel you get to live the good life for 24 hours."
What also amps up desire for hotel furnishings is the lodging industry's burgeoning use of home-like décor. At Marriott Hotels, more and more guestrooms feature wood floors and platform beds for a modern look. "We are seeing a lot of hotels having a classic residential feel, only better than you can have at home," says Hospitality Design's Rauen. "There's an aspirational element. The hotel has that perfect design. The showerhead, the linens are better than you often have at home. It's the style you wish you could figure out for your own home."
Some to-the-public inventory goes beyond bath and bedding. Style-oriented "luxury on a budget" Aloft Hotels partnered in 2013 with Design Within Reach to furnish nearly 20 properties, including Aloft Harlem, Aloft Nashville and Aloft Brooklyn. "As a brand committed to making authentic modern design accessible, Design Within Reach is the perfect partner for Aloft and keeps with our authentic, design-led approach," says Paige Francis, vice president global marketing, Aloft, Element and Four Points by Sheraton. "The exciting launch collection with Design Within Reach included a mix of 23 custom and in-stock pieces, including Verner Panton chairs for the backyard outdoor spaces and Nelson platform benches, Satellite chandeliers, Eames molded plastic side chairs and Verpan stools." Although Design Within Reach's custom Aloft furnishings are no longer available for purchase, many of its signature furnishings featured in Aloft hotels are still sold through Design Within Reach.
What else can you buy? Renaissance offers a wobble chess set; Sofitel adds vases, decorative pillows and handblown glasses by designer Kenzo Takada; and Kimpton sells hula hoops, bicycles and balance ball chairs. At Marriott, Weiss says, "By the end of 2015, Marriott might also be selling headboards, side tables, lamps and some of the art work that is in hotel hallways and lobbies." Loews Regency Hotel New York, which unveiled the on-site Julien Farel Restore Salon & Spa, a full-service salon, spa and fitness studio, provides Farel's anti-aging hair care products and professional hair dryers as guestroom amenities. Guests can purchase the products at the salon or online.
So take another look at what makes you love your hotel room. It may just be the best place to find the perfect furnishings for your bedroom, bath and home office.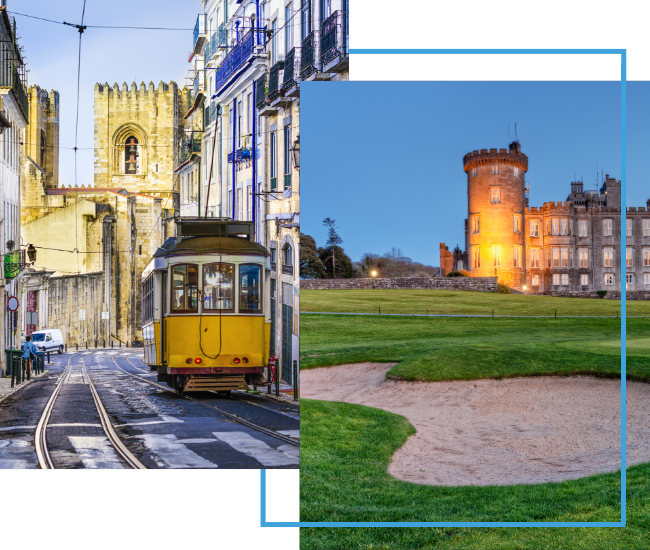 FX Excursions
FX Excursions offers the chance for once-in-a-lifetime experiences in destinations around the world.
Explore Excursions
The Perelman Performing Arts Center (PAC NYC), the cultural cornerstone and final public element of the World Trade Center site, opened this September.  The new performing arts center in Lower Manhattan provides a dynamic home for the arts, serving audiences and creators through flexible venues enabling the facility to embrace wide-ranging artistic programs.
Sponsored Content
Exclusive Sailing with Global Traveler
Whether you call secondhand fashion treasure troves "thrift stores," "fripperies," "charity shops," "vintage boutiques" or something else, shifting the paradigm from "old clothes" to "new finds," you may find the best, most conversation-starting souvenirs inside these shops and neighborhoods located in the world's most fashionable cities and a few unexpected places.