Ports of Call: Oslo, Eidfjord, Olden/Innvikfjord, Åndalsnes/ Romsdalsfjord, Molde/Moldefjord, Vik/Sognefjord, Flåm/Aurlandsf- jord and Bergen, Norway
Embarkation/Disembarkation: During my cruise, the MS EUROPA 2 sailed from Oslo to Bergen, Norway. The process of joining the ship and leaving it was seamless, efficient and friendly.
Guest Quarters: MS EUROPA 2 is an all-suite ship, and each category features generously proportioned spaces. My Veranda Suite measured 301 square feet, with an additional 75 square feet of veranda space; my suite was augmented by 24-hour suite service. The Scandinavian décor of blond woods and soft shades of coffee and cream added to the sense of serenity that invited lingering over room service and cozying up on one of the full-sized chaise longues on the deck to watch the mountain- rimmed fjords slip by.
Luxury components included a separate living space with easy chair, full-sized sectional sofa, large desk, personal tablet and flat-screen television; plus a walk-in closet and a stunning bathroom fitted with a vessel sink, large walk-in rain shower and deep soaking tub. Bath amenities were full-sized.
The concept of casual elegance proved a defining characteristic throughout the cruise. This small ship (maximum guest number is 500) has a yacht-like feel that belies the impressive number of restaurants and onboard spaces. Service was faultless; and smiling, well-informed staff and crew always seemed to be exactly where needed.
Services/Amenities: The Programme of the Day, delivered to each suite the night before during evening turndown service, gave a useful overview of the next port, along with dining room times, fitness classes, lectures, presentations, entertainment and daily activities. During my cruise, day pursuits included Champagne tastings, a gin workshop, workouts that incorporated the deck rail (Railing Fit classes), film screenings and a selection of expert-led lectures that included "Norway — the Land of Fjords, Fells and Waterfalls."
I found the flexible meal times and lack of assigned seating wonderfully freeing, allowing me to embrace a leisurely, less-structured approach to my day. Unlike many other ships I've sailed, all dining venues offered plenty of private seating for two people. The smooth handling of port calls and the understated graciousness of every crew and staff member greatly contributed to my relaxation.
Eight onboard restaurants allowed for plenty of culinary exploration, with Italian, French and Asian choices; a sushi bar; and six bar- lounges that include Jazz Club, Belvedere and Piano Bar. My favorite turned out to be dining on Italian specialties beneath the sea-green Murano glass chandeliers at Serenissima. One of my inner struggles each afternoon was whether to enjoy tea service with something sweet at Belvedere or to surrender to an afternoon craving for freshly made waffles on the Pool Deck.
Leisure options include treatments at the full-service Ocean Spa, where massages, scrubs and facials are supplemented with sea-inspired therapies featuring muds, salts, algae and other marine ingredients. There's also a peaceful library with stacks and stacks of books, from classics to best-sellers.
TOP TAKEAWAYS:
◆ Book spa treatments in advance, especially for port days, as spots fill quickly.
◆ Sign up early for an onboard cooking class offered by the ship's culinary team.
◆ Make time for a gallery and art tour: The remark- able 890-piece onboard collection includes works by Gerhard Richter, David Hockney, Eva Hild, Tenka Gammelgaard and other important artists.
HAPAG LLOYD CRUISES hl-cruises.com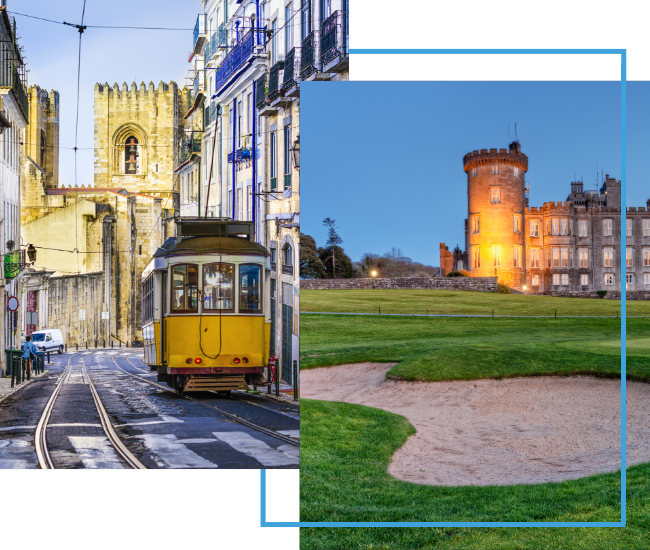 FX Excursions
FX Excursions offers the chance for once-in-a-lifetime experiences in destinations around the world.
Explore Excursions
Less than five years ago the world's first hybrid cruise ship, Hurtigruten Expeditions' MS Roald Amundsen, set sail for Antarctica in November 2019 with 450 passengers. The battery-hybrid-powered ship, named for the first man to cross the continent and reach the South Pole, was built specifically for voyages in polar waters. Its battery-hybrid power reduces the ship's consumption and CO2 emissions by 20 percent compared to equally sized ships.
Sponsored Content
Whether it's the people, the craic (fun) or the coasts, travelers always find something to love about the island of Ireland. What fills your heart?
A few months ago, I flew Polaris business class on a United flight from Dulles (IAD) to Paris (CDG). It was only when I got to my hotel in Paris I realized that I didn't have my iPad or its bag or accessories. Since I had been working on it in the restaurant in the Polaris lounge and then went directly to the gate, I knew I either left it propped up on my table when I packed up or in my business-class seat. But what was the best method to alert the airline about my careless mishap and (hopefully) retrieve it? With spotty data and WiFi, searching for information on my phone was frustrating and slow. Here's what I learned from the anxiety-inducing experience (and unexpected ending) about what to do if you leave something behind on your flight: