For the 12th consecutive year, Global Traveler recognizes the best of the best in the industry, naming 2022's Airline of the Year and Hotel of the Year.
As border restrictions continue to ease, travel providers look to expand and enhance their networks and holdings worldwide, all the while rebuilding teams to gear up for a post-pandemic recovery. While the coming year promises a roaring return to in-person meetings and events, along with a continuing surge in customer demand, it is fitting to recognize those brands forging a clear path forward through a rapidly changing travel landscape.
This year we honor Singapore Airlines and Waldorf Astoria Hotels & Resorts, two travel brands with long histories and proven staying power. They both continue to build on their legacies and lead the industry with innovation, attention to detail and top-notch customer care.
To award the prestigious honor each year, a select group of Global Traveler staff, Advisory Board members and those on our subscriber Globility Board choose the winners through a series of considerations and factors. They take a look at each nominee's financial information, performance records, loading and boarding time, safety procedures, onboard menus and overall image as a brand.
SINGAPORE AIRLINES
AIRLINE OF THE YEAR
Celebrating 75 years of service, Singapore Airlines dedicated seven decades to building a long-standing reputation for innovation and impeccable customer service, placing it at the forefront of commercial aviation across the globe. Needless to say, the carrier is no stranger to prestigious awards and accolades, receiving top honors for attentive service, premium cabin offerings and technology innovations. That doesn't mean it rests on its laurels, however. Staying on top requires a constant commitment to elevating the flying experience through innovation, redesigns and upgrades while anticipating future travel trends.
Beginning service in 1947 as Malayan Airways Limited, the airline operated three flights a week to Kuala Lumpur, Ipoh and Penang in a twin-engine Airspeed Consul. In 1963 the company changed its name to Malaysian Airlines Limited and to Malaysia-Singapore Airlines in 1966. It was 50 years ago, in 1972, that the two airlines split into Singapore Airlines and Malaysian Airline System.
Over the decades Singapore Airlines accomplished impressive aviation firsts and feats. In 1983 it flew the first Boeing 747-300 from Los Angeles via Tokyo, and in 1989 it became the first airline to fly a Boeing 747-400 commercial flight from Singapore across the Pacific. In-flight dining soared to new heights in 1998 with the launch of the carrier's International Culinary Panel, composed of five acclaimed chefs from five countries.
Singapore Airlines met the challenges of the 21st century in 2001 as it launched the first audio and video on-demand system for all passengers in all classes. The airline went on to become the first to fly the Airbus A350-900, the world's largest commercial aircraft, as well as the Boeing 787-10 Dreamliner and the Airbus A380.
The fleet continued to grow with expanded routes and services, now operating with more than 150 planes. Today the far-reaching global carrier, a cornerstone member of Star Alliance, boasts not only one of the most modern and fuel-efficient fleets in the air but also some of the most comfortable and spacious aircraft.
Committed to improving service and the in-flight experience, over the years the carrier has unveiled new cabin products for all classes of travel featuring aesthetically pleasing and innovative cabin designs and expanded cuisine and entertainment options, along with launching new technology products geared toward making travel smoother. In 2015 it introduced its new premium economy class. In 2021 the carrier launched new economy- and business-class cabins on its Boeing 737-8 fleet, featuring 10 lie-flat business-class seats measuring a generous 22 inches wide and reclining into a full-flat bed.
Singapore Airlines' Airbus A380 Suite reaches the pinnacle of luxury and comfort with features that pamper you in what amounts to a hotel room in the sky: leather seats that freely swivel and recline, an adjustable bed, a sliding door and window blinds for privacy, an enhanced entertainment system that saves your playlists for future flights, and a refined gourmet dining experience, plus a spacious lavatory with a sit-down vanity stocked with exquisite toiletries. And for couples traveling together, the dividers between rooms can be removed to create a double suite with a true double bed … the ultimate wow factor.
WALDORF ASTORIA HOTELS AND RESORTS
HOTEL OF THE YEAR
Offering unforgettable experiences and exquisite personal service and culinary expertise, Hilton's iconic luxury hotel brand continues to expand into landmark destinations around the world, signaling optimism for the future of luxury travel. Each Waldorf Astoria property not only carries the brand's legacy of luxury but also creates a unique sense of place that reflects the history and heritage of each location.
Like many hotel brands, Waldorf Astoria began with a single property. But its beginning was far from humble, having opened for business at the height of the Gilded Age in New York City.
In 1893 William Waldorf Astor built the original Waldorf Hotel at 33rd Street and Fifth Avenue. Four years later John Jacob Astor IV, William's cousin and rival, built the Astoria Hotel next door. Not to be outdone, he built his hotel several stories higher than the Waldorf, sparking a healthy competition to see who could create the best luxury hotel. Eventually the two men agreed to a truce and decided together they could truly be the best. They connected the two buildings through a 300-foot-long marble corridor called Peacock Alley, where tourists and local New Yorkers gathered to gaze at the tycoons, theatrical stars and dignitaries walking by.
From its earliest days, the Waldorf-Astoria stood as a symbol of opulence, becoming the ultimate destination for New York's socially prominent. Its legendary service set the standard for American hospitality and earned it a global following.
The Waldorf-Astoria remained in its original location until 1929, when it was razed to make way for the construction of the Empire State Building. In 1931 the hotel reopened in its current Park Avenue location. Designed in the Art Deco style, it became the largest and tallest hotel in the world and welcomed presidents, royalty, celebrities and cultural luminaries into its grand public spaces and palatial suites.
Throughout its history, Waldorf- Astoria has run ahead of the pack, setting many global precedents. It was the first hotel to have electricity on every floor and the first to have private bathrooms in each room — an idea so outrageous at the time, the project was called "Astor's folly." It was also the first hotel to offer 24-hour room service, with a rose topping each order.
Conrad Hilton acquired management rights to the hotel in 1949. In 1972 Hilton Hotels Corp. purchased Waldorf-Astoria, expanding the brand to Waldorf Astoria Hotels & Resorts and becoming a luxury division of Hilton.
Today the brand operates more than 30 hotels and resorts in 15 countries and territories, but those numbers will change over the next few years, with several properties in the pipeline. Each new property will naturally honor the legendary characteristics at the heart of the brand: highly personalized, elegant service and iconic environments.
Reflecting the company's commitment to expanding into the world's most sought-after destinations, Waldorf Astoria Hotels & Resorts will make its Australia debut in 2025, with construction already underway on Waldorf Astoria Sydney. The 28-floor, 220-room luxury hotel will open as part of the One Circular Quay mixed-use development and will be designed to permeate a sense of lightness and calm across elegant interiors. The hotel will include a spa, the signature Peacock Alley lounge, two restaurants honoring Sydney's gastronomic legacy and a rooftop bar.
The Waldorf Astoria brand will also debut in Vietnam in 2025 with the opening of Waldorf Astoria Hanoi in a conversion of Hilton Hanoi Opera hotel. The new 187-room hotel will feature four dining concepts including Peacock Alley, a rooftop lounge and two other restaurants; a spa; a fitness center; and a pool.
Hilton's expansion into Asia will include three additional Waldorf Astoria hotels: Waldorf Astoria Kuala Lumpur (2023), Waldorf Astoria Shanghai Qiantan (2024) and Waldorf Astoria Xi'an (2025).
Meanwhile, the iconic Waldorf Astoria New York — often called "the greatest of them all" — remains closed until 2023 as it undergoes a $1 billion makeover. The extensive renovation will introduce a new residential component of condominiums within the storied hotel while restoring the grandeur of the exquisite Art Deco landmark, including a renewed façade that will bring back the splendor of the original design.
For standing the test of time and maintaining a consistent standard of luxury and service while pursuing innovations, we are delighted to honor Singapore Airlines and Waldorf Astoria Hotels & Resorts as this year's winners.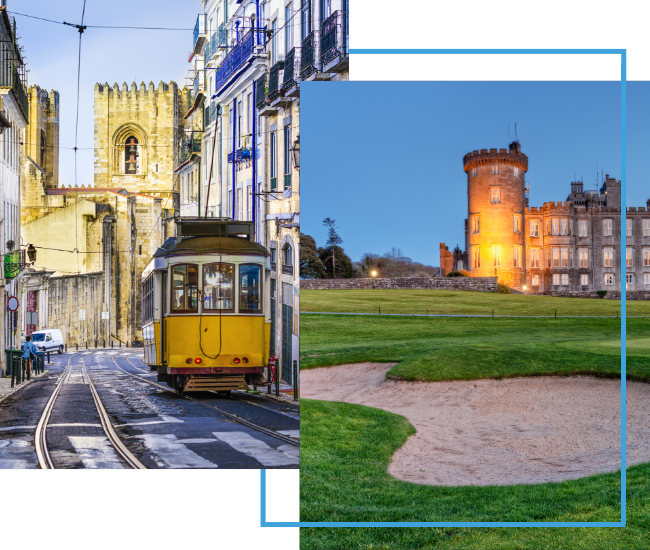 FX Excursions
FX Excursions offers the chance for once-in-a-lifetime experiences in destinations around the world.
Explore Excursions
Did the new film Oppenheimer rouse your interest in the nefarious world of international espionage? You can go straight to the real-life setting for covert actions this November (Nov. 10–12), when La Fonda on the Plaza in Santa Fe hosts a specially themed "Spies, Lies and Nukes" weekend. The hotel actually served as the retreat location for Manhattan Project scientists, who stayed at La Fonda on the Plaza to take a break from the stress of their work. During the weekend, the property's La Fiesta Lounge will make a tasty nod to those days by serving up a special Atomic Martini.
Sponsored Content
Learning more about our readers' travel habits and preferences ensures Global Traveler delivers the content you desire. As the travel industry has adapted and changed over the last few years, it's more important than ever to connect. To best meet your short- and long-term travel content needs, please help us!
Ever want handcrafted martinis and freshly shucked oysters delivered straight to your room? The Read House's New Martinis & Pearls service has you covered. Shining in 1920s-themed decor, the historic hotel in the heart of Chattanooga offers a true Gatsby-esque experience, now further elevated with this upscale amenity. Guests can now indulge in their perfectly chilled martini, made to order, and "pearls" (oysters) in the comfort of their room.