Surrounded by mountains and situated at the foot of Vitosha Mountain, modern-day Sofia, the largest city and capital of Bulgaria, is cosmopolitan, blending different nationalities and cultures. It's also one of the 20 largest cities in the European Union, full of universities, cultural institutions and companies.
GETTING THERE & AROUND
Sofia Airport's two terminals comprise the largest airport in Bulgaria. From Sofia Airport Metro Center, located in the eastern part of Terminal 2, travelers are transported to one of two city center stations, Sofia University Metro Station and Serdika Metro Station, in approximately 20 minutes. Three bus lines operate from the airport as well. Within the city, public transportation includes buses, trams, trolleybuses and the Metro. Contactless payment is available on all. A single trip on one of the Metro's four lines costs approximately $1. Many taxi companies also operate throughout the city, available by phone or at ranks around the city.
LODGING
Grand Hotel Sofia
A hub for luxury and famous travelers since 2004, 5-star Grand Hotel Sofia boasts an on-site art gallery for art aficionados, Shades of Red restaurant and other eateries, and various room types. The hotel has won awards since its opening.
1 General Gurko St., Sofia, Bulgaria
tel 359 2 811 0811
grandhotelsofia.bg
InterContinental Sofia
Perfectly situated to the business district, nearby government buildings and cultural highlights, InterContinental Sofia features plenty of meeting and event space as well as guestrooms, suites, two restaurants, club-level accommodations and lounge, and a spa.
4 Narodno Sabranie Square, Sofia, Bulgaria
tel 359 2 933 4334
ihg.com
Sofia Balkan Palace
Built in 1956, Sofia Balkan Palace's building is part of the President's Palace complex and sits atop a historical Roman fortress. With a Metro station next door and the city's cultural attractions within convenient distance, its 184 guestrooms and suites make an excellent homebase.
5 Sveta Nedelya Square, Sofia, Bulgaria
tel 359 2 981 6541
sofiabalkanpalace.com
DINING
The Hadjidragana Tavern
Sample traditional Bulgarian cuisine in a setting to match. A rich wine selection complements the old cellar interior, complete with stone walls, barrels, wood carvings, Kolten rugs and more. In summer enjoy dining in an indoor garden courtyard.
18 Hristo Belchev St., Sofia Center, Sofia, Bulgaria
tel 359 89 877 5936
izbite.com
The Little Things
This European restaurant located in the heart of Sofia's city center boasts a cozy atmosphere in an old house opposite St. Sedmochislenitis Church. Enjoy high-quality ingredients in fusion dishes showcasing attention to detail — as the name implies.
37 Tsar Shishman St., Sofia Center, Sofia, Bulgaria
tel 359 88 249 0030
Moma Bulgarian Food and Wine
Dubbing itself the "modern face of Bulgarian restaurants," Moma features a modern interior and a menu full of authentic recipes that take travelers and locals back to the roots of Bulgarian cuisine. The eatery offers a seasonal menu, a main menu and a bountiful wine list.
28 Solunska St., Sofia Center, Sofia, Bulgaria
tel 359 88 562 2020
moma-restaurant.com
ATTRACTIONS
Borisova Gradina
Sofia's oldest and best-known park, construction began here in 1884 and continued under three renowned garden designers: Daniel Neff, Joseph Frei and Georgi Duhter. Today find statues, flower- beds, cafés, play areas, two stadiums and more.
Sofia, Bulgaria, tel 359 2 963 4566
National Archaeological Institute with Museum
With the greatest number of collections in the entirety of Bulgaria, National Archaeological Institute with Museum puts together a complete study of the cultures of the peoples who occupied the country from the remote past to the 18th century.
2 Saborna St., Sofia Center, Sofia, Bulgaria
tel 359 2 988 2406
naim.bg
Zhenski Pazar Market
Also known as "The Women's Market" and dating back 140 years, Zhenski Pazar Market, the only open-air trading area in Sofia, is the place for everything one needs — from fresh fruits and other foods to souvenirs and clothing. About 60,000 shoppers pass through daily.
90B Tsar Samuil St., Sofia, Bulgaria,
tel 359 2 983 2184
zhenski-pazar.com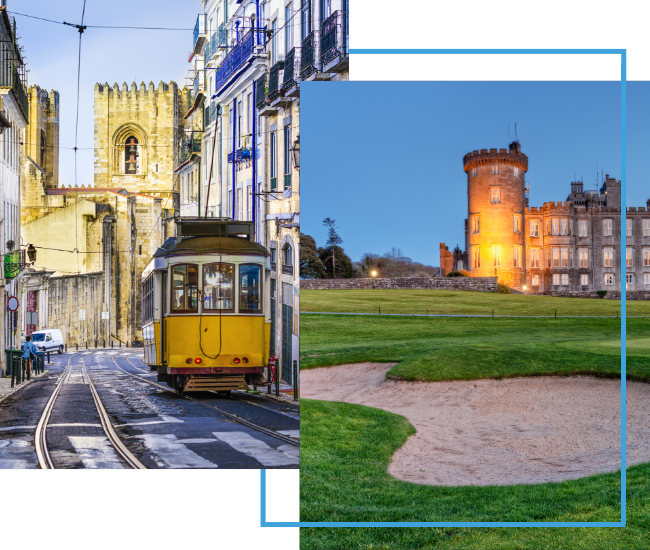 FX Excursions
FX Excursions offers the chance for once-in-a-lifetime experiences in destinations around the world.
Explore Excursions
It's time to start dreaming of your next trip. Here's some destination inspiration for you. Take a visual journey through these U.S. Christmas markets with us.
Sponsored Content
Many small- and medium-sized businesses face time and budget constraints when organizing corporate hotel travel for employees. To address this problem, IHG® Business Edge emerged as a cost-free business travel solution for small- to medium-sized enterprises, offering travel managers exclusive access to enticing perks, handpicked educational resources and comprehensive company travel metrics. IHG Business Edge connects our loyal customers to our portfolio of 5,800 hotels and resorts across 18 brands in more than 100 countries.
Everyone loves a good Christmas tree, but these iconic hotels around the world take it one step further with designer-styled trees illuminating lobbies and public spaces, wowing all who enter. From Lela Rose to Louis Vuitton, don't miss these ultra-luxury trees redefining tree decorating as we know it.