Contrary to popular belief, Rio de Janeiro isn't the capital of Brazil, despite its nearly 7 million inhabitants, picture-perfect beaches, iconic Christ the Redeemer statue and annual Carnaval festival. With part of the city designated a World Heritage site, Rio de Janeiro draws millions of visitors for its natural beauty, lively sports and culture atmosphere, and fascinating history. The city only continues to grow in popularity following the 2016 Olympics.
GETTING THERE & AROUND
The city's main airport, Galeão-Antônio Carlos Jobim International Airport, sits 12 miles from downtown Rio. Blue and yellow taxis are available and bookable at arrival halls. The TransCarioca line of the BRT links terminals 1 and 2, and passengers can access the entire subway system at the Line 2 Vincente de Carvalho station. Buses are the main form of public transportation in the city, with nearly 440 municipal bus lines. Rio is also served by Rio de Janeiro Metro with three subway lines and 41 stations, as well as a commuter rail system by SuperVia that connects Rio with other locations in Greater Rio de Janeiro. While driving is a possible mode of transportation, large numbers of cars and heavy traffic dissuades travelers from taking to the roads.
LODGING
Copacabana Palace, A Belmond Hotel, Rio de Janeiro
Immerse yourself in Art Deco décor at this 1923 property, complete with period furniture and original artwork. Contemporary features of rooms and suites complement the building's history, with suites including direct pool access and wet bars. A renowned pan-Asian restaurant and Italian eatery further elevate the property, along with a piano bar, tennis courts, gym and spa.
Av. Atlântica 1702, Copacabana, Rio de Janeiro, Brazil
tel 55 21 2548 7070
belmond.com
Emiliano Rio
Warm, stylish rooms; designer suites with vintage touches; and a posh restaurant with a vertical garden await at this boutique property. Emiliano Rio also boasts a Champagne and caviar bar as well as a rooftop infinity pool, spa and state-of-the-art fitness center.
Av. Atlântica 3804, Copacabana, Rio de Janeiro, Brazil
tel 55 21 3503 6600
emiliano.com.br
Fairmont Rio de Janeiro Copacabana
This modern hotel within the Copacabana district offers easy access to the beach. Rooms include balconies and upscale amenities, with suites boasting ocean or mountain views. The hotel includes a tapas bar and café, fine-dining restaurant, infinity pool and boutique spa.
Av. Atlântica 4240, Copacabana, Rio de Janeiro, Brazil
tel 55 21 2525 1232
fairmontrio.com
DINING
Aprazível
Enjoy artisanal Brazilian cuisine overlooking the gardens and city. Highlights include a fish stew native to Brazil, filled to the brim with rich ingredients and a savory broth. The menu also offers delicious, homestyle chicken and beef dishes as well as a delicate crème brûlée.
Rua Aprazível 62, Santa Teresa, Rio de Janeiro, Brazil
tel 55 21 2507 1277
aprazivel.com.br
Lasai Restaurante
Headed by Chef Rafa Costa, this Basque-inspired restaurant uses local and fresh ingredients to bring diners on a flavor journey. With only a tasting menu on offer, diners sample a wide range of flavors and products from the restaurant's gardens, the nearby sea and the neighboring land.
Largo dos Leões 35, Humaitá, Rio de Janeiro, Brazil
tel 55 21 3449 1854
lasai.com.br
Térèze
Dine beside panoramic bay and valley views at this trendy restaurant serving Nuevo Latino fare. This restaurant often draws diners looking for a romantic evening.
Santa Teresa Hotel RJ – MGallery, Rua Felício dos Santos 15, Santa Teresa, Rio de Janeiro, Brazil
tel 55 21 3380 0259
santateresahotelrio.com
ATTRACTIONS
Copacabana Beach
This 2.5-mile stretch of beach sits between two historical forts. Bordering the beach are a variety of restaurants, bars and nightclubs, while the beach itself serves as the perfect spot for a walk along the promenade, a dip in the water or lying under the sun.
Copacabana, Rio de Janeiro, Brazil
Rio de Janeiro Botanical Garden
Covering 130 acres with more than 6,500 species, these gardens also contain historical, artistic and archaeological monuments. Founded in the early 1800s, the gardens include some endangered flora species as well as statues of notable historical figures, international-inspired architecture and beautiful fountains.
Rua Jardim Botânico 1008, Jardim Botânico, Rio de Janeiro, Brazil
tel 55 21 3874 1808
gov.br
Sugarloaf Mountain
Take a cable car to the top of this iconic mountain for panoramic views of the city and ocean. Part of a UNESCO World Heritage site, Sugarloaf Mountain sits nearly 1,300 feet above sea level, less than a 40-minute drive from the equally impressive Christ the Redeemer statue on nearby Corcovado Mountain.
Av. Pasteur 520, Urca, Rio de Janeiro, Brazil
tel 55 21 2546 8433
bondinho.com.br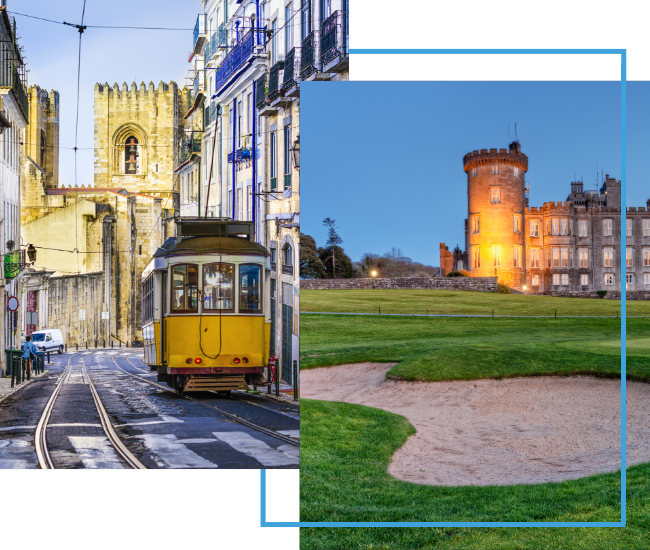 FX Excursions
FX Excursions offers the chance for once-in-a-lifetime experiences in destinations around the world.
Explore Excursions
Everyone loves a good Christmas tree, but these iconic hotels around the world take it one step further with designer-styled trees illuminating lobbies and public spaces, wowing all who enter. From Lela Rose to Louis Vuitton, don't miss these ultra-luxury trees redefining tree decorating as we know it.
Sponsored Content
Experience the life-changing destination of Greece by exploring its island gems in the Ionian Sea. Scattered off the western coastline of Central Greece, to the south of Peloponnese, the Ionian Islands are an island group comprising large and small islands.
As another phenomenal year of travel comes to an end, it's time, as always, for Global Traveler to celebrate and award those who do it best as we announce the 2023 winners of the GT Tested Reader Survey awards. But that's not the only cause for celebration here: We've hit another major milestone, as this marks our 20th year honoring the best of the best inn world of travel!