Often called Switzerland's prettiest city, Lucerne sits where Reuss River opens into shimmering Lake Lucerne, nestled among the snow-capped mountains of the magnificent Alps. Known for its preserved medieval architecture, the colorful Old Town is bordered on the north by Musegg Wall, a 14th-century rampart. The covered Chapel Bridge, Lucerne's iconic landmark, links Old Town to the river's right bank. Whatever the season, modern and prosperous Lucerne offers myriad activities from mountain excursions and boat tours on the lake to fine dining and cultural and historical sites.
GETTING THERE & AROUND
Most visitors arrive in Lucerne by train from Zürich Airport, the country's largest international airport and primary hub of Swiss International Air Lines. Direct trains to Lucerne leave the airport every hour and take 70 minutes. With its commitment to preserving cobblestone pedestrian plazas, Lucerne is best discovered on foot (walking tours are available) or by bicycle, using the popular Nextbike bike-sharing system. Lucerne's public transport network includes buses and local trains; taxis and Uber also operate in the city.
LODGING
Spectacular views over Lake Lucerne, exceptional service, superior rooms, a third-floor outdoor beach bar with a Mediterranean feel and the immersive Kitchen Club concept all ensure a relaxing atmosphere for guests. Ride the funicular for a breathtaking arrival to the hotel.
Adligenswilerstrasse 22, Lucerne, Switzerland, tel 41 41 419 00 00
The 5-star lakeside hotel, in business since 1870, retains the charm of its past while offering the comfort and hospitality travelers expect. The hotel houses 41 elegantly designed guestrooms and suites, four restaurants with lakeside terraces, conference space and a pool with sauna.
Haldenstrasse 4, Lucerne, Switzerland,
tel 41 41 419 09 09
Mandarin Oriental Palace, Luzern
The iconic Belle Époque landmark has stood on the shores of Lake Lucerne since 1906, reopening as Mandarin Oriental Palace, Luzern after an extensive renovation. It offers 136 tranquil rooms and suites, legendary service, a range of dining venues and a holistic spa.
Haldenstrasse 10, Lucerne, Switzerland, tel 41 41 588 18 88
DINING
Take a seat in the middle of the action at the stunning 15-Gault-Millau-point kitchen and watch talented chefs prepare your meal right in front of you. The unique concept invites guests to see, smell, listen, touch and taste all at once. Open Wednesday–Saturday, reservations are accepted for up to 24 people.
Art Deco Hotel Montana, Adligenswilerstrasse 22, Lucerne, Switzerland, tel 41 41 419 00 00
In an Old Town house dating back to 1578 with a unique view of Chapel Bridge, settle in for inventive contemporary cuisine blending typically Swiss dishes with Mediterranean ingredients. Leave room for the delectable desserts! Children's menu and gluten-free options available.
Kornmarkt 4, 6004 Lucerne, Switzerland, tel 41 41 410 36 50
Restaurant Bündnerland Luzern
Savor Alpine comfort and culinary delights overseen by Chef Fabian Dumitrache. Ranked first in the Best of Swiss Gastro 2022 awards, the restaurant spans three floors of one of the oldest houses in Old Town and offers a creative twist on local specialties.
Eisengasse 15, Lucerne, Switzerland,
tel 41 41 554 13 55
ATTRACTIONS
Chapel Bridge
Take an inspiring walk on Lucerne's picturesque wooden footbridge, crossing Reuss River. Considered Europe's oldest covered bridge, it was built in the 14th century as part of the city fortifications. The 17th-century pictorial panels inside depict scenes of Swiss and Lucerne history.
Mountain Excursions
Lucerne's streets offer impressive views of the surrounding mountains, but there's no need to admire them from afar. You can easily access many peaks, such as Mount Pilatus, Mount Rigi and Mount Titlis, via aerial cableways, either self-directed or with a tour. Some tours also include a boat trip on the lake.
This destination of discovery offers immersive and interactive exhibits about automobiles, trains, aircraft, ships and even space travel. Don't miss the Swiss Chocolate Adventure to learn about the manufacture and transport of chocolate — and get a taste of the sweet stuff.
Lidostrasse 5, Lucerne, Switzerland, tel 41 41 375 75 75 verkehrshaus.ch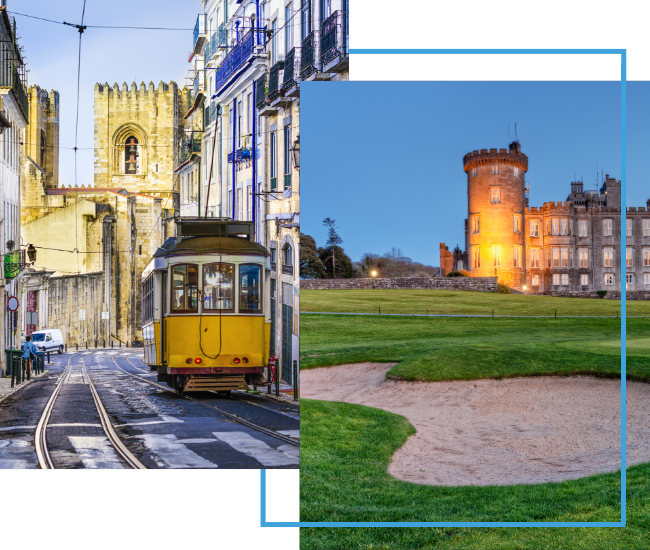 FX Excursions
FX Excursions offers the chance for once-in-a-lifetime experiences in destinations around the world.
Explore Excursions
It's time to start dreaming of your next trip. Here's some destination inspiration for you. Take a visual journey through these U.S. Christmas markets with us.
Sponsored Content
The Islands of Tahiti offer a range of captivating activities for travelers with diverse interests, from hiking to breathtaking waterfalls, riding horses on secluded beaches; swimming with sharks; or immersing in Polynesian culture through traditional dance, music and art. For watersports enthusiasts, the crystal-clear lagoons offer exhilarating experiences like surfing, kiteboarding and paddleboarding. And if you're looking to relax, the pristine beaches, overwater bungalows and tropical sun offer the perfect setting. With 118 islands and atolls to explore, island hopping is an excellent way to experience the full diversity of The Islands of Tahiti. With its blend of adventure, culture and relaxation, The Islands of Tahiti offer a truly unique travel experience.
Everyone loves a good Christmas tree, but these iconic hotels around the world take it one step further with designer-styled trees illuminating lobbies and public spaces, wowing all who enter. From Lela Rose to Louis Vuitton, don't miss these ultra-luxury trees redefining tree decorating as we know it.