While spending time with my team in our Florida office, I took the opportunity to play a round of golf with Wayne Tallman (FXExpress Advisory Board), Jan Young and John Cary, both former neighbors from Bucks County, Pennsylvania, and commuters to New York City who relocated to Western Florida. John lived in China for many years, so I found it refreshing to hear his perspective on current events.
The Meadows Country Club, a private facility located close to downtown Sarasota and University Town Center Mall, offers a total of 54 holes on three courses: The Meadows, The Highlands and The Groves. (The Meadows is a members' course, while the others allow public play.) The club also includes 17 Har-Tru green clay tennis courts, pickleball, a junior Olympic pool, a fitness center plus two restaurants and event space.
We teed up at The Meadows Course, designed by golf architect Ron Garl, who crafted more than 250 courses, mostly in Florida. Golden Ocala, his best known course, hosted the LPGA's Coates Golf Championship. At Ocala, Garl started the trend of creating tribute holes mimicking those at Augusta, St Andrews, Royal Troon and Baltustrol. If you play in Myrtle Beach, Traditions Golf Club, built in 1996, proves another Garl gem and a frequent course to play. Traditions ranked as South Carolina's 2020 Golf Course of the Year and Golf Digest's Best New Course 1996.
After hitting a few balls on the driving range and getting reacquainted, these four Pennsylvanians from Bucks County teed up for a fun round of golf and discussions of global affairs.
HOLE 5
489 yards, par 5
On this No. 1 handicapped hole, you face the challenge of water on the right running up the fairway. All balls hitting the right side seem to bounce favorably toward the water and into the pond. Clumps of trees also grow in that right-side landing area; so if you are lucky enough to stay in, you may have to navigate around trees for your second shot. This was my predicament, and my second shot to the green clipped a tree branch, knocking me down and making me lose a stroke. John and Wayne faced similar issues but on the left side, where heavy growth resulted in recovery shots to the fairway. Jan came through with a masterful drive to position left-center of the fairway and followed with two more "golf shots" to the green, saving par for the team.
HOLE 7
139 yards, par 3
Just between you, me and the pages of this magazine, we all underestimated this hole which, though not far off, lies on a peninsula with bulkheads in front. After we all hit the bulkhead and landed in Davy Jones's locker, we declared a re-hit. Better club selection prevailed, but I hooked my ball a bit and landed on the left side of the green. I chipped up and saved a bogey for the card. Wayne made the green and two-putted for a textbook par, and John came up short, matching me with a bogey. Poor Jan lost another in the water, and we moved on to the next hole.
HOLE 9
362 yards, par 4
A nice finishing hole for the front nine, but the water lining the left side of the fairway makes it intimidating. All of the team's tee shots favored the right side so much, they all left the fairway; after much searching, we determined Jan's was lost. Wayne chipped his ball back into play, but mine sat about four inches from a coconut tree. Although it originally looked unplayable from a distance, the position actually allowed me to take a complete swing without hitting anything. Keeping the trunk of the tree out of my mind, I took a violent swing and launched the ball high and long with my 6-iron, hitting the back of the green. John's ball landed short but in good position; he also took a stab at drilling his ball to the green — with great success. An easy two-putt secured par for John and me.
HOLE 13
161 yards, par 3
The hole lies over a pond you must clear, requiring a drive of 135-plus yards to make it over and safely land. With slightly overhanging trees on the right, the 13th sits askew with a bunker ready to catch any wayward balls on the far right of the green.
We teed up for the challenge, and, once again, I favored the left side, landing over the green and leaving myself with a long chip back. Everyone encountered issues: John and Wayne caught the greenside bunker, and Jan hit what looked like a great shot only to lose the last bit of airborne momentum and fall in the pond. John flicked his ball out of the sand and onto the green, earning a sandy par. Wayne and I tucked our tails and walked off with bogeys.
HOLE 18
411 yards, par 4
After finishing this hole, I said, "Playing this again, I would do things differently." One of the benefits of The Meadows is its fine on-cart GPS yardage system; there is no lack of distance on this course. I should have paid more attention to the screen and mapping of each hole, particularly No. 18.
A drainage trench splits across the fairway and sometimes fills with water. Hit a short drive and it may prove the end of your par — this was Jan's fate. I hit a wild shot but it sailed toward the left side of the fairway, landing in the bunker with great force and bouncing out on the top. This left me with an odd shot to the green on a slightly sloped stance. I swung away with an 8-iron for a glorious high shot to the pin that carried a little left. It hit the left side of the green and ricocheted down into the traps below and, ultimately, the water. A little course knowledge would definitely help here. Wayne and John equally struggled to the green; and although this was not one for the record books, we had a great day.
We followed up with drinks and snacks at Centre Court Lounge, near the tennis courts, where we all expressed our hope for global leaders to conduct more face- to-face open discussions. We had no idea how right we were.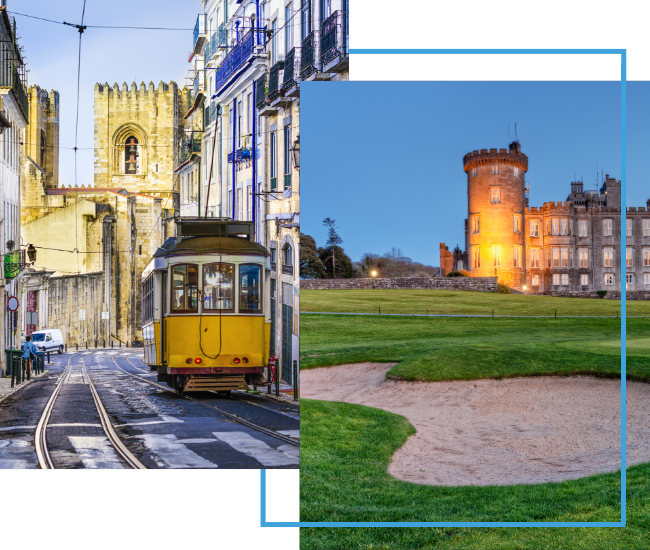 FX Excursions
FX Excursions offers the chance for once-in-a-lifetime experiences in destinations around the world.
Explore Excursions
If fabulous food and beverages are a must-have for any weekend getaway, then look no further than the City of Brotherly Love. Whether your palate has a penchant for vibrant Latin American fare or cozy French cuisine, whether you're an oenophile looking to swirl, sniff and sip your way around the globe or you'd rather sample farm-to-glass cocktails, Philly's got it all this fall. (With the exception of Bolo, which is a short taxi or Uber ride away and definitely worth the trip, the rest of these spots are all within walking distance of each other.)
Sponsored Content
Nashville's once-modest skyline continues to evolve as its luxury market grows. Lavish hotel properties are added to the landscape while acclaimed chefs stake claim in the robust culinary scene and premier cultural offerings round out the city's repertoire.
From Santoríni to Dubai to New York, some hotels just have that "it" factor that draws visitors far and wide. For some hotels it's their proximity to popular landmarks and attractions, for others it's their amenities. But these hotels have something few can claim: a true room with a view.