From paved pathways that meander around city parks to narrow, single tracks that snake along steep mountainsides, walking and hiking trails offer a way to gain a new perspective on your destination. Smells, sounds and sights take on a different significance in the slow lane, where you might take a moment to pat a friendly dog, watch a bird disappear into the forest or savor the sunset from a hilltop.
Our favorite walks sit close enough to the city to make access a breeze, short enough to get you back to town in time for cocktails and interesting enough to offer a sense of place.
THAMES PATH | LONDON, ENGLAND
Winding alongside the Thames River for 180 miles, this National Trail footpath passes through riverside towns and villages, along quiet marshes and past castles and historic sites. Get a taste of it all on the 8-mile route from the bustling city of Richmond to Hampton Court and Bushy Park, a 1,000-acre royal spread known for its stunning gardens and herds of deer. Between the two, you'll catch glimpses of the white facade of Marble Hill House, built in the 1720s for King George's mistress; the back gardens of elegant riverfront homes; and cows grazing at Petersham Meadows.
BROOKLYN BRIDGE | NEW YORK CITY, NEW YORK
While the art- and garden-dotted High Line offers a terrific walk in Manhattan, there's nothing quite like the jolt of energy that comes from strolling under the Brooklyn Bridge's magnificent Gothic arches and looking out over the city's jagged skyline. To get to the iconic bridge, take a taxi or subway to the Center Street side of City Hall Park and follow the crowds to the pedestrian walkway. After taking in the sights, hop off at the staircase in Brooklyn's DUMBO neighborhood for snacks and views of the bridge from Brooklyn Bridge Park. Walk back or take the NYC Ferry from Fulton Landing back to Manhattan.
MOUNT FLOYEN | BERGEN, NORWAY
Yes, you can take the funicular to the top of this urban Matterhorn, but the hour-long walk, which winds through a residential section of Bergen before opening into a fragrant forest, offers not just glorious views along the way but bragging rights you made it to the summit under your own power. Once you've arrived and looked down at Bergen's ancient harbor, you'll still find lots to do, including canoeing, more hiking, mountain biking, paddleboarding and visiting with the resident herd of cashmere goats. Walk back down to Bergen — there are several different routes — or save time (and your knees) by hopping aboard the historic funicular.
BERLIN WALL TRAIL | BERLIN, GERMANY
Completed in 2006, the Berlin Wall Trail was constructed along 96 miles of patrol routes used by East German border guards from 1961 to 1989. The 10 or so miles of the trail that carve their way through Berlin provide a lesson in Cold War history, with memorials to those who died attempting to cross out of East Germany, crumbling remains of the wall, Checkpoint Charlie and other crossing points, the striking Chapel of Reconciliation, watchtowers and museums. Berlin's expansive public transit system makes it easy to take on as much of the trail as time and energy allow without having to hoof it back to your hotel.
COAST TO COAST WALK | AUCKLAND, NEW ZEALAND
Part of New Zealand's 1,800-mile-long Te Araroa trail, this 10-mile-long segment — following a similar track to one the ancient Māori used to transport canoes from one body of water to the other — traverses the narrowest part of North Island, from the Tasman Sea to the Pacific Ocean. Highlights along this suburban stroll include Maungakiekie (One Tree Hill) which, though now treeless, provides stunning views; the 164-foot-deep Mount Eden crater; Cornwall Park's dramatic avenue of native puriri trees; and the sculptures and lush fernery within Pukekawa (Auckland Domain), the city's largest park.
BONDI TO COOGEE COASTAL WALK | SYDNEY, AUSTRALIA
In Sydney beaches are like villages, each with its own personality. Get a taste of several on the almost 4-mile-long Bondi to Coogee Coastal Walk. Start in Bondi, where you can grab a sandwich and watch surfers race down the waves. Just beyond the beach is Icebergs, the region's most famous ocean bath. Like most of the city's ocean baths — coastal pools that self-fill with seawater — Icebergs is open to the public. After climbing to the lookout at Mackenzie's Point, you'll descend into Mackenzie's Bay, Tamarama Beach and, finally, the rock-strewn Bronte Beach, a smallish strand popular with locals.
After passing Waverly Cemetery, enter Gordon's Bay, known for its calm water and underwater snorkeling trail. Round Dolphin's Point and you'll find yourself at Coogee, where cafés and bars line the pretty waterfront.
RIGI PANORAMIC TRAIL | ZÜRICH, SWITZERLAND
Located less than 40 minutes by train from downtown Zürich, this 5-miler offers glorious views of Lake Lucerne, Lake Zug and, in the distance, the Swiss Alps. Even better, though, the hike does offer a bit of actual hiking. A mountain train takes you up the mountain to the trailhead where you'll find restaurants, overlooks and bathrooms. From there, the gravel pathway wanders across green hills, alongside steep cliffs and into meadows on its way to Rigi Scheidegg, where another tram delivers you back to your starting point.
THE LAKE COMO GREENWAY | COMO, ITALY
During the morning hours, as the mist rises from Lake Como and the sound of church bells wafts across the water, this 6-mile walk offers a particularly magical journey. Though the pathway parallels the lakeshore, it dips and climbs, meandering through small villages, olive groves and cemeteries, passing by sprawling villas and ancient churches. If you're feeling particularly fit, consider climbing — and we do mean climbing — the nearly 2-mile path to the 16th-century Church of San Martino, which rewards your efforts with views of Lake Como as it twists and turns into the mountains.
PEAK CIRCLE WALK | HONG KONG, CHINA
This 2-mile paved pathway encircles Victoria Peak, which at 1,800 feet is Hong Kong's highest point and, not surprisingly, displays a dramatic scene. As you continue around the mountain, the path treats you to views of Victoria Harbour, Kowloon and neighboring isles afloat in the South China Sea. What you might not expect are the towering trees, lush greenery and park-like setting that's home to abundant wildlife including butterflies, black kite and even wild pigs. Plan your trip so you'll be looking out over the harbor just as the sun is setting and bathing Hong Kong in a golden glow.
NATIONAL MALL AND TIDAL BASIN | WASHINGTON, D.C.
In D.C. it's easy to get caught up in politics; when you need a break, head to the National Mall, which runs for a mile between the elegant U.S. Capitol building and the Washington Monu- ment, passing Smithsonian museums and a merry-go-round along the way. From the Washington Monument, 14th Street leads to Ohio Avenue and the beginning of a stroll around the Tidal Basin, where you'll find the Thomas Jefferson, Franklin Delano Roosevelt and Martin Luther King, Jr. memorials. Continue around the waterfront, or head toward 23rd Street and the Lincoln Memorial. Turn right at Constitution and you'll pass the sobering Vietnam Veteran's Memorial and the Ellipse that marks the back yard of the White House.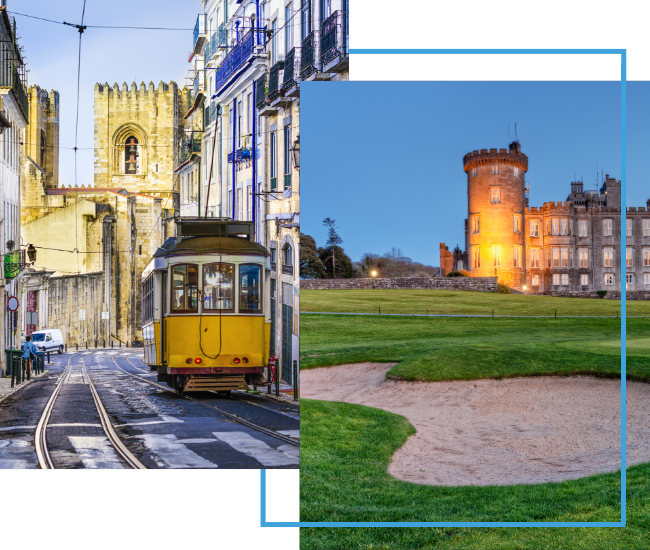 FX Excursions
FX Excursions offers the chance for once-in-a-lifetime experiences in destinations around the world.
Explore Excursions
A new and expanded campus at the Buffalo AKG Art Museum has been completed, reopening this summer and featuring new architecture designed by the architectural office of OMA New York, led by partner Shohei Shigematsu and project architects Lawrence Siu and Paxton Sheldahl, with Cooper Robertson (executive architect). The new expansion includes the Jeffrey E. Gundlach Building and extensive renovations to existing buildings. A $20-million commitment from New York State and Governor Kathy Hochul helped fulfill the expansion's budget and completes the $230 million capital campaign, the largest campaign for a cultural institution in the history of Western New York State.
Sponsored Content
IHG Hotels & Resorts is thrilled to announce the launch of a new mobile product feature for members: IHG Wi-Fi Auto Connect. This feature is now available exclusively in the IHG One Rewards mobile app for both iOS and Android users and will automatically connect IHG One Rewards members to WiFi upon arrival at more than 5,000 IHG hotels worldwide — no separate passwords or log-ins needed. This is in addition to the exciting benefits of being an IHG Business Edge member. IHG Business Edge provides small- and medium-sized businesses access to a user-friendly portal that displays comprehensive spending and savings data while providing the convenience of direct booking with a guaranteed discount.
Ever since opening in 2021, Nobu London Portman Square has served as the focal point for many gatherings, stays and experiences. This fall the hotel's Nobu Bar adds four more reasons to visit with an exciting array of offerings, menus and events.