WITH A DIET LOW IN CARBS and high in the right kind of fats, Swedes are second among Nordic countries in terms of life expectancy, and Sweden itself rates as one of the healthiest countries in the world. It is also where, according to a European Commission survey, the largest number of residents exercise regularly.
Göteborg, a port city on Sweden's southwest coast, may be geographically closer to Oslo and Copenhagen than Sweden's capital city of Stockholm, but it is definitely a Swedish city. The city government is green and eco-friendly; office workers follow the traditional Swedish custom of the latemorning fika (coffee with cinnamon buns); and Volvo, headquartered in Göteborg since its founding 90 years ago, remains one of Sweden's most admired companies.
The city is growing aggressively, expecting to have 700,000 residents by the year 2035. That's 150,000 more people than at present, and thus Göteborg embarked on one of the most ambitious urban real estate projects in Europe, with plans to enlarge its city center to twice its size. Using public and private funds, the city is revitalizing entire neighborhoods on both sides of the Göta River, adding thousands of new residential units, encouraging innovative startups and new academic facilities, expanding green spaces and electric public transport modes, and reinventing former riverside shipbuilding areas into unique and vibrant public spaces.
Known as Älvstaden, or RiverCity Göteborg, the multiyear project is needed to accommodate the rapidly growing population in the city and surrounding suburbs and to improve the environment for residents and visitors far into the future. The city is also expanding its use of efficient electric buses and adding ferry routes that connect neighborhoods along the river to each other and to downtown districts. In addition, Volvo is recruiting local residents to test-drive its XC90 electric models on selected city streets as part of its autonomous drive technologies research study. Volvo also recently announced it will manufacture all-electric and hybrid vehicles starting in 2019. As a result, no car with a 100 percent thermal engine will be released from its plants.
"Göteborg has a strong automotive industry and is the Nordic region's logistics hub. One benefit is that we get involved early in testing next-generation technology. That's exciting, and we learn more together with our partners in ElectriCity than we would do alone. We take these lessons with us in our urban planning as Göteborg grows into an attractive large city," said Stefan Eglinger, director, Urban Transport Administration, City of Göteborg. "Tomorrow's quiet vehicles emitting no exhaust gases will make the city even more appealing for people to live in, work in and enjoy. I'm happy and proud that our cooperative venture has been so successful that we now want to go further in the next phase." Göteborg's ElectriCity is an exciting cooperative project bringing together industry, research and society in the development and testing of solutions for next-generation sustainable public transport.
Göteborg was founded in 1621 by King Gustavus Adolphus, and its early design was influenced by the Dutch, Germans and Scots, with Dutch engineers contracted to drain and build in the marshy areas chosen for the city, resulting in a town designed to resemble the Dutch cities of Amsterdam, Jakarta and the former New Amsterdam (Manhattan Island). In 2021 Göteborg turns 400 years old and will host many celebrations throughout the year.
CHECKING IN WITH JONAS THESSLUND
Senior Manager, Volvo Factory Delivery Experience
What is the secret to Volvo's success as one of Göteborg's major corporations?
The company was founded in this city 90 years ago, and we are proud of our Swedishness, which is our culture and heritage, reflected in how we develop our cars, how we look upon people and what's important to them. It's important for the current owners of the company to keep it Swedish, because that is something unique. We are the only major car company from Sweden at the moment, and it is valuable to maintain that identity.
What is the Volvo Factory Delivery Experience?
Customers who choose to pick up their newly purchased Volvo at our Göteborg factory can enjoy their new car while driving it around Sweden and other countries in Scandinavia or Europe and then have it shipped back to their dealer in the United States. Our delivery package includes two round-trip tickets to Göteborg as well as free VIP transfer service from the airport to our factory, with the first night complimentary in a deluxe hotel in Göteborg. We also offer two weeks of free auto insurance for the new automobile.
From Volvo's perspective, has the Factory Delivery Experience been a successful program for visitors?
Yes, very much so. As leisure tourism to Scandinavia increases every year, we are seeing many couples and families decide to travel to Sweden and use their own new Volvo to see the country rather than renting a car. In the last year we delivered 1,500 cars to American customers picking up their vehicle here in Göteborg, a big increase over the 1,000 vehicles we delivered last year to U.S. buyers. We work with Visit Sweden in designing itineraries that begin in Göteborg and continue into West Sweden and to other areas of the country, depending on what they are interested in seeing and the length of their trip.
Things to Do in Göteborg
Trams, buses and ferries enable visitors to travel around the entire city quite easily, and the Göteborg City Card offers free public transit, museum admissions and shopping vouchers. Visitors can purchase the card at Tourist Information centers. It is also possible to explore much of the city on foot or bicycle, wandering through leafy Kungsparken (King's Park); the boutique-crammed, cobblestone streets of historic Haga; and along the narrow canals using the numerous bike paths throughout the city.
The museum known as Röda Sten (Rödasten Konsthall) occupies a beautifully restored industrial building located on the Göta River and features excellent modern art exhibitions and a waterside restaurant. Other museums include the Fine Arts Museum, Göteborg City Museum, The Radio Museum, Volvo Museum and many design and art galleries.
Göteborg is filled with hip cafés, eclectic shops and beautiful parks where locals sunbathe and picnic in summer and cross-country ski during winter. Start the day with an excellent coffee and pastry at da Matteo Cafe Bakeri, with several locations around the city, although the one in Magasinsgatan's main square sits near interesting boutiques and lunchtime food trucks. The city offers a cutting-edge Nordic food scene including a half-dozen Michelin-starred restaurants; lots of fresh fish and seafood venues; and plenty of late-night bars along Tredje Långgatan in Haga, many packed with university students. Trendy rooftop bars offer sunset views; try the ones at the downtown Bellora and Scandic Rubinen hotels.
Visit the newly regenerated neighborhoods north of the river by taking the ferry to Lindholmen and biking or walking along the urban trail that parallels the water. The iconic red, round Kuggen (Swedish for "cogwheel") building, built in 2011, is part of Chalmers University of Technology and a good place to begin a self-guided tour.
For a day or overnight trip from Göteborg, rent a car and drive an hour to the Bohuslän Coast, an archipelago of 8,000 islands, where the rocky coastline stretches up to the Norwegian border, offering pine forests, fjord-like lakes and picturesque villages like Skärhamn, with its Nordic Watercolor Museum, or Klädesholmen, where you can stay overnight at Salt & Sill. This floating hotel features guestrooms overlooking the sea and a lovely restaurant whose deck hovers over the water.
In Fiskebäckskil the chic Gullmarstrand Hotel offers deluxe rooms and a heated outdoor pool overlooking the islands and bays of Gullmarsfjorden. Dine on fresh blue mussels at The Mussel Bar in Lyckorna, Ljungskile, after harvesting them yourself during a pre-lunch mussel safari. Look for the eclectic, four-room seaside accommodation called Lådfabriken, a restored fish box factory with its colorful, beautifully designed interior and breathtaking sea views, located just outside the tiny coastal village of Edshultshall.
Göteborg Info to Go
Göteborg's Landvetter International Airport, approximately 17.5 miles from downtown (a 20- to 40-minute drive) is easily reached by car rental or Flygbusssarna Airport Coaches (about $12 one way; purchase tickets online at flygbussarna.se). Trains from Stockholm depart hourly to Göteborg Central Station (about 3.5 hours; from $28 one way). Ferry service is available from Frederikshavn, Denmark (about three hours; seasonal sailings $86–153 via Stena Line).
Göteborg: Just the Facts
Time zone: GMT +2
Phone code: Country code: 46 City code: 31
Currency: Swedish krona
Key industries: Automotive, banking/finance, environmental technology, education, tourism/ hospitality, information and communication technology, logistics, medical technology/ health care and maritime industries
COMING AND GOING
U.S. citizens may enter Sweden for up to 90 days for tourist or business purposes without a visa. U.S. passports should be valid for at least six months beyond the planned period of stay.
OFFICIAL LANGUAGE
Swedish, but English is widely spoken.
Where to Stay in Göteborg
AVALON HOTEL With 101 beautifully designed rooms, free WiFi and an included breakfast buffet, this feng shui-certified property is perfect for leisure or business guests. Check out the rooftop pool with i t s thousa n d s of mosaic tiles. Kungstorget 9 $$$
RADISSON BLU RIVERSIDE On the north bank of the river, next to a conference center and corporate offices, the property is a 10-minute ferry ride to city center. Amenities include free WiFi, breakfast, a fitness/wellness center and garage parking. Lindholmspiren 4 $$$
SANKT JӦRGEN PARK HOTEL This sport and business hotel in a country setting 15 minutes from downtown offers 82 guestrooms, suites and junior suites; conference facilities; a spa and fitness center; an 18-hole golf course; four d ining venues ; free WiFi; and breakfast. Knipplekullen 8-10 $$$$
Restaurants in Göteborg
RESTAURANG GABRIEL Situated on the mezzanine level within a historic indoor fish market, Chef Johan Malm's restaurant offers fresh lobsters, crabs, shrimp, salmon, oysters, herring and a special fisksoppa (fish soup). Lunch only; reservations required. Feskekôrka $$$–$$$$$
SALT & SILL Even if you don't stay at this floating hotel on the island of Tjörn, the restaurant is worth a visit. Outdoor/ indoor seats offer sea views, and the seafood and service are outstanding. Reservations required. 471 51 Klädesholmen, Tjörn $$$$
SJÖMAGASINET Noted chef Ulf Wagner runs the kitchen at this Michelinstarred restaurant on the river near downtown. Seasonal menu may include wild salmon, poached cod, deep-fried pork leg terrine or lobster salad with Parmesan dressing. Reservations required. Adolf Edelsvärds gata 5 $$$$–$$$$$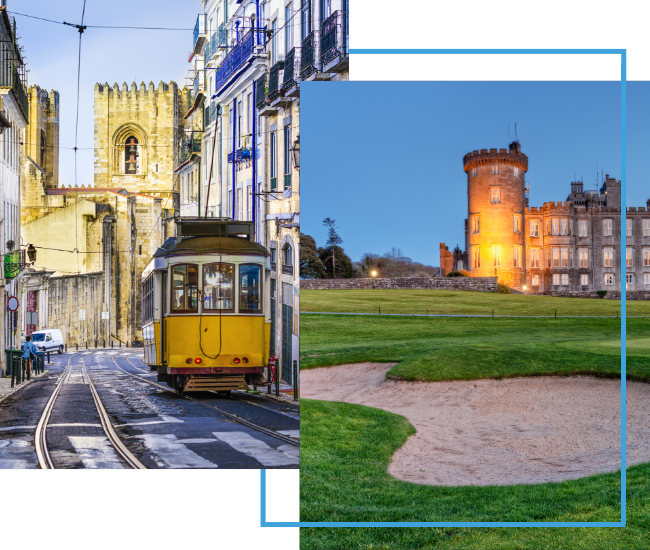 FX Excursions
FX Excursions offers the chance for once-in-a-lifetime experiences in destinations around the world.
Explore Excursions
Did the new film Oppenheimer rouse your interest in the nefarious world of international espionage? You can go straight to the real-life setting for covert actions this November (Nov. 10–12), when La Fonda on the Plaza in Santa Fe hosts a specially themed "Spies, Lies and Nukes" weekend. The hotel actually served as the retreat location for Manhattan Project scientists, who stayed at La Fonda on the Plaza to take a break from the stress of their work. During the weekend, the property's La Fiesta Lounge will make a tasty nod to those days by serving up a special Atomic Martini.
Sponsored Content
Are you looking to enhance your business trip with a little leisure? Look no further than Portugal, a country renowned for its captivating blend of history, culture and natural beauty. And with TAP Air Portugal, you can effortlessly transform your business trip into an unforgettable bleisure adventure. Discover why Portugal and TAP Air Portugal are the perfect combination for an enriching and rejuvenating experience.
Ever want handcrafted martinis and freshly shucked oysters delivered straight to your room? The Read House's New Martinis & Pearls service has you covered. Shining in 1920s-themed decor, the historic hotel in the heart of Chattanooga offers a true Gatsby-esque experience, now further elevated with this upscale amenity. Guests can now indulge in their perfectly chilled martini, made to order, and "pearls" (oysters) in the comfort of their room.