The Gauguin can accommodate 332 guests with a staff of 217, one of the highest crew-to-guest ratios at sea.
The ship's informal ambience reflects the relaxed nature of the region. A much-loved troupe known as Les Gauguines and Les Gauguins — Tahitians who serve as staff, entertainers and storytellers — add a uniquely South Pacific touch to life on board. Best of all, The Gauguin offers an all-inclusive experience, with airfare from Los Angeles, gratuities, 24-hour room service, bottled water, soft drinks and select wines and spirits all included in the cruise fare. Voyages range from seven to 17 nights, with fares for seven-night itineraries starting at $3,995.
Highlights of the ship include its three dining venues, with dishes and menus overseen by Jean-Pierre Vigato, chef propriétaire of the world-renowned, two-star Michelin-rated restaurant Apicius. Another top draw, the Deep Nature Spa by Algotherm offers a wide variety of luxurious treatments; relaxing overwater massages are also available on the line's private motu (small island) off the coast of Taha'a.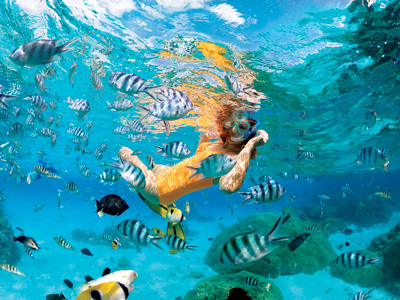 As for activities, The Gauguin presents a series of lectures by on-board guest presenters, and offers themed cruises with guest hosts representing a wide variety of special interests. In addition, the ship's small size allows it to navigate shallow lagoons and narrow channels, giving guests the opportunity to participate in a variety of watersports. From a specially designed retractable platform, guests can descend to sea level, where they can hop aboard a windsurfer, paddle board, launch a kayak or set out for a SCUBA diving expedition (a SCUBA certification program is offered on board). Through the ship's youth program — Ambassadors of the Environment, affiliated with Jean-Michel Cousteau's Ocean Futures Society — guests ages 9 to 17 can participate in daily excursions that reveal the natural wonders and rich culture of Polynesia, both on land and at sea.
For more information, call 877 440 6114 or visit pgcruises.com/leisure.
FX Excursions
FX Excursions offers the chance for once-in-a-lifetime experiences in destinations around the world.
Sponsored Content
Since its prestige for attracting the world elite grew in the 1960s, Greece remains the go-to destination for glittering holidays. Each step of the journey is enrobed in luxury, from culinary traditions with the highest standard of execution and name-brand, high-end shopping to first-rate wellness locales and elite accommodations, like 5-star hotels, private villas and yachts.
Seabourn recently announced the name of its second new ultra-luxury purpose-built expedition ship: Seabourn Pursuit. The name reflects the passion of expedition travelers to seek out and explore natural wonders and destinations through activities around the globe.