Name: David Canty
Title: Vice president loyalty programs
Company, city: InterContinental Hotels Group; Atlanta, Ga.
Number of employees: More than 300,000 globally, including hotels
Recent project: We launched a Stay Preferences program last year that gives members an easy way to tell us about what they prefer when they travel.
First job: I worked as a farm laborer during the summers in Ireland: bailing hay, cutting corn, picking potatoes and carrots and even milking cows.
Little-known fact about you: I grew up in the pub industry in Ireland. My great-grandfather opened Canty's Bar in Cork in 1892. My grandfather and then my dad ran it until it was sold. It is still there, so if your travels take you to Cork, drop in for a pint.
About Your Business
What innovations/initiatives do you foresee in the industry over the next years? Increased nimbleness through technology: More members search, book and manage stays through mobile devices than through desktop computers. On our horizon are mobile keys plus checking in and checking out, managing in-room settings and ordering room service via in-room artificial intelligence, like our current trial with Amazon Echo. We also continue to customize rewards for member loyalty, adding partners such as Amazon and Apple, where members receive free Kindle books and earn points for purchases of some Apple products.
Best career advice you've received: Be true to yourself and love what you do!
What advice would you give someone starting out in the field? Immerse yourself in what you do, love it and be passionate about it. Learn as much as you can and share your knowledge with those you work with and those who want to learn from you.
David Canty as a Traveler
Favorite travel memory or story: At 19 I backpacked through northern Italy. I stayed in a guest house in La Spezia the night before hiking the Cinque Terre. Armed with my English-Italian dictionary, I joined a group of elderly gentlemen discussing a televised football game. Hours later, after a few glasses of wine, the dictionary discarded, I was still having wonderful discussions and lots of laughs.
One travel tip you cannot live without: Carry a small amount of local currency. Turn off your data roaming unless you have an international plan. Go off the beaten path and experience the local culture.
Best advice for business travelers: Download the IHG App to manage your stay and preferences and access tools like sleep tips, neighborhood guides and a translation app. We value business travelers and want them to feel a sense of true hospitality. From pillow preference to check-in time, they can share as much or as little with us ahead of their stay. Our hotels have the information handy when they arrive, and we can often exceed their expectations.
About InterContinental Hotels Group
What member benefits can premium travelers expect from IHG Rewards Club? All members enjoy no blackout dates for reward nights; earn faster rewards by combining points and cash; save money and earn points when booking with Your Rate; earn points through our partners for activities like renting a car, buying flowers, shopping and dining; and bid for amazing experiences through IHG Rewards Club auctions. Our elite tiers (Gold Elite, Platinum Elite and Spire Elite) enjoy unique benefits, from complimentary room upgrades and rollover nights to special welcome amenities. Our most loyal Spire Elite members can grant or gift Platinum status to a friend; they receive a welcome benefit and become eligible for Gold Status with our car rental partner, Hertz.
Tell our readers about some of IHG Rewards Club partner companies and upcoming promotions. IHG Rewards Club offers countless opportunities to earn points and redeem rewards, from reward nights at IHG hotels worldwide to music downloads, electronics, gift cards and more via its online redemption catalogue. Our exciting partnerships expand the benefits, including the IHG Rewards Club Credit Card by Chase, one of the most generous hotel co-branded cards in the industry. Members also save every time they fill up at participating Shell stations and save and earn points on every Hertz car rental. Crowne Plaza guests now receive a free download from Audible, a partnership we look to expand.
What can members expect from IHG Rewards Club in the future? We aim to be a personal program with incredible member choice. We will increase our capabilities so members have their own options for rewards they value most. From the partners we work with to knowing your wine preference, we will enable you to have membership on your terms made even easier via digital technology.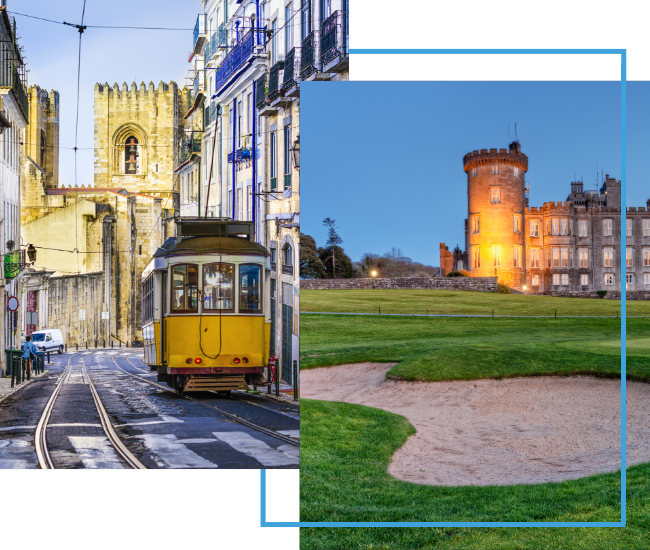 FX Excursions
FX Excursions offers the chance for once-in-a-lifetime experiences in destinations around the world.
Explore Excursions
The Perelman Performing Arts Center (PAC NYC), the cultural cornerstone and final public element of the World Trade Center site, opened this September.  The new performing arts center in Lower Manhattan provides a dynamic home for the arts, serving audiences and creators through flexible venues enabling the facility to embrace wide-ranging artistic programs.
Sponsored Content
United Airlines is in the midst of a major initiative to modernize its fleet over the next several years. After first announcing the plan in 2021, planes fitted with United's signature interior are finally beginning to appear across the airline's narrowbody fleet of Boeing and Airbus planes. United flyers are sure to notice these enhancements from the moment they step on board: Each new or updated plane sports remodeled seats, seatback entertainment screens for everyone, Bluetooth connectivity and more, all adding up to a better experience on every journey.
Whether you call secondhand fashion treasure troves "thrift stores," "fripperies," "charity shops," "vintage boutiques" or something else, shifting the paradigm from "old clothes" to "new finds," you may find the best, most conversation-starting souvenirs inside these shops and neighborhoods located in the world's most fashionable cities and a few unexpected places.