I'm jostling in a beat-up Landcruiser moving down the Manu Road. As we round a bend, a truck jam-packed with Peruvians is careening straight for us. The Manu Road is a one-lane dirt path that goes from the Inca-built town of Cuzco, Peru, over the 14,000-foot Andes, and into the lowland Amazon basin. Traffic is only supposed to drive in one direction — toward the world-renowned Manu Biosphere Reserve — on Mondays, Wednesdays and Fridays, but that doesn't stop the oncoming vehicles.
I peer out my window at towering trees enshrouded in mist along the cliffs and momentarily forget our dilemma. We've entered the lush Andean cloud forest, surrounded by tree ferns, orchids and trilling birdsong. As driver Emilio brings us harrowingly close to the cliff, Marianne van Vlaardingen, co-owner of Pantiacolla Tours, explains the situation: Mandatory voting forces citizens from across the nation to return to their hometowns — traffic laws be damned. I picked a fine time to travel.
I'm taking a 10-day tour of the Amazon rain forest, something I've long dreamed of doing — covered canoes on swollen rivers, lush jungle teeming with wildlife, communities of Amazon Indians. I never imagined that getting there and back would be half the adventure.
Emilio allows the truck to pass, and we continue. For eight hours we endure bumpy driving, cross rivers and dodge traffic as we talk and rest. We're a motley crew: the Pantiacolla staff, my best friend, Daline, who is traveling with me before entering a Zen monastery, and a European fashion designer, Claudia. Marianne translates Spanish for us, because "Yo hablo muy pequeno Espanol" ("I speak very tiny Spanish") is about the extent of my Spanish language skills.
Marianne, fair and slight, first traveled to Peru in 1987, a Dutch biologist studying tamarin monkeys. With laughter and enthusiasm, she tells how she fell in love with the rain forest — as well as Peruvian Gustavo Moscoso. The couple married in 1994 and founded Pantiacolla.
"I realized there must be a better way to help save the rain forest than to just research one small aspect of it," she said.
Pantiacolla was one of the first companies to take tour groups into the Manu Biosphere — a 7,263-square-mile reserve scientists hail as the world's most biodiverse habitat, with more than 200 mammal species including jaguars, anteaters, giant armadillo, monkeys and sloths and in excess of 1,000 bird species. Six years ago, Pantiacolla initiated cultural tourism with the Yine Indians — recording their legends, involving travelers with their culture and handicrafts, and helping the Yine become self-sufficient at running their own lodge. It sounded ideal in theory, but the project has had more than its share of trouble.
We enter the Biosphere at 11,000 feet, and then descend on steep switchbacks. By day's end, I am amply ready for our stop at the Posado San Pedro lodge. We eat a delicious meal of hot minestrone soup, trout and a panoply of potatoes for which Peru is famous. Peruvian mountain people — who tend llamas and alpacas and crops on steep mountainsides — still harvest many varieties of potatoes by hand, selling them in colorful markets.
Daline seems out of sorts — a mix of time zone disorientation, altitude sickness and "jostling-vehicle-itis." I have a slight headache. "Try this tea!" Marianne offers mate' de coca, the same leaf used to make cocaine in its concentrated form. "One cup cures altitude sickness." After the tea and a cool shower, I tuck the netting under my mattress to discourage mosquitoes bearing diseases, take my malaria meds, and sleep like a rock.
The next day, we drive until we get to Atalaya — our road stops at the river. A few airplane landing strips exist, including one next to Pantiacolla's Yine Lodge, but Amazon dwellers travel mostly by river. We still have a couple hours before we'll reach our destination, a lodge up the Rio Alto Madre de Dios — River of the Mother of God.
In his 1924 book, "The River of the Mother of God," naturalist Aldo Leopold wrote that early Spanish explorers marked this river on maps with a thick line, with no beginning and no end. Leopold described it as "the perfect symbol of the Unknown Places of the Earth."
We load our gear into the motorized canoe, and boatman Chiky Mambiro takes us down the muddy, gray torrent, swollen with recent rains. A Machiguenga Indian, Chiky has high cheekbones and chiseled muscles and colorful sara sara seed necklaces grace his neck.
As the hot sun bakes my flesh, I sit back, admiring the view. This is the Amazon I've long dreamed about. The fast-moving rivers, the scarlet macaws flying overhead, jabiru storks on riverside beaches, the umbrella-shaped canopies of kapok trees towering above the deep green forest, mist dancing a tango within the treetops. Feathery seed heads of caca brava reeds line the river, which Amerindians use to craft bows and arrows.
Before long, we reach Pantiacolla Lodge in a rainy crook of the lowland hills. After stashing our gear, British birding guide Tina leads us on an evening jungle walk; the humidity nears 100 percent with the thick warmth of a steambath. And no matter how much bug repellant I slather on, I accept that I'm black fly and mosquito candy.
Over the course of the next few days, we travel to many sites within Manu by river. We explore Cocha Blanco, a pristine lake where giant river otters play and troops of capuchins, howler and spider monkeys frolic in the treetops. We climb an ancient, gnarled kapok tree to a platform that overlooks the Amazon for miles. We rise early to observe a carefully orchestrated dance of feather and claw at a natural clay lick where hundreds of parrots and macaws gather in a kaleidoscope of red, green and blue. And we enjoy a mudbath in a steaming hot spring, its borders lush with ferns.
Indivisible from the rain forest are the Amazonians who have lived here from time immemorial. Designated tribal lands exist throughout the Manu Biosphere Reserve. In 2000, Pantiacolla initiated tourism with the Yine — orchestrated so travelers experience Yine culture firsthand. We arrive at the village of Diamante, trek up a sharp staircase, and meet Berta, a middle-aged woman with a toothless grin, hunched cross-legged on the elevated thatched porch of her one-room home, surrounded by her children, elderly mother, and two cherubic grandsons.
She waves us onto the porch, where we paint tribal symbols on cloth — and ourselves. The family offers us the traditional fermented yucca drink, masato. Marianne and Claudia drink a whole bowl, but Daline and I take only a sip, leery of parasites and bad water. I select a tribal design, and Berta cradles my arm in hers, painting with ink made from huito, a rain forest fruit.
"This is the symbol warriors used when they went to war," her teenaged son explains.
"Make way for the Guerrera Mujeres de Amazonica," I say to Daline, flexing my muscle, "We are Amazon Jungle Warrior Women!"
Yine Antonio Trigosa tells me he hopes that as tourism money comes in, the community will get clean water, because upstream villages bathe in and use as a bathroom the same river from which they drink. (And I sipped the masato?) Unfortunately, tourism money may dry up. Pantiacolla planned to donate a lodge they built to the Yine, but community infighting temporarily has halted the project in Diamante, the largest Yine village in the region. For a people who have long relied on memory with no tradition of the written word, understanding contracts, financial matters, and whom to trust has been a tough lesson. Pantiacolla Tours maintains the lodge and continues cultural tourism with other villages, in the hope they will resolve their issues.
We also visit a Machiguenga village, where Chiky translates the native language. Little tourism comes here, and the women and children seem emaciated, apathetic, distant. They stand in stark contrast to the healthy Yine families, whose children came running from their school to greet us with exuberant smiles. Yashira, the 10-year-old daughter of Diamante's president, had a radiant aura. She waited patiently, while we spoke with her father, before handing me a pottery bowl her mother made. It sits on my mantle, reminding me of this little girl with a warrior spirit, the future of her village, their people, and the Amazon rain forest.
Though the Manu Biosphere protects rain forest in Peru, extended droughts have turned the Amazon into a tinderbox, with massive fires raging. Oil exploration, soybean farming, gold mining, and the Trans-Oceanic Highway that will slice from Brazil to Peru also increase rain forest loss — some even within the reserve.
Illegal drug activity also occurs, deforesting the interior Amazon and threatening safety of ecotourists — the main economic incentive to preserve it. Several months after I returned home safely, a tour bus was hijacked and robbed on the road to Manu. The first such attack in this area, it was a terrifying event in which, fortunately, no one was injured.
"At this point it has become part of our 'adventures in Peru' story," said one of the tourists, Dave Howe. "We missed our plane in Atlanta, our tour boat on Lake Titicaca was rammed by a coast guard cutter, and our bus was hijacked in Manu."
For most people, the River of the Mother of God will remain an "unknown place" somewhere in the jungles of Peru. But those intrepid travelers who take the road — or river — less traveled have a real impact: They show the rain forest has more value intact than razed for timber, oil or soybeans.
Protecting the Amazon and its indigenous peoples can't be quantified merely in dollars and cents, but in the willingness of people from modern society to visit despite the risks. And that, after all, is the same pioneering, adventurous spirit that has forever beckoned humankind to explore the remote corners of the world.
---
INFO TO GO
The nonprofit Andean Travel Web (www.andeantravelweb.com/peru/) runs a comprehensive Web site with information on transportation, destinations, tour operators, hotels and adventure activities. Be wary of operators offering tours to the Manu Biosphere Reserve that do not have permits to go into the Reserved Zone, designated for ecotourism. Although much can be done outside of the Reserved Zone — including the clay lick, Cocha Blanco, and the Yine Tours — it is the most pristine rain forest and you don't want to be disappointed after you've booked. The following operators lead tours to the Reserved Zone: Pantiacolla Tours (tel 51 84 238323, www.pantiacolla.com) offers five- to nine-day tours on fixed dates ranging from $765-$835 and privately arranged tours range from $895-$1,575 per person. They also offer birdwatching-focused tours and Spanish-language immersion courses. InkaNatura (tel 511 440 2022, www.inkanatura.com) offers all-inclusive five-day tours starting from $1,090, and seven-day tours from $1,190. Manu Expeditions (tel 51 84 226671, www.manuexpeditions.com) offer nine-day trips for $1,695. All companies offer air service from Cuzco to Boca Manu, and most offer a bus option. Prices include meals, transport from Cuzco, lodging, and activities. Cuzco is a one-hour flight from Lima.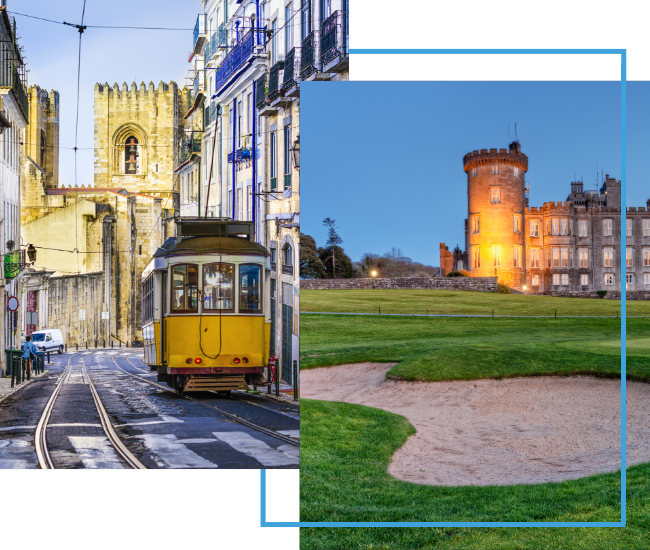 FX Excursions
FX Excursions offers the chance for once-in-a-lifetime experiences in destinations around the world.
Explore Excursions
Did the new film Oppenheimer rouse your interest in the nefarious world of international espionage? You can go straight to the real-life setting for covert actions this November (Nov. 10–12), when La Fonda on the Plaza in Santa Fe hosts a specially themed "Spies, Lies and Nukes" weekend. The hotel actually served as the retreat location for Manhattan Project scientists, who stayed at La Fonda on the Plaza to take a break from the stress of their work. During the weekend, the property's La Fiesta Lounge will make a tasty nod to those days by serving up a special Atomic Martini.
Sponsored Content
Exclusive Sailing with Global Traveler
Ever want handcrafted martinis and freshly shucked oysters delivered straight to your room? The Read House's New Martinis & Pearls service has you covered. Shining in 1920s-themed decor, the historic hotel in the heart of Chattanooga offers a true Gatsby-esque experience, now further elevated with this upscale amenity. Guests can now indulge in their perfectly chilled martini, made to order, and "pearls" (oysters) in the comfort of their room.