A trip to France isn't just about seeing the Eiffel Tower and Mona Lisa, sipping Champagne at a sidewalk café or shopping at the flagship Chanel store. In truth, it means plunging into French culture, devouring its cuisine, practicing that moue, dining on escargot, eating cheese for dessert and rakishly trying to sport that beret. French culture is … je ne sais quoi … chic and stylish, elegant and understated, clever and carefully curated. French culture means taking a deep dive into l'art de vivre, the art of living life to its fullest and as beautifully as possible. L'art de vivre reigns as the essence of Air France.
When you fly this legendary airline, an icon since 1933, an epicurean adventure begins the moment you step on the plane. Of course, dallying about in the lounge can jumpstart the feast. Case in point: the newly renovated Air France lounge at San Francisco International Airport, which features a sit-down dining area designed to emulate a Parisian brasserie. But once you board, the true French fete commences — a gastronomic soiree of joyful indulgence. First, sophisticated flight attendants, each dressed in a rendition of the Air France signature uniform (designed by none other than couture master Christian Lacroix), greet you. Call it a feast for the eyes. The designer combined 100 harmonious items — from soldier-blue jackets and Parisian scarves to bow-adorned sashes and glamorous, form-fitting red gloves, along with mix and match. As the snazzily attired flight attendants serve you glasses of welcome Champagne in their delectable outfits and with suave mannerisms, you'll feel like you've gate crashed a fashion show. Of course, all the while you'll be opening your amenity bag, studying the dinner menu and trying to decide which movie to watch.
Creating gastronomic menus with a changing array of Michelin- starred chefs and star sommeliers, Air France prides itself on serving meals that represent the exemplary French standard for food, a mainstay that includes flavor, aesthetics, pairings and stalwart attention to detail. For decades the airline has promoted and showcased France and its artful attributes. That translates in particular to menus created by renowned French chefs, fine wine and complimentary Champagne in all the cabins.
Speaking of Champagne, the carrier boasts a wine and Champagne list curated by Paolo Basso, the 2013 Best Sommelier of the World. Ensuring you have the best bubbly for your journey's aperitif — or all flight drinks — Basso rotates labels throughout the year, choosing from esteemed estates throughout the region. Past offerings included Veuve Clicquot La Grande Dame 2006 (in La Première), Taittinger Brut Reserve (in business) and Chassenay d'Arce Cuvée Première (in economy).
Ever an ambassador for French fine dining and culinary know- how around the world, Air France entrusts the creation of its dishes in La Première and business cabin menus to top Michelin-starred chefs, tasked with showcasing local produce from their region as well as dishes that might be served in their restaurants. Gourmet dishes by chefs such as Michel Roth, Régis Marcon, Anne-Sophie Pic and Mauro Colagreco turn those long-haul flights into a Michelin fantasy nosh.
To understand the largesse of the Air France commitment, consider, in January 2023, the fashionable, cuisine-oriented airline marked the Bocuse d'Or 2023 event by announcing the names of the 17 dexterous chefs slated to create dishes for long-haul flights and lounges, promoting French excellence and elegance along the way. Seventeen! That makes Air France the only airline ever to partner with so many top-tier names in the world of gastronomy at once.
Diversity, sustainability and trends (think vegetarian menus on every flight) add to the mix. Imagine dishes on board as irresistible and unexpected as duck lasagna with blackcurrant sauce, sautéed shrimp with green puy lentils and orange butter sauce, and veal shank and its creamy morel sauce on a spelt and pea risotto. Not to be left out of the fun, pastry chefs also play a role. In La Première suites, the company's most exclusive travel cabins, the Meilleur Ouvrier de France pastry chefs Philippe Urraca and highly touted Angelo Musa bring sweet finales to the satisfying menus.
But Air France isn't the only airline that makes eating while flying satisfying, fun and brimming with cultural connections. Qatar Airways uniquely offers its business-class guests on-demand dining throughout the flight. Even at breakfast, flyers can order a juicy hamburger or pasta dish, for example. With North American menus created by Mary-Jane Bonnaud, the first female head chef for Qatar Airways, the airline embraces a food philosophy for all classes of service that features quality meals with products sourced from Canada and the United States' top sustainable growers. Options mirror the cultural diversity across the continent but excel at drawing flavors and elements from Qatar's own Arab cuisine. Each flight varies, and food and beverage options rotate to ensure frequent travelers always look forward to sustenance served on board. In fact, travelers can preview menus on the Qatar Airways site and plan out their eating itinerary — as if it were a vacation in itself. A recent menu from New York's JFK included specialties such as Atlantic cod with lobster beurre blanc, grilled duck breast, and an Arab-spiced favorite: prawn biryani. Don't miss an Arab breakfast if given the chance. Premium wine, Champagne and spirits go without saying — as do nonalcoholic drinks such as chai and smoothies. For those lucky enough to have a long layover in Doha, the lounges rule the roost. Don't miss the Qatar Airways Al Mourjan Lounge at The Garden, opened in November 2022 for the World Cup. It spans nearly 80,000 square feet and perches above The Orchard, Hamad Airport's stunning new indoor garden.
Cathay Pacific, Hong Kong's home carrier, long has been a leader in bringing authentic local and regional flavors and dishes to its first- and business-class travelers. This year the airline (also renowned for its exemplary airport lounges) partners with Michelin-starred Duddell's to showcase the city's gourmet culture far above ground. Iconic for its dim sum and Cantonese cuisine, Duddell's is a top gastronomic destination for tourists and locals in Hong Kong. Departing Hong Kong, expect dishes such as drunken prawns with aged Huadiao wine and Shanghainese classic braised pork belly.
KLM partners with local, celebrated chefs from the Netherlands to showcase homegrown culture and classic (both expected and unexpected) foodstuffs on its long-haul flights. Examples of dishes on recent flights include pasta shells filled with salmon served with Amsterdam onions, lavas cream, pickles and tarragon dressing; and a tasting of delicacies featuring tom kha kai beef curry, chicken red curry and stir-fried vegetables. Proud of the country's vodka (Ketel One) and historical drink, genever, the airline pays special attention to spirits and fine wines, carefully choosing libations that taste their best at 35,000 feet. One thing to look forward to in economy class: KLM's ubiquitous, sustainable and delicious cheese sandwich. Handcrafted, served with its story inscribed on the wrapper, the simple meal comprises organic bread from renowned Bakkerij Carl Siegert and aged Gouda from Dutch company Beemster. Upfront travelers will swoon over their keepsake parting gift once the airplane lands: KLM's coveted Delft Blue House, a legendary collectable among business travelers since 1950. It holds a dram of Dutch genever. What a treat!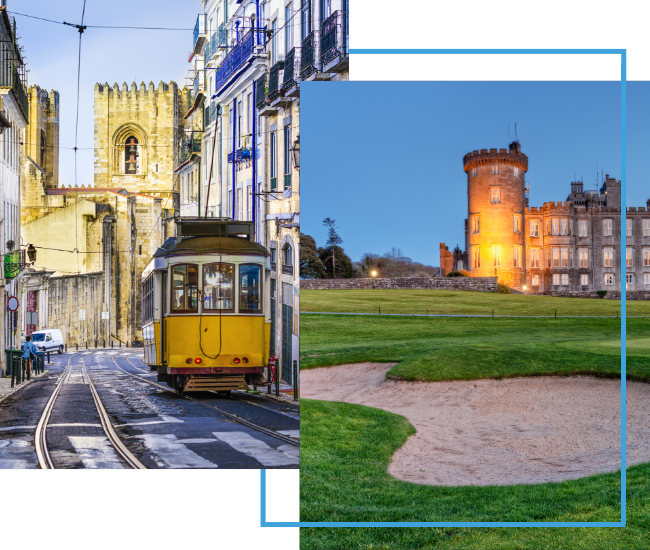 FX Excursions
FX Excursions offers the chance for once-in-a-lifetime experiences in destinations around the world.
Explore Excursions
More than 22 million visitors pour into Bangkok each year, adding to the roughly 11 million residents of the Thai capital famous for its bustling streets. Packed with food carts, markets and cultural spectacles, life in Bangkok is unusually defined by its vibrant street scene, both day and night. That means you don't necessarily need a solid plan when heading out on any given evening.
Sponsored Content
United Airlines is in the midst of a major initiative to modernize its fleet over the next several years. After first announcing the plan in 2021, planes fitted with United's signature interior are finally beginning to appear across the airline's narrowbody fleet of Boeing and Airbus planes. United flyers are sure to notice these enhancements from the moment they step on board: Each new or updated plane sports remodeled seats, seatback entertainment screens for everyone, Bluetooth connectivity and more, all adding up to a better experience on every journey.
As first-time restaurateurs, but with plenty of hospitality-related experience, Ria and Kevol (Kev) Graham were not entirely comfortable opening their first restaurant in the Brooklyn neighborhood of Williamsburg, where several upscale restaurants and 5-star hotel dining is just a block away. And to make matters worse, they opened in July 2020, when New York City was in the middle of the COVID-19 pandemic.