MY HUSBAND AND I SCRAMBLE up a steep, rocky trail, following hand-lettered signs pointing us toward the Great Wall. At first, there's not much to see except dense foliage, but coming around a bend, we catch our first glimpse of this world-famous structure. It is massive. At the top we are alone, with only the sound of birds and the rustle of wind in the trees for company. The view of the wall snaking relentlessly through the mountains to the hazy, distant horizon is intoxicating.
On a climb to an impressive but unreconstructed portion of the Great Wall, we gained private access from an unusual hotel — Commune by the Great Wall — a little more than an hour outside of Beijing. Commune can arrange a multicourse, white-tablecloth lunch atop the Great Wall, but we opt for a simple dinner — in a knapsack packed with real silverware, linen napkins, crystal goblets and a nice bottle of wine. We pop the cork at sunset. As the darkness slowly falls, we can almost imagine ourselves back in ancient times … until several of the hotel staff come with flashlights to fetch us.
Set in a mountainous forest, Commune by the Great Wall is not a hotel in the traditional sense but a collection of architecturally significant villas, each designed by a famous Asian architect (including Japanese starchitect Kengo Kuma, who recently designed the 2020 Tokyo Olympics stadium). Commune won the architecture prize at the 2002 Venice Biennale, making it a great place to stay if you love architecture and interior design. A big plus: Most rooms offer a view of the Great Wall.
The Chinese call it the Long Wall. Indeed. It measures more than 13,000 miles long. Some portions are more than 2,300 years old, built as a series of fortifications along the historic border between China and Mongolia. Most of the 5,500-mile-long section, part of which we visited today, however, was built (of brick, stone and mud — by hand) in the Ming Dynasty (1368–1644). It is now a UNESCO World Heritage site.
The most famous, most developed and most touristy section of the Great Wall is Badaling. Commune by the Great Wall provides its guests with a hotel car to drive them to the main ticket office from which they may take a cable car to the top to visit the 16 restored watchtowers. Driving from Beijing takes about 90 minutes. Near Badaling, stop at Juyong Pass to see a colossal castle-fortress.
Slightly less touristy and ideal if you're tight on time, Mutianyu includes 22 beautifully restored watchtowers and can be seen in less than a day from Beijing. In the interest of speed, take the chairlift to the top, watch a sunset and, when you're done, slide down the hill in a single-person bobsled.
The Jianshanling section offers a more authentic wall experience, with great vistas and fewer tourists. Six miles long with five high-altitude passes (expect some serious climbing), it encompasses 67 watchtowers with original features like 16th-century poetry scrawled on the walls.
The fit and fearless may seek out the steep and wild Jiankou section. Think narrow mountain ridges, sheer cliffs, being eye-level with eagles and every photo a knockout. G Adventures organizes a 10-day Walking the Great Wall tour that includes overnights in simple guest houses and camping right on the wall.
Gubei Water Town, conveniently located near the peaceful Simatai section, is a modern resort built to look like an imperial Qing Dynasty (1644–1912) town. Though it exudes a theme-park vibe, real people live in the hutongs (courtyard houses) along the narrow stone streets. Especially pretty at night, the wall is illuminated and everyone climbing up carries a lantern. The bobbing of hundreds of hand-held lanterns creates a magical scene.
Spring and autumn prove ideal times to visit, with cool weather and clear skies. Try to avoid weekends and national holidays, especially the two Golden Weeks (early May and early October). Save time by hiring an English-speaking private driver and buying VIP access tickets that include close-in parking and no lines. The cost? From $100 per person.
If the Great Wall is on your bucket list, you'll discover many unique ways to see this monumental wonder — including by helicopter, sidecar, and bicycle — gloriously free from teeming throngs of tourists. Planning ahead is key.
INFO TO GO Most international airlines fly to Beijing Capital International Airport. From there, it takes 1.5 to 2.5 hours to reach various sections of the wall by car. Commune by the Wall is a 15-minute drive from Badaling's private airport, a 20- minute transfer from Beijing Capital.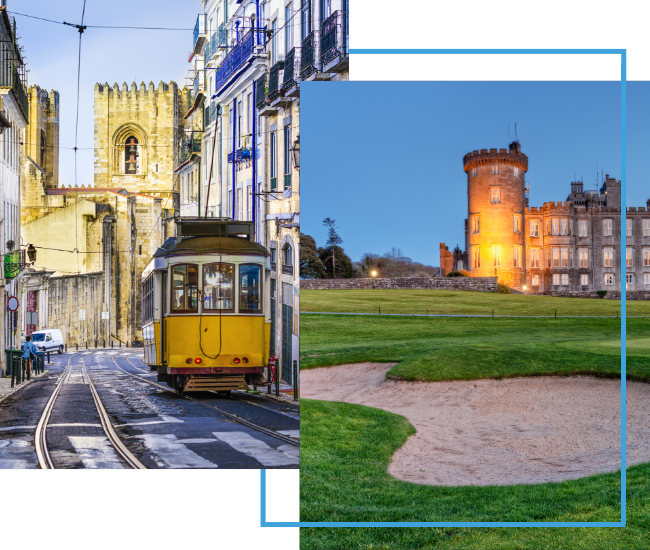 FX Excursions
FX Excursions offers the chance for once-in-a-lifetime experiences in destinations around the world.
Explore Excursions
One thing  surprising about the Prince Edward Island capital is its abundance of shops specializing in affordable, fashion-forward jewelry rendered in sterling silver, vermeil, 14K gold and semi-precious stones. Whether you prefer delicate pieces or bold wearable art, you can be assured the pieces for sale are inspired by the maritime island setting and, therefore, specific to the place where they are created. Here are a few shining, woman-owned examples:
Sponsored Content
One affordable plan can protect an entire year of trips: business or pleasure, short or long, domestic or international.
Norway, a haven for visionary artists, architects and designers, showcases an exceptionally diverse array of cultural attractions. This year, the country commemorates exciting milestones and unveilings captivating enthusiasts of the arts, from iconic scenic routes to new museums to gallery openings. Up Norway features these new offerings in personalized itineraries catered to aesthetes.