THE LOCALS WILL TRY TO CONVINCE YOU everyone, always, has spoken English. From the taxi driver in Roatán, Honduras, to the snorkel guide in Belize, when we sailed through the Western Caribbean on Norwegian Cruise Line's Getaway, everyone seemed to conspire to make us feel completely comfortable exploring this brilliant version of reality.
If you're fortunate enough to earn a cruise as a performance bonus or your company decides expanding alliances in the Caribbean is its next step, there is something for everyone lucky enough to go with you.
Boarding the Norwegian Getaway, my husband, two sons and mother all immediately noticed how clean and shiny every surface appeared as gold handrails reflected beveled chandelier lights. Carpets of hot pink and gray felt simultaneously exciting and soothing. Wood panels graced the halls we walked on the way to our rooms. Ours featured a balcony with a table and two chairs, an open invitation to feel the kiss of the light ocean breeze as we sailed between destinations.
Food from many countries makes guests feel at home: Italian, Brazilian, French, Japanese and good old-fashioned American steaks are all on board and available without set dining times, what the cruise line calls its Freestyle Cruising. The ship boasts four complimentary restaurants; one diverse buffet with vegetarian, gluten-free and kid-friendly options; and, of course, room service. There are also nine specialty restaurants. The designers of all these dining rooms took full advantage of their locations by presenting diners with startling ocean views. The widest and most regal was The Tropicana Room, placed at the aft of the ship, where we enjoyed a table by a wall of windows. Over crab cake appetizers, we watched the wake of the ship line the sea. Crooning, live Latin music surrounded us, and guests swayed to samba on the crimson dance floor. Another night, we enjoyed the specialty restaurant Ocean Blue, where we shared lobsters and got the boys to try salmon and fried fish. Although our table for five was inside, we observed couples having quieter, romantic dinners on the adjoining, partly sheltered deck. But our server, Jenny, kept it light and kept us laughing with her insightful humor and the attention she showered on our boys.
The cruise offers excursions to sample the ports visited. These curated experiences allow visitors to see a bit, touch a little, get some Instagram-worthy pictures and feel protected throughout. But you also have the option to forge your own path and create your own experiences — as long as you're back by sailing time. We opted to do both. In Roatán, Honduras, and Costa Maya, Mexico, we charted our own course, while in Harvest Caye, Belize, and Cozumel, we joined a group of other vacationers to experience what we couldn't on our own: snorkeling a distant reef and swimming with dolphins.
In Roatán we hired a driver, Joelle, with a minivan to take us to a few spots we had read about: the popular West Bay Beach and the less visited Half Moon Bay in West End. We snorkeled in the center of the public beach at Half Moon Bay through glassy blue water, saw hundreds of vivid fish circling rainbow coral, shopped a little and contemplated getting our hair braided by the locals who offered. When we visited West Bay Beach, we found the beaches privatized by resorts, so each person had to pay a fee to rent a chair. Joelle took us to Jungle Top Zipline, which also rescues animals. There we got a chance to play with basketball-sized capuchin monkeys that tried to steal our hats and happily bounced from our heads to our hearts.
At Costa Maya, a port specifically built for cruise ships, we stepped off the pier into a Disney-like version of Latin America. From the pier a sinewy path winds its way past well-maintained, primary-colored shops and restaurants. Giggling, the boys dunked their feet into a small aquarium filled with fish the size of their fingers whose only desire in life was to nibble on their dead skin. We rented a golf cart, another dream for the boys, and drove it 10 minutes to the fishing village of Mahahual, where we didn't see any fishermen but did find lots of fun places to eat, snorkel and buy trinkets. Time zone changes are a constant on cruise ships, so when a fellow passenger informed us our watches were an hour slow, we raced as quickly as our cart's maximum 7 mph speed allowed back to the pier and grabbed a quick bite at an authentic taco stand, La Tortilleria. Then grandma, or Baba as we call her, and I dared a bit of tequila tasting with a local expert who educated us in the tequila and mezcal production process before we whipped back to the ship.
Our day in Harvest Caye, a resort-style island developed by Norwegian, started with a snorkeling excursion led by H2o Tierra Tours. We went by boat to see another part of the reef we had been enjoying, the Mesoamerican Barrier Reef. The largest reef in the Western Hemisphere, it spreads 625 miles along the coasts of Honduras, Guatemala, Belize and Mexico. Since this was in the middle of the ocean, the tour provided life vests and gear and reassurances for those less comfortable in open water situations. Baba tried to keep up with the group but reminded us it had been years since she last snorkeled, so our marine guide, Mario, stayed behind with her. "Leave no soldier behind," he told us, as the rest of us flipper-kicked away in search of sea life.
In Cozumel we learned about and swam with bottlenose dolphins at Dolphinaris, which partners with students, teachers and veterinarians at universities to study best practices to care for dolphins. "Dolphins in the wild live 25 years," our trainer, Wendy, told us before we took turns letting our dolphin, Frida, give us gentle smooches on our cheeks. "But they live up to 60 years in human care." I'm sure it depends on the humans providing the care. During our visit, Dolphinaris had seven bottlenose dolphins ranging in age from 28 years to one day old. We witnessed the baby swimming in a protected area with the mother. Afterward, we each got belly rides with Frida and explored the rest of the facility's offerings.
On sea days we climbed the onboard adrenaline-rushing rope course and raced down waterslides. We saw younger kids splashing in their own private aqua park and revelers enjoying the permanent dance party happening in the adults-only pool area.
In the evenings we marveled at Broadway-worthy musical performances, laughed at family-appropriate comedy shows and put our heads together with another family to figure out how to Escape the Big Top in the popular escape room.
After all the daily together time, the boys couldn't wait to run off to their new friends in the Splash Academy kids club. Baba visited the casino, and we checked out the cool Skyy Vodka Ice Bar and Bliss dance lounge.
On the last night, my husband and I slow-danced on our balcony. The moon cast a sparkling veil over the mysterious dark ocean as we floated back to the real world. Our safety nets cast aside, we sailed back to where everyone, once again, spoke their own language.
Info to Go
Norwegian Cruise Line's 3,963-passenger Norwegian Getaway sets sail on a round-trip, seven-day Western Caribbean cruise from the Port of Miami to Roatán, Honduras; Harvest Caye, Belize; Costa Maya, Mexico; and Cozumel, Mexico. Miami International Airport lies about 10 miles from the port (about $20 one way by taxi). Norwegian Cruise Line offers ground transfers between the airport and the pier (about $16 each way); be sure to make reservations at least four days prior to sailing.
Lodging
THE HAVEN Enjoy the attention of a private butler in your family suite that includes two bedrooms and a living room, access to the private Haven restaurant and your own poolside lounge. Norwegian Getaway $$$$$
LOEWS MIAMI BEACH HOTEL If Rock Hudson picked up Marilyn Monroe, it would be at this beachfront hotel with a 1950s Hollywood premiere feel. The private, poolside cabanas offer the perfect place to slide into your new time zone before the cruise. 1601 Collins Ave., Miami Beach, Florida $$$$$
SPA SUITES Soak in the Norwegian Getaway's Thermal Suite hot tub as often as you like after enjoying the views of the cobalt-blue ocean from your private Spa Suite balcony. Norwegian Getaway $$$$$
Dining
CAP'S PLACE Before your cruise, stow your smuggled booze in the Prohibition Era restaurant full of hidden rooms and trap doors. On an island off Lighthouse Point, the only way in is by Cap's ferry boat. 2765 N.E. 28th Court, Lighthouse Point, Florida $$$
THE ILLUSIONARIUM Enjoy dinner theater on the sea with an assortment of magic and illusion acts to entertain or boggle. Try for a table near the dome. Norwegian Getaway $$$
OCEAN BLUE Savor freshly caught seafood served in a room full of ocean breezes. A slower pace, an extensive wine list and chocolate lava cake are the rewards. Norwegian Getaway $$$$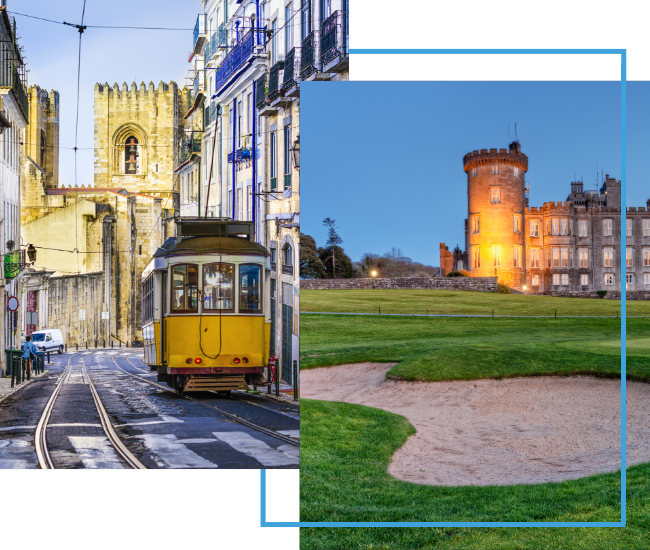 FX Excursions
FX Excursions offers the chance for once-in-a-lifetime experiences in destinations around the world.
Explore Excursions
Corsica with steep, gray cliffs overlooking the Mediterranean and sandy beaches attracting summer visitors, is a French-governed island sometimes confused with Sardinia and Sicily, Italian islands to the south. Fortunately, all three islands share the same love for good wine, food and sun-splashed beaches.
Sponsored Content
Filled with hidden treasures waiting to be discovered, Seoul invites travelers to unearth its many gems, and Seoul Tourism Organization is here to help travelers do just that. Through thoughtfully created initiatives like the Theme Tourism County Competition, Seoul Tourism Organization works closely with local districts to identify and showcase what makes each district unique and charming in all seasons.
If you're ready to do a little holiday catch-up with your besties, make a beeline for Conrad New York Downtown. The lobby metamorphosed into a holiday forest of heavenly scented, decorated Virginia Spruce trees. Make your first stop ATRIO Barista Station in the lobby for a complimentary hot spiced apple cider (until Dec. 3) or hot chocolate (Dec. 22­–24).