It isn't difficult to keep children, even teenagers, interested in Cape Town. Once they stand on the promontory at Cape Point, looking down at the deadliest waters in the world, they're bound to give themselves over to the sheer strangeness of this place.
You don't have to feed them exotic foods, such as the springbok or warthog or "marrow bones" — even as you enjoy a feast complemented by some of the finest wines in the world. Nor do you have to feed them a history lesson: They probably won't appreciate the mix of cultures that have scrambled for prominence since the Dutch first settled here in 1652, with the British on their heels and, even as black Africans regained political control, Indians and Malaysians entering the mix.
Just tell them they are watching two oceans collide, where an estimated 2,700 shipwrecks still litter the ocean floor, most with their sunken treasures intact, and they'll be hooked on the place. Technically, you're standing a few miles from the actual spot where the cold Benguela current on the west — carrying the dark Atlantic Ocean to "Cape Storm" — crashes into the warmer Agulhas current to the east, bringing the Indian Ocean to its chilly extremity. But you will see and feel the difference: Turn to your right, toward the sunset and Cape Town itself, and the waters darken. Drive five miles up that coast and you may need a sweater. In the other direction, the sea turns teal-green as the air brushing your shoulders loses its bite.
It's the sort of dichotomy you find often in Cape Town — or, perhaps, it's an inner confusion you feel, so near the bottom of the world where seasons are flip-side. Visit in spring — Southern Hemisphere spring, September and October — when the region's sub-tropical plants are at their best, especially at the sumptuous Kirstenbosch Botanical National Garden. More than 5,000 species, all unique to South Africa, grow in this 36-acre municipal garden. No, we don't expect the kids to delight in the local flora, but it's a great place for a picnic in the shadow of Cape Town's most dramatic landmark, Table Mountain.
It is indeed a flat-topped, 3,000-foot mountain, rising from the middle of the city. Every morning a mantle of cloud — the "tablecloth" — obscures its top. Every day, some 5,000 passengers take a 10-minute cable car ride to the summit (the car revolves 360 degrees en route), where kids can marvel at the dassies (rock rabbits) that live up there. In the base of each cable car is a water tank, handy for ballast on windy days. Or, if you feel like exercise, hike the handicapped-accessible trails and have lunch or a drink at the restaurant topside.
Cape Town's biggest tourism magnet, however, is the Victoria & Alfred Waterfront, popularly called the V&A. Packed with boutiques, jewelry showrooms, galleries and restaurants, this vast entertainment complex also sports arts and crafts centers, an amphitheater for outdoor concerts, an IMAX theater, boating excursions and the Two Oceans Aquarium. It's an innovative aquarium; kids will love the "touch pool" (a watery version of a petting zoo), the seal pool and the intriguing new "kelp forest."
For shopping in a less commercial setting, head to City Centre. If you're staying at the Mount Nelson, you can walk there via the half-mile, bricked path that cuts through the carefully tended Company's Garden. You'll pass the Cultural History Museum; stop for a look at the musical instruments and toys in the permanent collection. Then continue on to City Centre and Museum Mile — a pedestrian-only avenue of galleries and museums.
Your explorations will take you along Kloof and Long streets, the emerging hotspot of the city core, with its eclectic array of shops and restaurants. Two must-stops are the Antique Arcade, a mini-mall of 17 antique shops, and Clarke's Bookshop, specializing in works by South African authors. The people-watching alone is a good reason to linger in this district.
While you're in a shopping mo od, watch for four renowned Cape Town markets. Every Wednesday and Saturday hundreds of vendors set up shop in Green Market Square, a park in the heart of town, selling batik wall hangings, handcrafted jewelry, handbags, baskets and more.
At the Waterfront Craft Market and Wellness Centre, you'll find more than 120 stalls showcasing quality South African handmade goods, including Ndebele beadwork, recycled-paper jewelry and detailed fabric goods; the Wellness Centre sells health-enhancing products and treatments. Artisans from more than a dozen African countries sell their handicrafts at the Pan-African Market. Each Saturday the Neighborgoods Market at the Biscuit Mill, a skylit Victorian warehouse in the industrial neighborhood of Woodstock, hosts more than 100 vendors selling organic foods and eco-friendly clothing, soaps and other sundries.
Still, there are two good reasons to escape the city limits. The first is the "loop drive" — down the Indian Ocean coast of the Cape peninsula to the Cape Point and the Cape of Good Hope Nature Reserve, then back up the Atlantic coast. It's one of the most dramatic marine drives anywhere, especially the climbing, twisting Chapman's Peak Drive. This will be your chance to wow the kids with tales of pirates and shipwrecks; take the entire day and linger in the towns along the route — the fishing villages of Hout Bay, Fish Hoek. Stop at the Boulders, a protected beach just south of Simon's Town, home to a friendly (but loud) colony of jackass penguins.
The other compelling reason for leaving the city is the Winelands region, a 30-minute drive east of Cape Town and a good time to engage the "childminders." Hire a guide as your designated driver to take you through the gently rolling vineyard terrain, marked by 300-year-old Cape Dutch homesteads set against a backdrop of tall mountain peaks. Choose from several dozen wineries for tastings or lunch. Stroll around Stellenbosch, a university town, and Franschhoek, which exudes a slight French flair with its sidewalk cafés, bakeries and chocolaterie.
Cape Town is one of the world's more diverse destinations — in its cuisine, culture, history, arts and scenery. The wine is more predictable: It's all fine and, in this land of terrific shopping bargains, it's one of the best deals of all.
---
Lodging
CAPE GRACE HOTEL
Perched on its own private quay, this hotel offers evening story time and sitters so parents can explore Cape Town nightlife. $$$$
CAPE GRACE HOTEL
West Quay Road, Victoria & Alfred Waterfront
tel 27 21 410 1700
www.capegrace.com
MOUNT NELSON HOTEL
At this iconic pink hotel, families find X-Box 360s on loan, kids' books and multilingual babysitting services. $$$$
MOUNT NELSON HOTEL
76 Orange St.
tel 27 21 483 1000
www.mountnelson.co.za
VICTORIA & ALFRED HOTEL
In-room herbal teas and biscuits keep young appetites at bay. Sitters take over while parents escape to the state-of-the-art gym. $$$
VICTORIA & ALFRED HOTEL
On the Waterfront Pierhead, Victoria & Alfred Waterfront
tel 27 21 419 6677
www.vahotel.co.za
---
Dining
AFRICA CAFÉ
Brightly-colored walls and fabrics set the tone. Enjoy a Congo salad and chicken macadamia, and take home unique ceramics or a cookbook. $$$$
AFRICA CAFÉ
108 Shortmarket St.
tel 27 21 422 0482
www.africacafe.co.za
FISH ON THE ROCKS
Famous for their fresh fish and chips. Spot whales and seals from June to November at this beachside restaurant. $$$
FISH ON THE ROCKS
Harbour Road, Hout Bay, Western Cape
tel 27 21 790 0001
PANAMA JACK'S
Seafood, choose-your-own live lobster, abalone and a sushi bar star in Jack's family-friendly, relaxed Caribbean atmosphere. $$$
PANAMA JACK'S
Quay 500 and Eastern Mole Road, Cape Town Docks, Paarden Eiland
tel 27 21 447 3992
www.panamajacks.net
---
INFO TO GO
Cape Town International Airport (CPT) is 12 miles from City Centre. Average travel time is 20 minutes; add 30 minutes during rush hour. Look for Touch Town Taxis. Visit www.capetown.travel.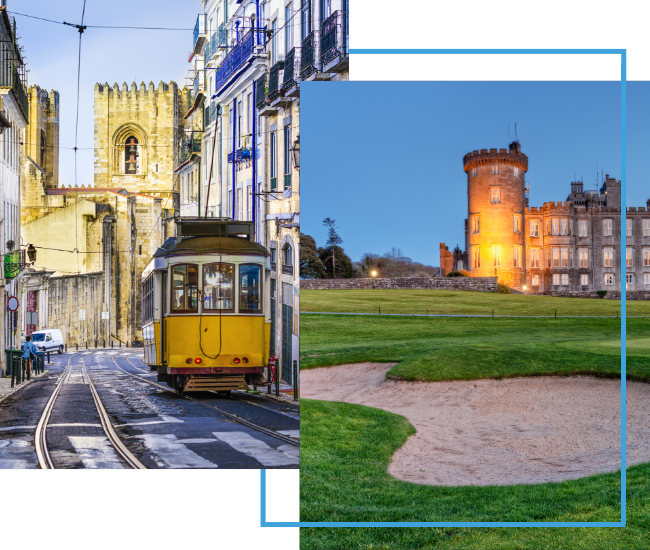 FX Excursions
FX Excursions offers the chance for once-in-a-lifetime experiences in destinations around the world.
Explore Excursions
Red Savannah launched a new series called In the Footsteps of…, which debuts itineraries of well-known figures, the first being Coco Chanel. As Chanel No. 5 celebrates its 102nd anniversary this year, the travel company invites fashion lovers, history enthusiasts and admirers of Coco Chanel to experience the new itinerary, In the Footsteps of Coco Chanel. The experience allows travelers to step into the remarkable life of one of most iconic figures in the fashion world.
Sponsored Content
Whether it's the people, the craic (fun) or the coasts, travelers always find something to love about the island of Ireland. What fills your heart?
Mazatlán, Mexico, has long been an attractive home destination for Canadian and American retirees, but, in recent years, young, digital nomads have also discovered the charms of this coastal city, finding inexpensive accommodations, beautiful weather and plenty of bandwidth for working remotely. The laid-back beach scene definitely eases the transition of relocating to Mexico's West Coast.