Name: Brendan Griffin
Title: Minister of State for Tourism & Sport
Company, city: Government of Ireland Department of Transport, Tourism & Sport; Dublin, Ireland
Recent project: Tourism Ireland recently launched a new brand advertising campaign, "Fill Your Heart with Ireland," to inspire Americans to put Ireland on their vacation destination list.
First job: I was a porter at age 15 at a 5-star hotel in Killarney, my summer job
Little-known fact about you: I am a writer; I have self-published two books of fiction for children and have one planned for adults.
Your Business
What innovations/initiatives do you foresee in the industry over the next years? We want to inspire more people to visit Ireland outside of the peak season and explore all corners of the island. We need to drive the extra mile to appeal to different dimensions of travel.
Best career advice you've received: Work hard and make yourself available — this is the way you will encounter luck.
What advice would you give someone starting out in the field? Don't give up. I lost my first election; you have to dust off and keep going.
Brendan Griffin as a Traveler
Favorite travel memory or story: Going on holiday in West Cork with my children; it's only a two-mile drive but is relaxing and good to disconnect. While traveling to Inishbofin Island off Galway, my wife inspired me to start writing again.
One travel tip you cannot live without: Pack lightly. When I was a porter I sometimes saw three suitcases for just one week of travel.
About Ireland
What do you think draws visitors to Ireland now?
More than 2 million North Americans visited Ireland in 2018, 14 percent more than in the previous year. These travelers want to see the beautiful scenery, meet the warm and welcoming people, experience the culture and enjoy the rich heritage.
Tell our readers about visiting movie and television filming locations in Ireland.
Our collaboration with the "May the 4th" locations for Star Wars, such as The Skellig Michael (the rock where Luke Skywalker camped out), and the Game of Thrones locations near the Giant's Causeway offer great attractions. My father worked on the set of Ryan's Daughter, driving the actors to and from locations, so we have a long history of filming locations.
What does Ireland offer luxury travelers?
We have a vast array of great hotels and world attractions, including Ashford Castle and Adare Manor, recently voted Best Luxury Hotel in the World by Virtuoso. Ireland has one-third of the world links golf courses, and we have temperate weather where you can play golf and sports year-round. Royal Portrush in Northern Ireland will host The 148th Open this July.
What would you say to people considering Ireland for a vacation?
I would say there's never been a better time to visit Ireland, and with 18 direct gateways, it's never been easier to get here! People look for unique and authentic experiences, and Ireland has plenty to offer — truly something for everyone.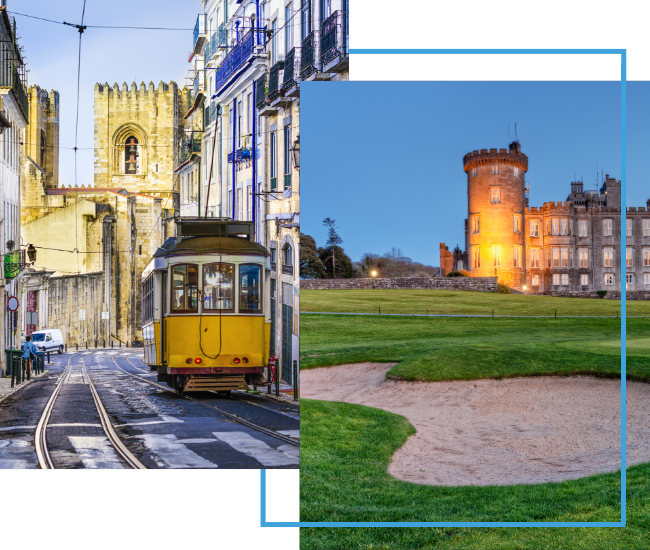 FX Excursions
FX Excursions offers the chance for once-in-a-lifetime experiences in destinations around the world.
Explore Excursions
More than 22 million visitors pour into Bangkok each year, adding to the roughly 11 million residents of the Thai capital famous for its bustling streets. Packed with food carts, markets and cultural spectacles, life in Bangkok is unusually defined by its vibrant street scene, both day and night. That means you don't necessarily need a solid plan when heading out on any given evening.
Sponsored Content
Nashville's once-modest skyline continues to evolve as its luxury market grows. Lavish hotel properties are added to the landscape while acclaimed chefs stake claim in the robust culinary scene and premier cultural offerings round out the city's repertoire.
As first-time restaurateurs, but with plenty of hospitality-related experience, Ria and Kevol (Kev) Graham were not entirely comfortable opening their first restaurant in the Brooklyn neighborhood of Williamsburg, where several upscale restaurants and 5-star hotel dining is just a block away. And to make matters worse, they opened in July 2020, when New York City was in the middle of the COVID-19 pandemic.