IT'S BEEN MORE THAN 20 years since the city of Bordeaux shook off centuries of neglect and scrubbed the soot from its buildings, cleared the crumbling warehouses from its riverfront and reconfigured streets to make them more pedestrian-friendly.
The results have been startling. Hidden for decades behind a dilapidated wharf, the Garonne River sparkles beyond a sweeping promenade that runs from the lively Chartrons district, where outdoor cafés give way to elegant antique shops along Rue Notre Dame, to Pont de Pierre, the graceful 19th-century bridge commissioned by Napoleon. There are parks, gardens, sculptures and fountains, too, most notably Le Miroir d'Eau, a massive black granite reflecting pool where splashing about has become a warm-weather ritual.
Step away from the river and you'll find centuries-old churches with soaring spires; the hefty towers of medieval Gross Cloche; and the 18thcentury Neoclassical Grand Théatre, rimmed with a dozen sculptures of Greek and Roman gods. In all, more than 350 structures set within UNESCO's largest urban complex are listed as historic monuments.
Then there's the wine. Bordeaux's dominance in the production and distribution of wine has its roots in the discovery, in the first century, of a grape variety that could withstand cold winters. It flourished in Bordeaux and — voilà — the modern wine industry was born. Well, not exactly. Centuries of refining methods of growing, harvesting, blending, aging and distributing wine came into play as well, but the end of the story remains the same: Bordeaux's wines rate among the best in the world.
Oenophiles interested in learning even more about wine now have a place to do it: La Cité du Vin, opened in 2016 and the world's largest museum devoted to wine. Set within a massive golden carafe overlooking the river, the museum's 10 levels of interactive exhibits detail the history, lore, tradition and art of wine. And it's not just intellectual: Admission includes a trip to the Belvedère, the museum's eighth-floor, glass-walled aerie, where free flights of wine from around the world are poured by friendly staffers eager to help visitors taste the difference between, say, Cabernet Sauvignons from various wine-producing regions around the globe.
For a city surrounded by vineyards that produce some of the most prestigious wines in the world, Bordeaux's wine bars are refreshingly attitude-free. Set along a cobbled street in the lively Saint-Pierre neighborhood, Vins Urbains offers more than 250 varieties; you can buy a wonderful glass of wine for as little as €4 (about $4.50). Owners Jan and Christelle Bussiere are passionate about their vast collections and delighted to create impromptu flights. At The Wine Bar, tucked into Le Boutique Hôtel, sommelier Mike Germon holds blind tastings each evening at 5 p.m.; the €35 (about $40) price includes cheese and charcuterie. Bordeaux's top wines, called "classified growths," are rarely available by the glass; Bordeaux Wine Gallery is an exception, offering several classified wines for tasting. The system isn't romantic — guests must insert a credit card into a sealed system which then dispenses the wine into the glass — but it provides a rare opportunity to try some of the region's most legendary wines.
Even the most austere Bordeaux wines seem less intimidating within the relaxed, art-filled setting of the Bar à Vin, a tasting room run by the Bordeaux Wine Council. Take your pick of more than 30 wines by the glass, and don't be afraid to ask for advice: Bar à Vin's English-speaking staff is patient and well-informed. Tasters looking to deepen their knowledge can even enroll in an on-site wine school.
Once you've found your favorites, head around the corner to L'Intendant, a wine shop that stocks only the wines of Bordeaux — including the less-expensive second and third labels of esteemed châteaux — among its 15,000 or so bottles. Ascending the steep spiral staircase that dominates the shop's interior tests both pocketbooks and legs: With every turn, prices rise significantly.
Wineries in locales such as Napa, Sonoma and Chile have always welcomed visitors, but that hasn't always been the case in Bordeaux. Fortunately that tradition is changing, and in recent years many of the region's historic estates opened their doors and cellars to guests. One, Château Beychevelle, has produced Cabernet-based wine in the Médoc village of Saint-Julien since 1565. At the imposing château filled with antiques and surrounded by formal gardens, a recent renovation added a strikingly contemporary cellar. In addition to private lunches and dinners and custom tastings, the château offers 12 guestrooms for overnight stays.
Château La Dominique, a Saint-Émilion-area château, offers innovative programs like blind tastings and an introductory tour for children. The 17th-century estate's renowned Jean Nouvelle-designed restaurant features a second-story terrace composed of smooth, garnet-colored glass pebbles.
Located about 45 minutes northeast of Bordeaux, Saint-Émilion merits a visit on its own. Named for the Breton monk who settled in the region in the eighth century, the walled village presents a glorious tangle of hilly streets lined with wine shops (the Merlot-based wines crafted here are exceptional), restaurants and historic buildings. Several significant churches remain, including the Collegiate Church with its massive stained-glass windows and soaring Gothic arches. The Monolithic Church, carved from limestone, features a massive bell tower. With that exception, the church, with its quiet hermitage and catacombs, lies completely underground. Grab a glass of wine at one of the bustling outdoor cafés that fill the courtyard surrounding the church, or climb the stairs to Hostellerie de Plaisance, where a pretty patio overlooks the city's atmospheric rooftops and, in the distance, acres of neat vineyards.
Info to Go
Located about six miles from the city, Bordeaux- Mérignac Airport offers a full schedule of domestic and international flights. In addition to taxis and city buses, a shuttle runs directly to the train station. High-speed train service from Paris' Montparnasse station takes just a little more than two hours; traditional trains make the trip in about three and a half.
Where to Stay in Bordeaux
HOSTELLERIE DE PLAISANCE This former convent is now an elegant, 17-room Relais & Châteaux hotel with a 2-Michelin-starred restaurant. Guests can stay in town or at the nearby vineyard inn. 5 Place du Clocher, SaintÉmilion $$$$
HÔTEL LE PALAIS GALLIEN Located in a 19th-century private home just steps from an ancient amphitheater, this recently opened hotel features bold interiors and a lovely courtyard with an outdoor pool. 144 Rue Abbé de l'Épée, Bordeaux $$$$
INTERCONTINENTAL BORDEAUX – LE GRAND HÔTEL It's all about drama at this 130-room property, from the hip rooftop bar and flowerfilled courtyard to the blackgranite spa pool surrounded by two-story red pillars. 2-5 Place de la Comédie, Bordeaux $$$
Restaurants in Bordeaux
GAROPAPILLES Love surprises? You'll adore this tiny, unpretentious Michelinstarred restaurant which serves a single menu each evening. The wine list is filled with treasures, but go for the always-inspired pairings. 62 Rue Abbé de l'Épée, Bordeaux $$$$$
LA GRANDE MAISON DE BERNARD MAGREZ Star chef Pierre Gagnaire oversees the kitchen at the 2-Michelin-starred La Grande Maison, set within a 19th-century manse owned by wine magnate Bernard Magrez. 10 Rue Labottière, Bordeaux $$$$$
RACINES Chef Daniel Gallacher may be self-taught, but his stylish, wellbalanced dishes reflect his time in the kitchen with Alain Ducasse. Select from an extensive collection of wines by the glass, too. 59 Rue Georges Bonnac, Bordeaux $$$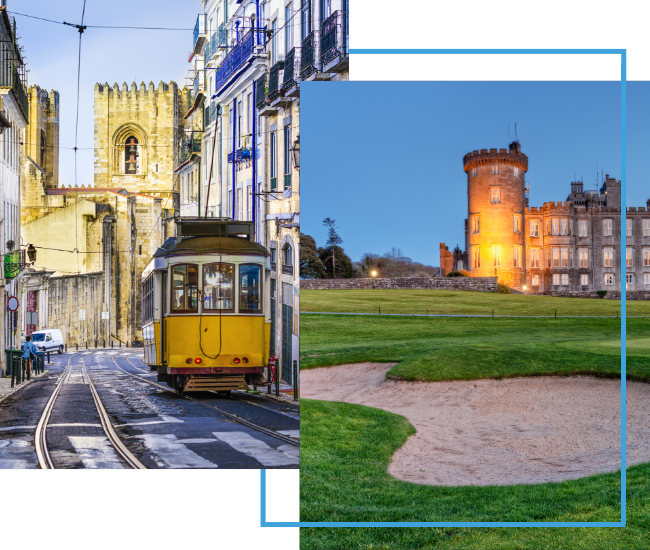 FX Excursions
FX Excursions offers the chance for once-in-a-lifetime experiences in destinations around the world.
Explore Excursions
If fabulous food and beverages are a must-have for any weekend getaway, then look no further than the City of Brotherly Love. Whether your palate has a penchant for vibrant Latin American fare or cozy French cuisine, whether you're an oenophile looking to swirl, sniff and sip your way around the globe or you'd rather sample farm-to-glass cocktails, Philly's got it all this fall. (With the exception of Bolo, which is a short taxi or Uber ride away and definitely worth the trip, the rest of these spots are all within walking distance of each other.)
Sponsored Content
Nashville's once-modest skyline continues to evolve as its luxury market grows. Lavish hotel properties are added to the landscape while acclaimed chefs stake claim in the robust culinary scene and premier cultural offerings round out the city's repertoire.
From Santoríni to Dubai to New York, some hotels just have that "it" factor that draws visitors far and wide. For some hotels it's their proximity to popular landmarks and attractions, for others it's their amenities. But these hotels have something few can claim: a true room with a view.