In my quest to visit new places in North Carolina, I checked Wilmington off my to-do list.
My friend, Jamie, who lives in Pennsylvania, wanted to visit her son, Dylan, attending college at University of North Carolina Wilmington. So I offered to have her come visit me, and together we would travel two hours to Wilmington for a weekend.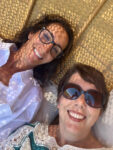 Following a tour of Dylan's new apartment, the campus and surrounding area, we went to nearby Wrightsville Beach for lunch and checked into Blockade Runner Beach Resort. The parking lot was full, but valet service was free when we pulled up, a pleasant surprise. With its height and sweeping views, the hotel offers both ocean and sound views, depending on which side you are staying.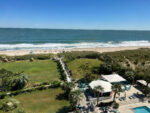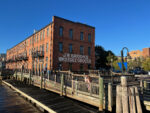 Our first impression of the hotel was we were at a Caribbean resort rather than coastal North Carolina. Light blue cloth waves covered the ceiling, and the floor reminded me of a deep blue ocean. Then, as we walked toward the beach side of the hotel, we discovered a tropical paradise. The landscaping leading to the pool area and the beach was lush and green and meticulously maintained.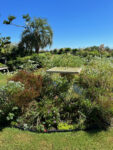 After exploring the grounds and enjoying the giant rattan hanging "snuggle pods," as I named them, we headed out to the area of Wilmington along Cape Fear River. Shopping and restaurants abound in this cute town. We ate dinner at Anne Bonny's Bar and Grill, a unique floating barge restaurant where we snacked on the biggest soft pretzel I've ever seen in my whole life! (I was so upset I forgot to take a photo.) We watched couples dine on little balconies hanging from the second floor of a quaint Italian bistro, Floriana, right across the street. I thought, "Oh, how I would love to come back with my husband for a nice romantic dinner here sometime!"
The next day we went on a boat excursion with Carolina Runner Boat Tours, conveniently located right across the street on the sound. The captain took us to the uninhabited island of Masonboro, where we climbed a large sand dune with his adorable puppy tagging along. We spent some time on the beach just catching some rays on an unseasonably warm day.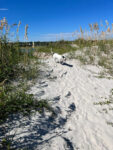 That night we had dinner at the hotel's on-site restaurant, East Oceanfront Dining. We each ordered something different but all chose seafood since it felt appropriate while at the beach. The crab cake, fresh fish and scallops were all delicious. And I enjoyed a hibiscus cocktail, which I was informed was actually made from hibiscus that grows on site.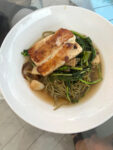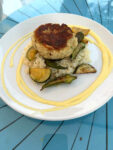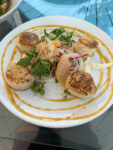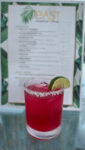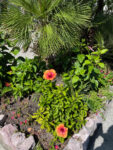 We had planned on staying for the hotel's Sunday Jazz Brunch, which sounds amazing, but we had to head back too early to fit it in our day. But I will be sure to make it work the next time I come back! Hopefully soon.
— Tracey Cullen, art director
FX Excursions
FX Excursions offers the chance for once-in-a-lifetime experiences in destinations around the world.
Recaro's new CL6720 business-class seat with doors took off recently on Iberia's Airbus A350 cabin, flying Madrid (MAD) to Buenos Aires (EZE), with a total of 31 of the seats in the aircraft's business-class cabin. The premium-economy and economy cabins also feature Recaro seats.
Sponsored Content
Exclusive Sailing with Global Traveler
In a city where new hotels, restaurants and experiences emerge seemingly every day, it's expected to feel overwhelmed when deciding where to dine. London consistently sees delicious and top-notch restaurants appear, but how can one possibly keep track of all the new and updated restaurants?