This blog goes out to all the cubes I've left behind … .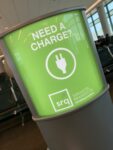 In the same way Taylor Swift laments her lost hair-ties, I seem to have a knack for losing and leaving my charging cubes while traveling. The cords, not so much. Perhaps I'm more attached to my cords — I never seem to forget them. But the cubes … the cubes end up quickly left behind like those not yet ready for the rapture.
Recent case in point: I was charging my phone while doing some last-minute work at Ronald Reagan Washington National Airport when I looked at the time and thought, "Shouldn't we be boarding by now?" We were. And I was at a charging station on the opposite side of the gate, with my books, papers and cords sprawled out all over the place as if it were my own office.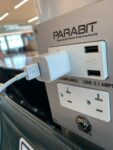 Women inherently understand what I'm about to describe: Because right in that moment, I needed to gather all my stuff and do the bag dance. There was my personal laptop bag, which doubles as my tote of travel essentials. My purse, which needs to fit inside my laptop bag so I can board the plane with only two items (my carry-on, plus my oversized bag). My half-eaten lunch bag (which should have been thrown away 20 minutes ago) and the newly purchased plastic bag now carrying two bottles of water and a bag of pistachios.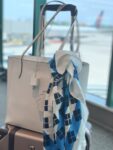 Of course, this balance of the bags had me preoccupied, so I yanked the cord right out of the socket, believing I had the cube, and wheeled my bag-heavy self to the correct queue at the gate. Only when the flight attendant announced we were now cruising at a safe altitude did I discover my cube was missing. Left behind. Anxiously awaiting its new owner to be thankful for his/her lucky day.
I've left cubes in Denver, in Georgia and in Vegas (almost as if that one knew what happens in Vegas, stays in Vegas). My chargers have been left behind on week-long vacations, on girls' trips and quick overnight stays. Heck, I even left two cubes within six months at my 90-year-old grandmother's house, which are probably in the exact same sockets from three years ago.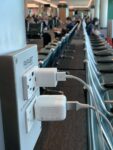 Each time I leave one behind, I remind myself not to do it again, but it's all the same. Large or small, I leave them all … at hotels, airports, homes and offices around the world. Perhaps I should see this gesture as an act of benevolence, as if my cubes, now separated from their respective cords, are ready to launch themselves into their next adventure, like little birds leaving their nest. Or maybe I'm leaving them behind like breadcrumbs, hoping the trail of my lost cubes will somehow lead my Prince Charming home to me.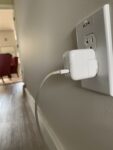 Or perhaps I should just admit I'm a cube leaver. Maybe start a support group. Ask for donations to help replace people's missing cubes. Hold open auditions for a spoken word story of the most interesting place a cube charger has been left, never to find its way home.
Either way, I'm afraid my cubes aren't coming back.
And the next time you see a random charging cube missing its cord, it's possible you and I have recently crossed paths. Therefore, as a reader of this post, I hereby grant you permission to add my missing charger to your cube collection.
Unless you're visiting my Grandma Doe. Those cubes are mine.
— Carrie Cox, account executive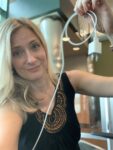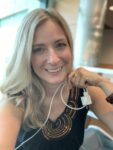 FX Excursions
FX Excursions offers the chance for once-in-a-lifetime experiences in destinations around the world.
I imagine that when writer Hans Christian Andersen mused, "Life itself is the most wonderful fairy tale," he was standing at the edge of Copenhagen's historic Tivoli Gardens, one of his favorite haunts, enlivened by the swirl of human happiness that surrounded him: children laughing; carousels spinning; games of chance played for prizes; lovers holding hands; hungry people whispering over sweets, hot drinks, beer and towering, open-faced smørrebrød, Denmark's quintessential sandwich. That fairy tale lives on today at the second-oldest amusement park in the world, a spectacle of folly architecture, bakeries, gardens, rides, restaurants, puppet shows and joy ... and which also happens to be one of the city's most storied places to convene for business.
Sponsored Content
Since its prestige for attracting the world elite grew in the 1960s, Greece remains the go-to destination for glittering holidays. Each step of the journey is enrobed in luxury, from culinary traditions with the highest standard of execution and name-brand, high-end shopping to first-rate wellness locales and elite accommodations, like 5-star hotels, private villas and yachts.
The restored Park Hyatt Toronto reopened its doors, bringing luxury, sophistication and glamour alongside a nod to the hotel's Canadian heritage. Alessandro Munge of Studio Munge collaborated on the hotel's refresh, drawing inspiration from Canada's seasons and natural landscapes.