Last weekend Richard Dreyfuss was in town to promote The Dreyfuss Civics Initiative. I had the opportunity to talk to the Hollywood legend about his work during his appearance at Days of the Dead Horror and Pop Culture Con at the Crowne Plaza Hotel and Convention Center.
The TDCI is a nonprofit, nonpartisan organization with the goal of returning the teaching of civics in American public education. Dreyfuss stated, "The goal is to teach our kids how to run our country before they are called upon to run our country. If we don't, someone else will run our country."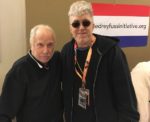 Dreyfuss discussed how American history is not being taught thoroughly enough. In many places there are movements to eliminate the teaching of much of American history. He stated, "Teachers are not the problem. Teachers are the solution." Teachers need to be taught, though. They need to be brought up learning all of American history to be able to properly educate the youth so they can move forward.
Dreyfuss continued, "America was one of the first political bodies that gave its subjects distinct individual freedoms, which are outlined in the Bill of Rights." The nation dependent on the sovereignty of the people should be a strength. We are turning that strength into a weakness by not properly equipping future generations with the knowledge and the ability to properly be part of a sovereign body that elects representatives and impacts policies.
Starting with his first uncredited role in The Graduate, Dreyfuss has built a legendary career, despite battling bipolar disorder. Dreyfuss earned a showcase of awards, including two Academy Awards for Best Actor.
While still active in movies, Dreyfuss devotes much of his time, energy and money to TDCI. In a time of much political division, without taking sides, TDCI aims to better the situation through education. Dreyfuss concluded with, "This foundation of properly educated students will help address the problems we are experiencing today and begin to create the successful future we desire for our posterity."
— John Wroblewski, online writer
FX Excursions
FX Excursions offers the chance for once-in-a-lifetime experiences in destinations around the world.
Raffles Hotel Singapore delights guests with curated, immersive experiences. Coming off a restoration in 2019, the iconic property welcomes back international guests with unique offerings.
Sponsored Content
The Global Business Travel Association's (GBTA) Convention 2021 will be unlike any other convention before it, as we come together in person for the first time since the business travel industry drastically changed and look forward to rebuilding and reshaping the future. GBTA Convention 2021 will bring all of us together to learn from experts and each other, in-person at Orange County Convention Center in Orlando, Florida, Nov. 17–19. The safety of our attendees is our top priority. View health and safety protocols.
The holidays are right around the corner and it's time to start thinking about gifts for your wine-loving friends. If you or someone you know is planning an upcoming trip to a wine region, check out Argaux. The all-women-operated and -owned online wine shop and educational platform offers a series of tasting sets to celebrate and introduce some of the best wine destinations. The Gaux-To Tasting Sets are perfect for travelers to experience the wine before they travel — or without having to travel.